30th Annual Festival of New Musicals
2018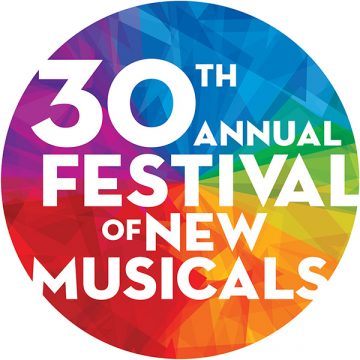 Welcome
October 25 - 26, 2018
New World Stages
340 W 50th Street, New York, NY
Register now for the 30th Annual Festival of New Musicals presented at New World Stages in New York City on October 25 & 26, 2018!
Over the course of two days, 45 minute cuts of eight new musicals will be presented to over 700 industry professionals. The Festival celebrates what's next in musical theatre by creating a nurturing environment for discovery, development and advancement of the musical theatre art form.
Already registered? Checkout our Guide to Navigating the Festival.
Festival Schedule
Thursday, October 25, 2018
9:30 - 10:00 am
Check-in/Registration
12:10 - 1:50 pm
Lunch (on your own)
(don't forget to check out the Midday Cabaret in the Green Room lounge during lunch both days!)
Green Room Lounge
Midday Cabaret
(Premiere or Select Pass required for entry)
4:30 - 5:30 pm
Stage 1
Stage 3
Songwriter Showcase
(Only open to pre-registered Premiere, Select and Access Pass holders)
Green Room Lounge
Friday, October 26, 2018
9:30 - 10:00 am
Check-in/Registration
12:10 - 1:50 pm
Lunch (on your own)
(don't forget to check out the Midday Cabaret in the Green Room lounge during lunch both days!)
Green Room Lounge
Midday Cabaret
(Premiere or Select Pass required for entry)
4:30 - 5:30 pm
Stage 1
Stage 3
Meet the Writers Panel
(Only open to Premiere and Select Pass Holders)
Green Room Lounge
5:30 - 7:30 pm
Closing Cocktail Party
(For registered Premiere Pass holders only.)
Open bar and the ultimate networking opportunity with this year's writers and VIPs!
Saturday, October 27, 2018
10:00 am
Member's Post-Festival Collaboration Meeting
Registration required–location information will be emailed!
As of 10/2/18. Subject to change!
Hotels & Accommodations
Novotel New York Times Square
226 West 52nd Street
New York, NY
www.accorhotels.com
Novotel New York Times Square is offering Festival of New Musicals and Fall Conference attendees standard king rooms for $359/night from October 22 through 25. Rooms are limited and this offer expires on September 28, 2018. See the hotel's website for property details. NAMT organizational members also receive year-round discounts at this hotel (see link below).
To book, click the button above or call 212-315-0100 or email Anissa.Velez@accor.com and by use group code NAT1022.
Book This Deal
Offers Available for NAMT Members
Registration
Rates and Deadlines
The Festival is free and open to theatre industry professionals (see details below) or by donation to NAMT. NAMT members receive passes based on their member type (see details below).
Starting October 9, a $20 late registration administrative fee will be applied to all Festival registrations, including NAMT members.This fee helps to offset additional administrative support required during this busy time.
Online registration for the Festival ends on October 21. We strongly encourage you to register online so that we can have your badge ready, and to pick your schedule due to the possibility of individual readings closing due to capacity limits.
Walk-up attendees at New World Stages will be subject to a $30 fee.
Registration Process
All attendees must be registered, and registrations are not transferable. The Festival is also a networking event; each attendee will receive a badge, which gives you entry to the events (there are no tickets). You may register multiple attendees from the same organization on the same form.
Your registration will not be complete until you click the SUBMIT button at the very end of the form and you have paid (if applicable). You will see a confirmation screen and receive an email upon completion.
Non-Member Attendance Eligibility
We define an industry member as anyone currently working professionally in the theatre who can aid in the development of the shows or careers of the writers we present. If you are not a NAMT member, you will be asked when you register to state your affiliation with another professional organization/group/network, such as TCG, The Broadway League, LORT, ART/NY, etc..
If you are not industry, you may make a donation of $250 or more and receive a special pass to attend the Festival with VIP benefits as our gift (see details below). Please click the Register button below to make this donation and register for the Festival.
Festival Passes
There are four different passes available for the Festival, each with its own level of access and benefits outlined in the chart below. Industry members who are not members of NAMT will be asked to select their pass level when they register. Although a General Pass to the Festival is free to industry professionals, your tax-deductible contribution allows the Festival of New Musicals to create a nurturing environment for the discovery, development and advancement of the new works, at no cost to the writers participating.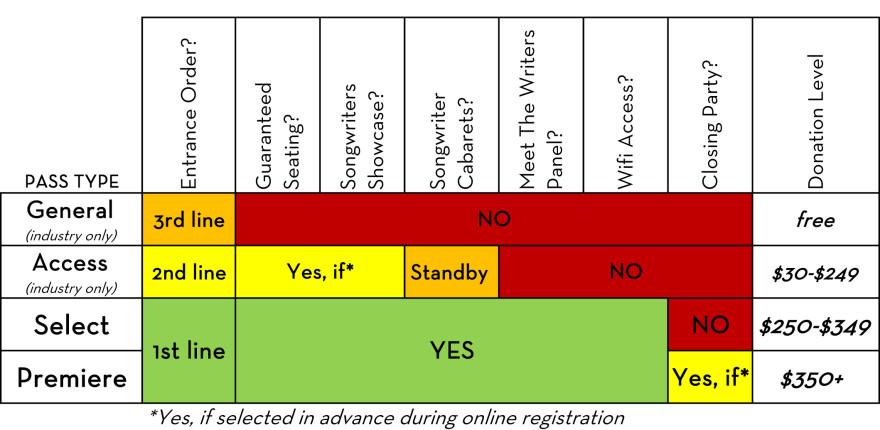 Click the chart to enlarge.
NAMT Member Registration
NAMT member organizations receive a limited number of complimentary Premiere Passes and Select Passes (see chart above).
Institutional Voting members receive 4 Premiere Passes and 2 Select Passes
Independent Producer Voting members receive 2 Premiere Passes and 2 Select Passes
Academic, Developmental and International members receive 2 Premiere Passes and 1 Select Pass
Associate Members receive 1 Select Pass
(Not sure what kind of member you are? Check the directory!)
Standby
Public standby lines for those unable to register start 20 minutes prior to each reading. Standby seating is limited and is not guaranteed.
Fall Conference
The Fall Conference is a separate event open to NAMT members and invited guests only. Those attendees may register for both events at once using this registration form. Or visit the Fall Conference section of the website for more details.
Thank You, 30!
In addition to the Conference and Festival, this year we're kicking things off with a special gala event celebrating the first 30 years of NAMT's Festival of New Musicals. You may purchase tickets for Thank You, 30! when you register for the Conference and Festival, all on the same easy form.
---
Register
Guidelines
Participation Guidelines
NAMT is committed to recognizing and celebrating the diversity of experiences, talents, skills, cultures and opinions that our members bring to our community, and specifically to our events. We invite you to participate in the Fall Conference and Festival of New Musicals in a spirit of open-mindedness, curiosity and respect.
We want every NAMT event to be a safe, inclusive and productive environment for all participants. In that spirit, we ask you to…
Be inclusive, actively seeking and inviting diverse perspectives
Listen to understand
Participate in an active and direct way, with professionalism and respect for others
Be considerate, kind, constructive and helpful in your language and actions
Refrain from demeaning, discriminatory or harassing behavior and language
Respect confidentiality requests by speakers and other attendees
NAMT staff and Board may take action (up to and including expulsion with no refund and exclusion from future events) to redress disruptive, disrespectful or offensive behavior or any other actions deemed in conflict with the above guidelines.
Thank you to every NAMT community member for helping to make all of our events informative, inclusive and respectful.