About NAMT
"I believe NAMT is the nation's central intersection for organizations committed to the future of the American Musical Theatre. As an organization not based in NYC, NAMT provides an opportunity to intersect with our national colleagues in a profound way."

Peter Rothstein
Artistic Director, Theater Latté Da
The National Alliance for Musical Theatre, founded in 1985, is a not-for-profit organization serving the musical theatre community. Our 150 organizational members and 60 individual members, located throughout 34 states and abroad, are some of the leading producers of musical theatre in the world, and include theatres, presenting organizations, higher education programs and individual producers.
Mission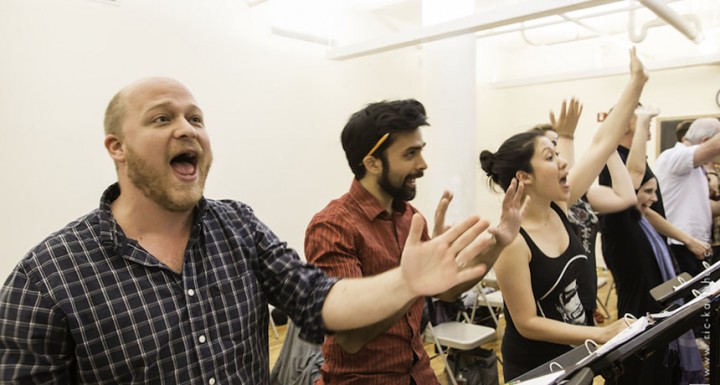 To be a catalyst for nurturing musical theatre development, production, innovation and collaboration.
"You guys have built a really open and inviting culture."

Stacie Boord
CEO, Shadowbox Live
Core Values
To achieve this mission, NAMT commits to:
Evolve and advance the musical theatre art form
Create and connect a welcoming musical theatre community for all
Inspire and excite the field to include the broadest possible range of voices
NAMT is committed to a musical theatre field that includes and embraces people of all backgrounds, identities and abilities. We strive every day to nurture a musical theatre canon that reflects and celebrates the rich diversity of our nation and the world.
See a Complete List of Member Benefits
---
Our Members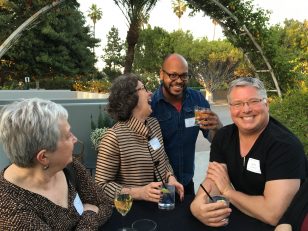 "I am thankful to have colleagues who are aligned with us through common core principles and with leadership from NAMT and its staff."

Mark Hoebee
Producing Artistic Director, Paper Mill Playhouse
Our 150 organizational and 65 individual members — including institutional theatres, developmental companies, higher education programs, presenting organizations and individual producers — are some of the leading producers of musical theatre in the world. These organizations' leaders believe in the value NAMT adds to their theatres through new work development and funding, conferences, relationships, and the sharing of ideas, regardless of whether they produce only musicals, a mix of musicals and straight plays, new works, classics, or all of the above.
We foster relationships among our members, which have led to exciting partnerships and co-productions, as well as other opportunities to network and brainstorm, facilitate innovation in the field and bring our members together from all over North America to collaborate. As a NAMT member, you would find yourself in the company of like-minded, energetic producers from across the country, all working to advance the field.
​NAMT's members make a vital impact in their communities — economically, in education, and by entertaining millions of people.
Last season, the NAMT members collectively…
Employed nearly 20,000 staff members and 10,000 artists
Staged more than 15,000 performances attended by 3.7 million people
Entertained over 232,000 loyal subscribers
Provided education programs for half a million students and teachers
Had operating budgets totaling $600 million
Performed in 290 venues with a total of 147,000 seats
as of 9/12/23
---
Member Types, Dues and Criteria
Compare Member Types and Benefits Dues Calculator

"Our membership has repaid itself many times over. I've been part of many membership organizations in my career, and NAMT is the best of them."

Jason Loewith
Artistic Director, Olney Theatre Center
Organizational Membership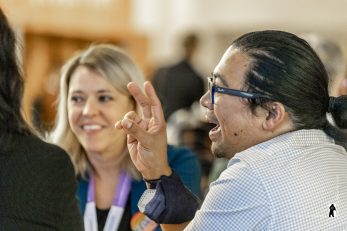 NAMT membership is open to professional producing organizations in several categories:
Producing theatre organizations
Tour presenters, producers or bookers

Professional tour presenters, producers or bookers
Dues: $3,200 per year

Independent commercial producers

Commercial Broadway, Off-Broadway, or similar producers and investors
Dues: $1,200 per year

Developers

Organizations such as writers' groups or workshops that develop new musicals without full productions or box office (free industry readings or similar events are okay)
Dues: $900 per year

Academic organizations

Accredited colleges, universities or other higher education programs with a proven track record of producing or training in musical theatre
Dues: $725 per year

Organizations as above, outside of North America
"Professional" is defined as employing at least some union actors, stagehands, etc., or compensating a majority of your performers and/or staff minimum wage or above (academic members must be accredited higher education programs instead). Your organization must have been in operation for at least 2 years and have a proven track record of producing musical theatre. Membership is on an organizational level, making all employees NAMT members.
Our membership year runs from May 1 through April 30; dues are pro-rated for members who join mid-year.
Individual Associate Membership
A limited personal membership designed for individual theatre professionals who do not meet criteria for organizational membership*: agents, casting directors, investors, musical theatre writers whose work has been produced by professional producing organizations or published by professional publishers/licensing houses, press and other theatre professionals at the discretion of the membership committee and board of directors.
Dues: $475 per year
Our membership year runs from May 1 through April 30; individual members pay full dues when joining in the first half of the year (through October 31) and half dues in the second half of the year.
*Associate Membership is intended for theatre professionals who are not eligible to be full members. Employees of organizations that qualify for full membership are encouraged to apply under the auspices of their organizations.
Individual Student Membership
A personal membership designed for current undergraduate and graduate students studying theatre management, arts administration, producing, theatre production or similar fields.
Dues: $90 per year
Our membership year runs from May 1 through April 30; individual members pay full dues when joining in the first half of the year (through October 31) and half dues in the second half of the year.
Not sure what your dues will be or what kind of membership is right for you?
Compare Member Types and Benefits Dues Calculator
Contact Member Services Director Adam Grosswirth at adam@namt.org or (212) 714-6668 x15 if you have any questions. Or take a look at other ways you can get involved with NAMT.
---
Application Process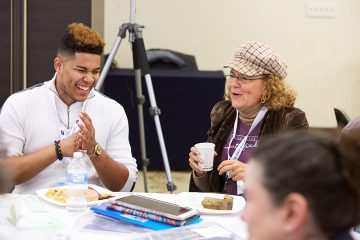 "When I think of the one national organization that has helped us the most it has been NAMT."

Ann-Carol Pence
Co-Founder/Producing Artistic Director, Aurora Theatre
Applications are reviewed by the Membership Committee and the Board of Directors, both made up of NAMT members who generously volunteer their time. The process may take a few weeks. NAMT's membership year runs from May 1 through April 30; new organizational members joining from June through March will have their dues pro-rated from the date the application is approved, and new members approved in April will simply be invoiced for the following year. Associate members pay half dues when joining in the second half of our fiscal year. If you're interested in applying to receive benefits for an event in the next month, please let us know and we'll make every effort to expedite your application.
Apply Now
"If you're involved in musical theatre, you have to be here. This is the center of the musical theatre universe."

Elisbeth Challener
Managing Director, ZACH Theatre
If you have any questions about the application process, contact Member Services Director Adam Grosswirth at (212) 714-6668 x15 or adam@namt.org for more information.
Photos by Ric Kallaher