Home » Member Services »
"The power of this network is unbelievable."

Denny Reagan
The MUNY
NAMT Members receive the following exclusive benefits throughout the year:
See the Benefits Available to Different Member Types
VIP Access to the Festival of New Musicals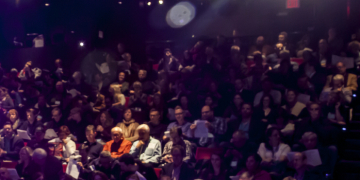 In 1989, the Festival of New Musicals was created to provide a forum to celebrate the new musicals that were being produced and presented around the country. Since then, the Festival has introduced musical theatre producers to 261 shows and 491 writers from around the world. More than 85% have gone on to subsequent readings, workshops, productions and tours, been licensed, and/or recorded on cast albums as a direct result of the Festival.
NAMT members receive Premiere or Select Passes, providing them with priority seating at the Festival and access to VIP networking events, as well as additional opportunities to meet the writers, be first in line to express interest in a show, connect with other NAMT members to discuss collaboration opportunities, and follow the shows as they develop after the Festival.
Conferences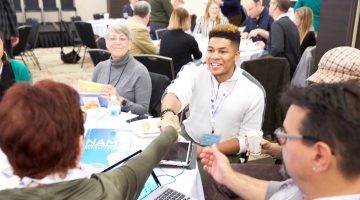 NAMT's two annual conferences provide valuable networking and learning opportunities, with panels and workshops featuring some of the top executives and creative professionals in the industry. With a focus on sharing successes, adaptability and lively discussion, our conferences are intimate and energetic forums where members get concrete ideas they can take back to their theatres and implement quickly. Ample time to talk in small groups and socialize leads to career-long relationships and a network of colleagues you can call on at any time. Conferences are open only to members and invited guests, and members receive the lowest possible rates to attend.
Grants
The Frank Young Fund for New Musicals supports collaborations between member theatres and musical theatre writers via grants to NAMT's US-based not-for-profit members to support writer residencies, workshops and full productions of new musicals.
The Innovation & Exploration Fund helps member theatres pilot new ideas in various administrative, community engagement, and production areas to advance their missions.
Roundtables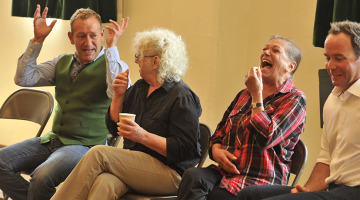 Our Roundtables give NAMT members an opportunity to network, explore best practices and share case studies in more intimate, informal settings than the Conferences, usually focusing on topics of narrower interest. New Works Roundtables are typically held in conjunction with festivals or productions of new musicals at member theatres, and Writers' Roundtables, held annually in New York, bring Festival alumni writers and member producers together to build connections and explore models of collaboration. Roundtables are also held on a variety of management and community engagement topics, hosted by member theatres around the country.
Theatre Experience and Collaboration Hub (The TECH)
An online resource center offering opportunities for members to connect with and learn from their peers without leaving their desks, The TECH currently contains
Newsletters
Monthly News & Notes with the latest member and alumni news
Monthly New Works News featuring Festival show updates, new works in development around the country and more
Surveys
Concrete information that can save you money!
The Salary & Benefits Survey shows what other theatres across the country are paying for key positions, helping you budget and negotiate.
The Success Survey tracks how specific musicals have performed for members around the country, to help with programming and marketing decisions, and negotiations with licensors.
NAMT by the Numbers provides a valuable overview of the membership and the industry.
Members-Only Website Content
Set and Costume Registry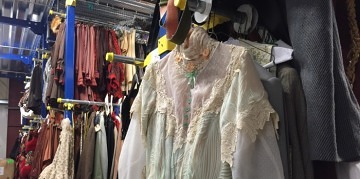 Earn revenues by listing sets, costumes and props for sale or rent on the Set and Costume Registry, one of the most highly-trafficked parts of our website. Only NAMT members may list on the registry, but it can be viewed by all website visitors, including hundreds who come directly to the Registry page searching for rental items.
Member Job Listings
Post for free on Art Career Cafe. NAMT members' listings also appear publicly on our website.
Discounts and Partnerships
Deals on car rental, NYC hotels, rehearsal studios, cast recordings, technology and fundraising tools and more.
Promote Your Projects to Industry Leaders
Draw From Our Knowledge Base
NAMT's staff is available to assist you in finding new work, connecting with fellow members and with writers.
Advocacy
Your voice is represented on a national scale in Washington, DC via NAMT's membership in The Performing Arts Alliance.
Year-Round Networking
Networking is a common thread through many of our member benefits. NAMT events provide unique opportunities to make connections with other producers, writers, licensors and others. Our tight-knit association of members keeps in touch year-round.
See the Benefits Available to Different Member Types
Learn About The Different Types of Membership and Dues
Apply Now