"Thank you for creating such important places to learn, support, and be hopeful. You have become even more important to theatre in America than ever before. We're lucky and I am thankful for what you are creating."

Michael Baron
Producing Artistic Director, Lyric Theatre of Oklahoma
See the Benefits Available to Different Member Types
Nurture, Develop and Produce New Musicals
Festival of New Musicals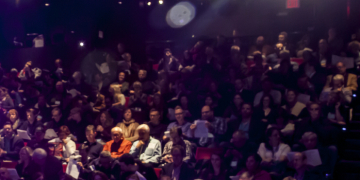 In 1989, the Festival of New Musicals was created to provide a forum to celebrate the new musicals that were being produced and presented around the country. Since then, the Festival has introduced musical theatre producers to 261 shows and 491 writers from around the world. More than 85% have gone on to subsequent readings, workshops, productions and tours, been licensed, and/or recorded on cast albums as a direct result of the Festival.
NAMT members receive VIP access to the Festival, including priority seating, members-only networking events and parties. Plus additional opportunities to meet the writers, be first in line to express interest in a show, connect with other NAMT members to discuss collaboration opportunities, and follow the shows as they develop after the Festival.
"Thank you for valuing the perspective of small theatres as well as large ones. That's such an important step on the road to equity in our sector, as is centering BIPOC voices as you did through so much of the conference. Thank you for all you do for new musicals. It is nice to be part of an organization that shares our values."

Megan Randolph
Executive Director, Music Theatre of Madison


Frank Young Fund for New Musicals
Grants of up to $10,000 to support writer residencies, workshops and full productions of new musicals.
Online Resources
Festival demos and videos
Collaborate
Conferences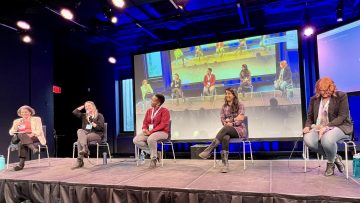 NAMT's two annual conferences focus on adaptability, sharing successes, and concrete ideas members can take back to their theatres and implement quickly, plus tons of lively discussion and networking time leading to career-long relationships and a network of colleagues you can call on year-round. Conferences are open only to members and invited guests, and members receive the lowest possible rates to attend.
"Thank you again for such a great conference. It was a wonderful gathering and I am always impressed by the diversity of participants and the openness and vigor with which debate and discussion occur followed by friendly exchanges in the bar. I am proud to be a member of NAMT."

Mark Fleischer
Producing Director, Pittsburgh CLO
Roundtables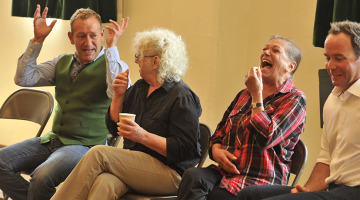 More intimate, informal one-day Roundtables are held on a variety of topics with a focus on case studies and local knowledge, both in New York and hosted by member theatres around the country. New Works Roundtables are typically held in conjunction with festivals or productions of new musicals at member theatres, and Writers' Roundtables, held annually in New York, bring Festival alumni writers and member producers together to build connections and explore models of collaboration. Roundtables are also held on a variety of management and community engagement topics.
"NAMT is the central intersection for organizations committed to the future of the American musical theatre. For us, as an organization not based in NYC, NAMT provides an opportunity to intersect with our national colleagues in a profound way."

Peter Rothstein
Artistic Director, Theater Latté Da
Newsletters
Monthly News & Notes with the latest member and alumni news
Monthly New Works News featuring Festival show updates, new works in development around the country and more
Promote Your Projects
Networking & Staff Consultation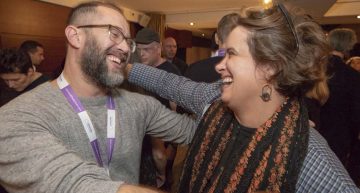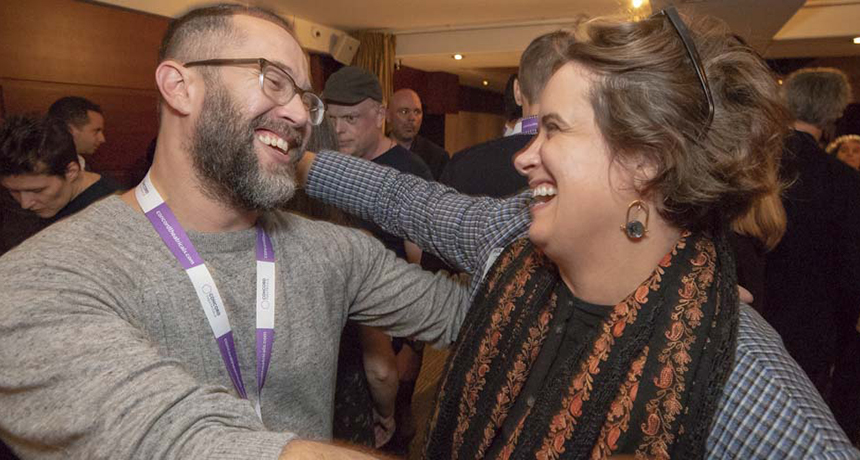 Networking is a common thread through many of our member benefits. NAMT events provide unique opportunities to make connections with other producers, writers, licensors and others. Our tight-knit association of members keeps in touch year-round. NAMT's staff is available to assist you in finding new work, connecting with fellow members and with writers.
"The people that I meet through NAMT are relatable. I always know that I'll have a good time and I always feel like I'm forming relationships that are going to last throughout my career."

Pamela Adams
General Manager, Atlantic Theatre Company
Online Resources

Innovate
Impact & Exploration Fund
Grants to help pilot new capacity-building programs to advance your mission, in technology, accessibility, community engagement and more.
"NAMT's quickness to dive in and lead the industry here is great motivation for all of us members to get it together and dive in too!"

Jason Eagan
Founding Artistic Director, Are Nova
Online Resources
"Thank you for all of the great webinars that NAMT has been hosting, they have been really informative, and so helpful in guiding our path forward."

Dawn Pahel
Human Resources Manager, Ogunquit Playhouse


Save Money
Set and Costume Registry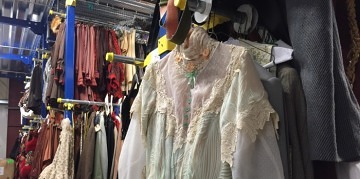 Earn revenues by listing sets, costumes and props for sale or rent on the Set and Costume Registry, one of the most highly-trafficked parts of our website. Only NAMT members may list on the registry, but it can be viewed by all website visitors, including hundreds who come directly to the Registry page searching for rental items.
Discounts and Partnerships
Deals on NYC hotels, rehearsal studios, technology and fundraising tools and more.
Surveys
The Salary & Benefits Survey shows what other theatres across the country are paying for key positions, helping you budget and negotiate
The Success Survey tracks how specific musicals have performed for members around the country, to help with programming and marketing decisions, and negotiations with licensors
NAMT by the Numbers provides a valuable overview of the membership and the industry
See the Benefits Available to Different Member Types
Learn About The Different Types of Membership and Dues