Home » Support NAMT »
What Is NAMT?
The National Alliance for Musical Theatre, founded in 1985, is a not-for-profit organization serving the musical theatre community. Our members, located across the US and the world, are some of the leading producers of musical theatre in the world. They include theatres, presenting organizations, higher education programs and individual producers. Our mission is to be a catalyst for nurturing musical theatre development, production, innovation and collaboration.
​NAMT's members make a vital impact in their communities — economically, in education, and by entertaining millions of people.
In the 2018-2019 season, the NAMT members collectively…
Employed over 20,000 staff members and 14,000 artists
Staged more than 19,000 performances attended by 10 million people
Entertained over 543,000 loyal subscribers
Provided education programs for 1.5 million students and teachers
Had operating budgets totaling $680 million
Performed in 300 venues with a total of 189,000 seats
as of 8/27/19
---
About The SPRING CONFERENCE
The 2022 Spring Conference in Toronto — and online!

"The NAMT team continues to be an inspiration. You guys are so consistently creating meaningful, useful opportunities during this time (well, always, but EVEN in this time). I was impressed with the breadth of offerings at the conference and festival and the sense of community that was fostered in the digital sphere."

– Elissa Adams, Theater Latté Da
The 2023 NAMT Spring Conference will take place March 29-31. We will gather in-person in Chicago, IL and online via the Webex Events application and website.
The 2023 Spring Conference is a wonderful opportunity to connect and network with leaders in the theatre industry from both the commercial and non-profit sectors. This conference will offer a unique opportunity to know the people responsible for funding the evolution of the musical theatre art form!
This Conference will focus on topics of Development and Fundraising and is expected to be attended by nearly 150 theatre professionals in person and online. As a sponsor, you will have direct access to the staff of our member organizations around the world. Those in attendance will be the lead decision makers at their respective organizations and sponsoring or exhibiting at a NAMT conference provides you with access to specific individuals interested in working with you.
Visit the Spring Conference page for full event details.
---
Sponsor the Spring Conference
$650 – $10,000+ (Not-for-profit rates available for Exhibitors)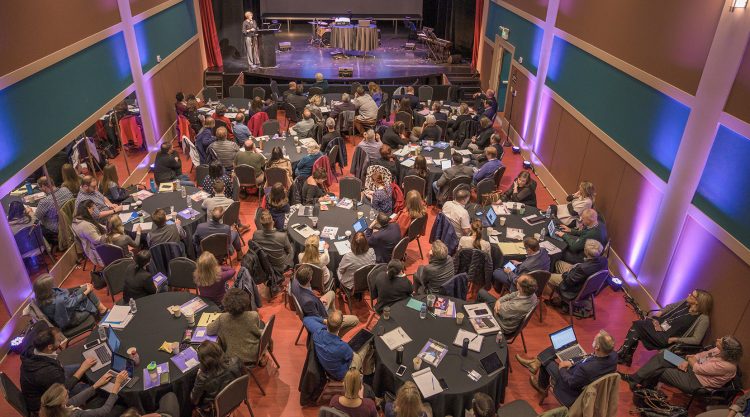 By sponsoring NAMT's Spring Conference, you will have valuable, personal access to NAMT's membership. The conference attendees are decision-makers in their organizations, including marketing directors, development directors, artistic directors, managing directors, general managers and more, all of whom work with some of the most well-known names in the theatre community!
Sponsor Benefits
Complimentary conference registrations
Presentation during the conference, virtual expo booth, or your company's branding on a conference event
Marketing materials in digital attendee packets
Attendee mailing list
Opportunity to lead a webinar to NAMT members after the conference
Your company logo on our website and on in-person and digital conference materials
and more!
Compare Sponsorship Levels & Benefits (PDF)
Contact Us to join us at the Spring Conference!
"I believe NAMT is the nation's central intersection for organizations committed to the future of the American Musical Theatre. As an organization not based in NYC, NAMT provides an opportunity to intersect with our national colleagues in a profound way."
See samples of interactive sponsor branding and benefits in the Webex Events mobile and web apps.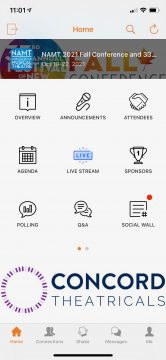 ---
Additional Opportunities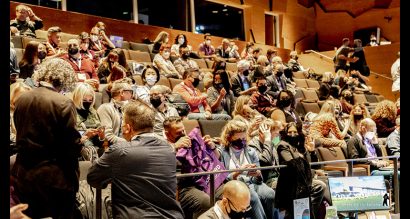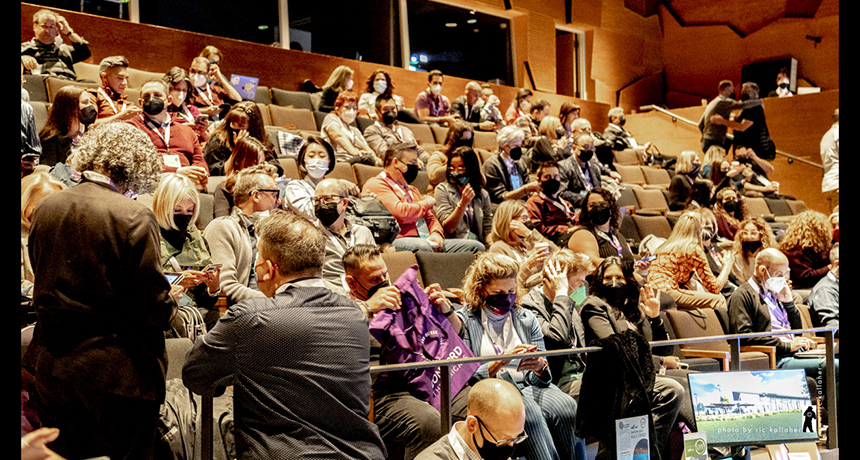 Every Fall in New York City, over 600 industry members gather to see presentations of eight new musicals over two days at our Festival of New Musicals. This is followed by the Fall Conference, where our members and invited guests will discuss the opportunities and challenges in producing new work and other issues relevant to the industry.
Sponsor and Exhibitor opportunities in the Fall are similar to those above. Options are available for exhibitors to join us for two days, at either one event or the other, or two days at each. In addition, advertising is available in the digital Festival Program, a full-color attachment with embedded links given to all attendees.
Details on supporting our 2023 Fall events will be available in the summer. Please contact Development Manager Alana Roberts at alana@namt.org or (212) 714-6668 x16 for more information. Special rates are available if you commit to sponsoring both Fall and Spring events!
Advertising is available year-round in our News & Notes and New Works News, which are sent to over 1,000 of our members and Festival alumni writers monthly. For more information please contact Membership Services Director Adam Grosswirth at adam@namt.org.
---
For More Information
Contact Development Manager Alana Roberts at alana@namt.org or (212) 714-6668 x16. We are happy to discuss specific benefits and design a package that will suit your needs!