Home » Support NAMT »
About NAMT
The National Alliance for Musical Theatre (NAMT), founded in 1985, is a not-for-profit organization serving the musical theatre community. Our mission is to be a catalyst for nurturing musical theatre development, production, innovation and collaboration.
​NAMT's members make a vital impact in their communities — economically, in education, and by entertaining millions of people.
In the 2018-2019 season, the NAMT members collectively…
Employed over 20,000 staff members and 14,000 artists
Staged more than 19,000 performances attended by 10 million people
Entertained over 543,000 loyal subscribers
Provided education programs for 1.5 million students and teachers
Had operating budgets totaling $680 million
Performed in 300 venues with a total of 189,000 seats
as of 8/27/19
About The FALL EVENTS
"The NAMT team continues to be an inspiration. You guys are so consistently creating meaningful, useful opportunities during this time (well, always, but EVEN in this time). I was impressed with the breadth of offerings at the conference and festival and the sense of community that was fostered in the digital sphere."

– Elissa Adams, Theater Latté Da
NAMT's Fall Events are going hybrid this year! The NAMT Fall Conference (October 19-20) will take place over two days at the A.R.T./New York Theatres and online to discuss New Works development topics. At the 2021 NAMT Festival of New Musicals (October 21-22), industry members will gather in-person and virtually to see presentations of eight new musicals over two days in a reimagined hybrid celebration of the future of musical theatre. Notable past Festival shows, writers and performers include:
The Drowsy Chaperone (2006 Tony Award for Best Musical)
Sutton Foster
Come From Away (seven 2017 Tony Award nominations, including Best Musical, upcoming film on Apple TV+)
Santino Fontana
Michael R. Jackson (2020 Pulitzer Prize for Drama)
Children of Eden
Terrence Mann
Annette O'Toole
It Shoulda Been You
Adrienne Warren
Anika Larsen
Thoroughly Modern Millie (2002 Tony Award for Best Musical)
Norm Lewis
HYBRID FALL EVENT SPONSORSHIPS
$1,000 – $20,000+ (Not-for-profit rates available on Exhibitor level)
By sponsoring NAMT's Fall Events, you will have valuable, personal access to NAMT's membership — 220 organizations and theatre professionals across the country and abroad.
Sponsor & Exhibitor Benefits Include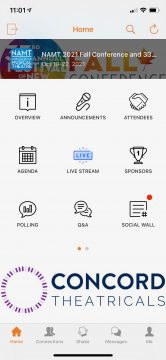 Complimentary in-person & online Conference & Festival registrations
Presentation during the Conference or your company's branding on an evening event
Branding and engagement opportunities in our event mobile app and website
Marketing materials in digital attendee packets
In-person & online Exhibitor booths!
Attendee mailing list
Named opportunities throughout the week
Your company logo on our website and on digital Fall Events materials
and many more!
Compare Sponsorship & Exhibitor Levels & Benefits (PDF)
Contact Us to Learn More or Join Us in October!
"A HUGE congratulations to the entire NAMT team! This was my second conference and dare I say even in a pandemic/virtual model, the conference and festival surpassed my expectations and in some ways was more engaging than being physically present. Hard to imagine you all topping yourselves again but I believe you can…the ease with which engagement happened at this conference is something to be replicated for future conferences. Thank you for the ease of access to staff for any challenges that came up as well."
Advertise in the Festival Program
$600 – $2,000
Advertising in our digital Festival program is your best chance to:
Reach over 700 theatre industry professionals with your message
Congratulate NAMT writers
Celebrate NAMT and 33 years of the Festival of New Musicals
The Festival program is the ONLY resource that lets attendees read about every show and event on the schedule. It's the best place to grab the musical theatre community's attention!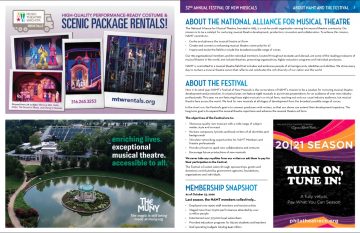 All digital ads can be in full color, with full bleed and include a link to your website
Full Page (8" wide x 10.5" high)
$1,500 members; $2,000 non-members
Half Page (8" wide x 5.125" high)
$1,000 members; $1,200 non-members
Quarter Page (4" wide x 5.125" high)
$600 members; $750 non-members
Specifications: Artwork, including text, must be in jpeg/tif file format with a minimum of 300 dpi. All ads should be pre-designed — NAMT is unable to design ads. Please refer to the size specifications above for the appropriate proportions.
Ad orders must be received by September 27. Deadline for all ad artwork is October 4, 2021.
Purchase a Festival Program Ad!
If you have any questions, please email festival@namt.org.
Additional Opportunities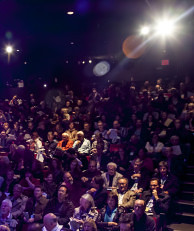 On March 23-25, 2022, NAMT members will gather in Toronto to discuss theatre administration topics over three days at our Spring Conference. We look forward welcoming members to our first Conference in Canada! Online/hybrid options will be available again as well.
Sponsor and Exhibitor opportunities in the Spring are similar to those above.
Details on supporting our 2022 Spring Conference will be online in early 2022. Please contact Development Manager Brittney Woolley at brittney@namt.org for more information. Special rates are available if you commit to sponsoring both Fall and Spring events!
Advertising is available year-round in our News & Notes and New Works News, which are sent to over 1,000 of our members and Festival alumni writers monthly. For more information please contact Member Services Director Adam Grosswirth at adam@namt.org.
For More Information
Contact Development Manager Brittney Woolley at brittney@namt.org We are happy to discuss specific benefits and design a package that will suit your needs!