Home » What We Do »
About NAMT
The National Alliance for Musical Theatre (NAMT), founded in 1985, is a not-for-profit organization serving the musical theatre community. Our mission is to advance musical theatre by nurturing the creation, development, production and presentation of new musicals, and to provide a forum for musical theatre professionals to share resources and exchange information.
​NAMT's members make a vital impact in their communities — economically, in education, and by entertaining millions of people.
Last season, the NAMT members collectively…
Employed over 20,000 staff members and 14,000 artists
Staged more than 19,000 performances attended by 10 million people
Entertained over 543,000 loyal subscribers
Provided education programs for 1.5 million students and teachers
Had operating budgets totaling $680 million
Performed in 300 venues with a total of 189,000 seats
as of 8/27/19
About The SPRING CONFERENCE
"Conversations at the NAMT Conference were so easy and fun. I never felt on the sidelines. Everyone was welcoming and eager to share. The NAMT staff was very interested in engaging in dialogue. I walked away with a list of great ideas to implement and mostly appreciate knowing that there are many others out there going through similar circumstances."

– Aaron Young, The Fulton Theatre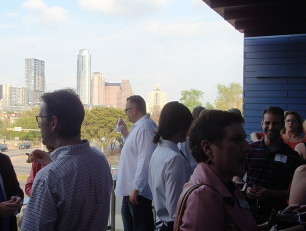 The 2020 NAMT Spring Conference will be held in Chicago, IL on March 25-27, 2020. Hosted by Chicago Shakespeare Theater and The Marriott Theatre.
The Conference will officially begin on the evening of Wednesday, March 25 at Chicago Shakespeare Theater on Navy Pier. On Thursday, March 26, we'll spend the day at the Marriott Theatre in Lincolnshire, including optional evening programming and a show. On Friday, March 27, we'll be back at Chicago Shakes, with an evening reception and show hosted by Music Theater Works and Mercury Theater Chicago. Visit the Spring Conference page for full event details.
SPONSORS
$1,000 – $10,000
By sponsoring NAMT's Spring Conference, you will have valuable, personal access to NAMT's membership — 200 organizations and theatre professionals across the country and abroad. The conference attendees are the top decision-makers in their organizations, including marketing directors, development directors, artistic directors, managing directors, general managers and more, all of whom work with some of the most well-known names in the theatre industry!
Sponsor Benefits
Complimentary conference registrations
Presentation during the conference, exhibitor table, or your company's branding on a conference event
Marketing materials in digital and paper attendee packets
Attendee mailing list
Your company logo on our website and on conference signs and materials
and more!
Compare All Sponsor & Exhibitor Levels and Benefits (PDF)
EXHIBITORS
$600 – $1,100
Exhibitors at the Spring Conference have the opportunity to display their products and services and connect directly with attendees throughout the Conference.
Exhibitor Benefits
Exhibitor table in high traffic area during the Conference
Access to Conference networking events
Your company logo on our website and on conference signs and materials
and more!
Compare All Sponsor & Exhibitor Levels and Benefits (PDF)
Contact Us To Learn More or to Join Us at our next Conference!
Additional Opportunities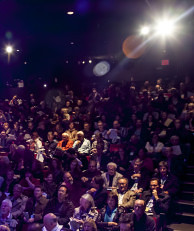 Every Fall in New York City, over 600 industry members gather to see presentations of eight new musicals over two days at our Festival of New Musicals. This is followed by the Fall Conference, where our members and invited guests will discuss the opportunities and challenges in producing new work and other issues relevant to the industry.
Sponsor and Exhibitor opportunities in the Fall are similar to those above. Options are available for exhibitors to join us for two days, at either one event or the other, or two days at each. In addition, advertising is available in the Festival Program, a full color printed book given to all attendees.
Details on supporting our 2020 Fall events will be online in the summer. Please contact Development Manager Santiago Martinez at santiago@namt.org or (212) 714-6668 x16 for more information. Special rates are available if you commit to sponsoring both Fall and Spring events!
Advertising is available year-round in our News & Notes and New Works News, which are sent to over 1,000 of our members and Festival alumni writers monthly. For more information please contact Membership Director Adam Grosswirth at adam@namt.org.
For More Information
Contact Development Manager Santiago Martinez at santiago@namt.org or (212) 714-6668 x16. We are happy to discuss specific benefits and design a package that will suit your needs!