Home » What We Do »
Sponsors, Exhibitors & Ads
About NAMT
The National Alliance for Musical Theatre (NAMT), founded in 1985, is a not-for-profit organization serving the musical theatre community. Our mission is to advance musical theatre by nurturing the creation, development, production and presentation of new musicals, and to provide a forum for musical theatre professionals to share resources and exchange information.
​NAMT's members make a vital impact in their communities — economically, in education, and by entertaining millions of people.
Last season, the NAMT members collectively…
Employed over 20,000 staff members and 14,000 artists
Staged more than 19,000 performances attended by 10 million people
Entertained over 543,000 loyal subscribers
Provided education programs for 1.5 million students and teachers
Had operating budgets totaling $680 million
Performed in 300 venues with a total of 189,000 seats
as of 8/27/19
About The FALL EVENTS
"Conversations at the NAMT Conference were so easy and fun. I never felt on the sidelines. Everyone was welcoming and eager to share. The NAMT staff was very interested in engaging in dialogue. I walked away with a list of great ideas to implement and mostly appreciate knowing that there are many others out there going through similar circumstances."

– Aaron Young, The Fulton Theatre
At the 2019 NAMT Festival of New Musicals (October 24-25), over 600 industry members will gather to see presentations of eight new musicals over two days at New World Stages in New York City. Notable past Festival shows, writers and performers include:
The Drowsy Chaperone (2006 Tony Award for Best Musical)
Sutton Foster
Come From Away (7 2017 Tony Award nominations, including Best Musical)
Santino Fontana
Children of Eden
Terrence Mann
Annette O'Toole
It Shoulda Been You
Adrienne Warren
Anika Larsen
Thoroughly Modern Millie (2002 Tony Award for Best Musical)
Norm Lewis
Duncan Sheik
Southern Comfort
At the Fall Conference immediately preceding the Festival (October 22-23), our members and invited guests will discuss the opportunities and challenges in producing new work and other issues relevant to the industry. Past keynote speakers have included:
David Henry Hwang (award-winning playwright, America's most-produced living opera librettist, and two-time Finalist for the Pulitzer Prize)
Harold Prince (Legendary Broadway producer and director)
Jason Robert Brown (award-winning Broadway composer/lyricist)
Victoria Bailey (Executive Director of the Theatre Development Fund (TDF))
Roger Rees (award-winning actor, director, writer and educator)
Douglas Carter Beane (award-winning Broadway playwright and book-writer)
Ben Cameron (Program Director for the Arts for the Doris Duke Charitable Foundation)
Sponsorship opportunities are available for the Festival of New Musicals & Fall Conference.
FESTIVAL AND CONFERENCE SPONSORS
$3,000 – $10,000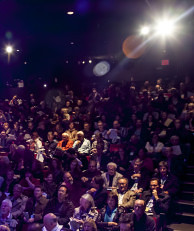 By sponsoring NAMT's Festival of New Musicals and Fall Conference, you will have valuable, personal access to NAMT's membership — 220 organizations and theatre professionals across the country and abroad, as well as the larger industry attending the Festival. The conference attendees are the top development decision-makers in their organizations, as well as executive directors, artistic directors, managing directors and more, all of whom work with some of the most well-known names in the theatre industry.
Sponsor Benefits
Complimentary conference registrations
Presentation during the conference, exhibitor table, or your company's branding on a conference event
Marketing materials in digital and paper attendee packets
Attendee mailing list
Your company logo on our website and on conference signs and materials
and more!
Compare Festival/Conference Levels and Benefits

FESTIVAL AND CONFERENCE EXHIBITORS
$600 – $1,200
Exhibitors at the Fall events have the opportunity to display their products and services and connect directly with attendees throughout the four days of NAMT events.
Exhibitor Benefits
Exhibitor table in high traffic area during the Festival and conference
Access to conference networking events
Your company logo on our website and on conference signs and materials
and more!
Compare Festival/Conference Levels and Benefits
Contact Us To Learn More or to Join Us in New York!
Advertise in the Festival Program
$400 – $3,000
Advertising in our printed Festival program is a prime opportunity to:
Reach over 700 theatre industry professionals with your message
Announce shows to the industry
Sell services or products to the decision makers who need them
Congratulate Festival writers
Size
Non-Member Rate
Member Rate
Inside Front or Back cover, full color full page
(8″ wide x 10.5″ high) — only 2 available!
$3,000 full color only
$2,500 full color only
Full Page (8" wide x 10.5" high)
$2,500 full color
$2,000 b+w
$2,000 full color
$1,500 b+w
Half Page (8" wide x 5.125" high)
$1,500 full color
$1,200 b+w
$1,250 full color
$1,000 b+w
Quarter Page (4" wide x 5.125" high)
$950 full color
$750 b+w
$750 full color
$600 b+w
Eighth Page (4″ wide x 2.5″ high)
$500 b+w only
$400 b+w only
Artwork and payment due to us by September 20, 2019.
Purchase a Festival Program Ad!
If you have any questions, please email adsales@namt.org.
---
YEAR-ROUND Opportunities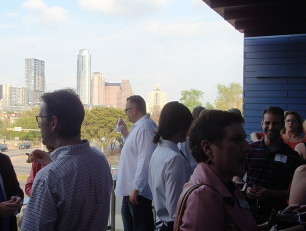 Special rates are available if you commit to sponsoring both Fall and Spring events! Our Spring Conference focuses on administrative and management topics, such as marketing and fundraising and is attended by 100 executives and department heads.
Sponsor and Exhibitor opportunities in the Spring are similar to those above. The 2020 Spring Conference will be hosted by Chicago Shakespeare Theater on Navy Pier in Chicago, and The Marriott Theatre, in the suburb of Lincolnshire, on the topic of the full patron expereince, combining marketing and fundraising.
Details on supporting our Spring Conference will be online in late fall. Please contact Development Manager Santiago Martinez at santiago@namt.org or (212) 714-6668 x16 at any time for more information.
Advertising is available year-round in our News & Notes and New Works News, which are sent to over 1,000 of our members and Festival alumni writers monthly. For more information please contact Member Services Director Adam Grosswirth at adam@namt.org, or click here to buy an ad now.
For More Information
Contact Development Manager Santiago Martinez at santiago@namt.org or (212) 714-6668 x16. We are happy to discuss specific benefits and design a package that will suit your needs!