Home » Festivals »
34th Annual Festival of New Musicals
2022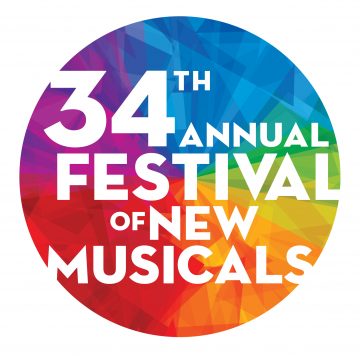 Welcome
October 20 - 21, 2022
New World Stages
340 W 50th Street, New York, NY
The 34th Annual Festival of New Musicals will be presented at New World Stages in New York City on October 20th & 21st, 2022. Register now!
Over the course of two days, 45-minute cuts of eight new musicals will be presented to over 600 industry professionals. Selected from a careful review process, the Festival celebrates what's next in musical theatre and the incredible stories and artists that are leading the way.
Festival Schedule
Thursday, October 20, 2022 (All times ET)
9:00 - 10:00 am
Check-in/Registration
12:10 - 1:50 pm
Lunch (on your own)
(don't forget to check out the Midday Cabaret in the Green Room lounge during lunch both days!)
Green Room Lounge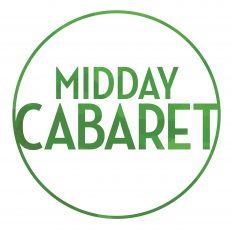 (Premiere or Select Pass required for entry)
4:00 - 6:00 pm
Happy Hour at the Green Room Lounge
Friday, October 21, 2022 (All times ET)
9:00 - 9:30 am
Check-in/Registration
11:40 am - 1:20 pm
Lunch (on your own)
(don't forget to check out the Midaay Cabaret in the Green Room lounge during lunch both days!)
Green Room Lounge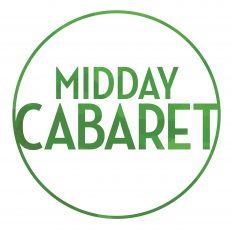 (Premiere or Select Pass required for entry)
4:00 - 5:00 pm
Stage 2
Songwriters Showcase on Stage 4
Stage 4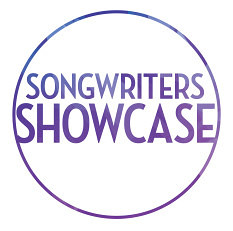 (Only open to pre-registered Premiere, Select and Access Pass holders)
Green Room Lounge
5:30 - 7:30 pm
Closing Cocktail Party
For registered Premiere Pass holders only.
Open bar and the ultimate networking opportunity with this year's writers and VIPs!
Saturday, October 22, 2022 (All times ET)
10:00 am - 12:00 pm
Post-Festival Collaboration Meeting (NAMT Members Only)
At this meeting, NAMT organizational members interested in working on Festival shows will have a chance to talk about future collaborations and development. Exact time and location TBD. Watch your email for details, and please select the meeting on your schedule if you're interested in attending so we have a head-count.
As of 8/9/22. Subject to change!
Hotels & Accommodations
Yotel New York Times Square
570 Tenth Avenue at W 42nd Street
www.yotel.com
The Yotel New York Times Square is offering Fall Conference and Festival of New Musicals participants Premium Queen Cabins for $259/night (plus taxes and fees) for the nights of October 17 through October 21, 2022. Book by October 3, 2022 to get this offer. (Rates are good two days after these dates subject to availability.)
The Yotel is a unique hotel experience just steps from the Pershing Square Signature Center and a 15-minute walk to New World Stages. Yotel appeals to those who find traditional hotels uninspiring, searching for a different experience and not just a great sleep. They deliver that experience to Generation YO through awesome people, smart design and the creative use of technology, providing unique spaces, each with their own personality, connected by a sense of community, all delivered with a touch of fun and tons of passion.
Click here to book by October 3. If asked for a code, enter G2210NATION1.
Book This Deal
Additional Offers Via Vacayz
marketplace.vacayz.com
Additional hotel discounts are available through our new partnership with Vacayz. Inventory varies and new offers will be added all the way up to the week of the Fall Conference and Festival of New Musicals, so if you're not planning to book right now, check for updates.
Book This Deal
Hotel Offers Available for NAMT Members
namt.org
NAMT members have access to discounted rates at multiple Midtown Manhattan hotels year-round. Visit the Discounts and Deals page and log in for details and to book one of these great hotels now.
Additional hotel offers for the week of the Fall Conference and Festival of New Musicals coming soon.
Book This Deal
Registration
Please read below for details about who may attend the Festival of New Musicals and how to register. Then click the button at the bottom the page when you're ready to proceed! The registration form will also walk you through the process by asking you questions.
---
Rates and Deadlines
The Festival is free and open to theatre industry professionals (see details below) or by donation to NAMT. NAMT members receive passes based on their member type (see details below).
Starting October 11, a $20 late registration administrative fee will be applied to all Festival registrations, including NAMT members. This fee helps to offset additional administrative support required during this busy time.
Online registration for the Festival ends on October 16 at 11:59 pm. We strongly encourage you to register online so that we can have your badge ready, and to pick your schedule due to the possibility of individual readings closing due to capacity limits.
Walk-up attendees at New World Stages will be subject to a $30 fee. Please allow extra time to register and have your badge printed.
---
Registration Process
All attendees must be registered, and registrations are not transferable. The Festival is also a networking event; each attendee will receive a badge, which gives you entry to the events (there are no tickets). You may register multiple attendees from the same organization on the same form.
Your registration will not be complete until you click the SUBMIT button at the very end of the form and you have paid (if applicable). You will see a confirmation screen and receive an email upon completion.
---
Non-Member Attendance Eligibility
We define an industry member as anyone currently working professionally in the theatre who can aid in the development of the shows or careers of the writers we present. If you are not a NAMT member, you will be asked when you register to state your affiliation with another professional organization/group/network, such as TCG, The Broadway League, LORT, ART/NY, etc.. General passes to the Festival are free to industry members as defined above. You may receive upgraded access as our thanks for a donation to support the Festival (see below).
If you are not industry, you may make a donation of $250 or more and receive a special pass to attend the Festival with VIP benefits as our gift (see details below). Please click the Register button below to make this donation and register for the Festival all on one single form.
Festival Passes
There are four different passes available for the Festival, each with its own level of access and benefits outlined in the chart below. Industry members who are not members of NAMT will be asked to select their pass level when they register. Capacity at Festival presentations is limited, and a VIP pass guarantees your admission. In addition, while a General Pass to the Festival is free to industry professionals, your tax-deductible contribution allows the Festival of New Musicals to create a nurturing environment for the discovery, development and advancement of new works, at no cost to the writers participating.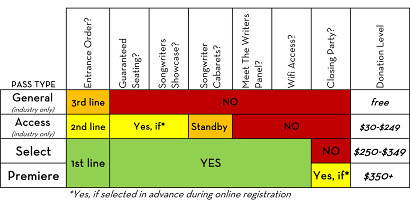 Click the chart to enlarge.
---
NAMT Member Registration
NAMT member organizations receive a limited number of complimentary Premiere Passes and Select Passes as part of their member benefits:
Institutional Voting members receive 4 Premiere Passes and 2 Select Passes
Independent Producer Voting members receive 2 Premiere Passes and 2 Select Passes
Academic, Developmental and International members receive 2 Premiere Passes and 1 Select Pass
Associate Members receive 1 Select Pass
(Not sure what kind of member you are? Check the directory!)
---
Standby
Public standby lines for those ineligible to register start forming 20 minutes prior to each reading. Standby seating is limited and is not guaranteed.
---
Fall Conference
The Fall Conference is a separate event open to NAMT members and invited guests only. Those attendees may register for both events at once using this registration form. Or visit the Fall Conference section of the website for more details.
Register
Guidelines
Participation Guidelines
NAMT is committed to recognizing and celebrating the diversity of experiences, talents, skills, cultures and opinions that our members bring to our community, and specifically to our events. We invite you to participate in all of our Conferences, Roundtables, Festivals and other events, both online and in-person, in a spirit of open-mindedness, curiosity and respect.
We want every NAMT event to be a safe, inclusive and productive environment for all participants. In that spirit, we ask you to…
Be inclusive, actively seeking and inviting diverse perspectives
Recognize that some people are comfortable responding quickly and verbally and others are not, and create space for those who may need more time to be heard
Listen to understand
Participate in an active and direct way, with professionalism and respect for others
Be considerate, kind, constructive and helpful in your language and actions
Use "I" statements and avoid generalizations
Assume good intentions but acknowledge impact
Ask questions if something isn't clear, and receive both questions and answers with openness and generosity
Refrain from demeaning, discriminatory or harassing behavior and language
Respect confidentiality requests by speakers and other participants
We may take action (up to and including expulsion with no refund and exclusion from future events) to redress disruptive, disrespectful or offensive behavior or any other actions perceived by NAMT staff and/or Board to be in conflict with the above guidelines.
We know that learning and working together can produce both joy and conflict. We recognize that to learn is to stumble, and we are striving to provide a space for risk, creativity, respect, appreciation, growth and collaboration. When addressing conflicts of any type, we commit to these Participation Guidelines.
Thank you to every NAMT community member for helping to make all of our events informative, inclusive and respectful.
COVID-19
COVID-19 policies will be set in accordance with our host venue's policy at the time of the event, as well as New York City and State regulations, and theatre industry best practices. These are subject to change at any time!
As of June 27, 2022, we are strongly encouraging but not requiring masks when not eating/drinking, and encouraging all attendees to be vaccinated and boosted for COVID-19. This policy may change at any time, so please be sure to check your pre-Festival emails.
If you're planning to attend theatre, restaurants, museums, etc., policies vary by venue, so always check ahead of time.