Home » Musicals »
Back to the 34th Annual Festival of New Musicals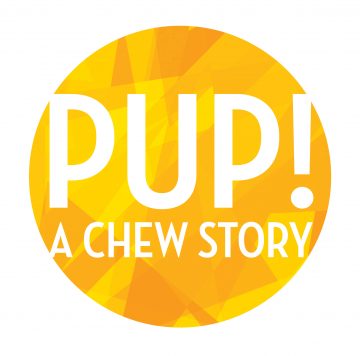 Pup! A Chew Story
2022 Festival
Director
Rachel Klein
Music Director
Adam Laird
Cast
Nick Bruno, Benjamin Camenzuli, Darron Hayes, Rachel Kay, Jacob Louchheim, Zonya Love, Nicole Vanessa Ortiz, Lianah Sta. Ana, Cody Strand and Max Wilcox
---
Number of Acts: 2
Number of Principals (Male): 2
Number of Principals (Female): 3
Number of Principals (Trans / GNC): 12
Preferred Ensemble Size: 18
Total Cast Size: 23
Orchestra Breakdown:
Piano (Key 1), Piano (Key 2), Bass, Drums, Guitar, Violin, Cello, Flute, Trumpet
Genre & Style:
Dark Comedy (*contains adult language)
---
---
Synopsis
Is finding a forever home at the heart of every dog? Or are they meant for greater things? The strength of friendship is put to the ultimate test when two inseparable companions — a tri-pawed pit bull and his chew toy — embark on a quest for a forever home in Hollywood.
Development History
Pup! A Chew Story was written in March 2020 over Google Hangouts. The idea bloomed in Smith's mind one morning, after a long night of scrolling through dog videos online, and the notion of a three-legged dog and his chew toy going on an impossible adventure was a story he had to tell. Because Schäfer had been Smith's musical partner since their college days, Smith immediately approached him with the idea. Although they were living in two different countries, they wasted no time. A staged reading was performed at the Broadwater Theater in Hollywood in August 2021.
5 Things You Should Know
WHAT IS PUP! A CHEW STORY? Pup! A Chew Story is a musical dark comedy about a three-legged shelter dog and his chew toy's epic journey to find their forever home in Hollywood. Poking a nose into the hidden corners of friendship, loneliness, and disillusionment, it highlights the plight of the underdog — one willing to do what most will not in order to fulfill a dream. A fresh, bold, adult-themed roller coaster ride that sits and stays in between feel-good, cult classics like Bill & Ted's Excellent Adventure and transcendent dramas like Thelma & Louise, our unlikely, titular hero, Pup, allows us to explore themes of transformation and liberation, as well as escape from the constraints of conformity, class, and disability one foul-mouthed bark at a time.
WHO AND WHAT SHOULD YOU EXPECT? Expect the unexpected! Pup! A Chew Story is unlike any musical about dogs that you have ever seen…or could even imagine. The music is fun, fast-paced and energized, moving from catchy pop tunes to intimate Broadway ballads to driving, hard rock refrains; and the characters — our dogs, their chew toys, and a human or two — run the gambit of engaging, memorable personalities. They are lovable and dangerous, sweet and sexy, courageous and downright diabolical.
HOW SMITH & SCHÄFER MET? An unlikely pairing to say the least — Marcus Terrell Smith, a six-foot five, mocha-skinned college volleyball player from Tempe, Arizona, and Robin Schäfer, a six-foot one blonde-haired, blue-eyed business management major from Cologne, Germany — the songwriting duo met at Pace University in New York City in 2009. Robin arrived for a semester abroad and it just so happened Marcus was his residential advisor in the St. George Dormitory. Although they were from completely different backgrounds the two of them shared a love of music; Robin being a fantastic producer and master of the guitar, and Marcus being a powerful singer and a wizard with the pen. That semester they wrote music together every day, eventually releasing a eleven song album, which they performed all over New York. When the semester ended, the two separated, each of them returning to their hometowns. However, undeterred by the distance, they continued to write songs and eventually the musical, Pup! A Chew Story. In fact, the latter was written completely over Google Hangouts, never in person! Smith & Schäfer always make a way.
HOW'S IT BEEN GOING? Before submitting to NAMT, Smith & Schäfer thought it best to get all their ducks in a row and start the development process themselves. They enlisted the help of Christopher Sargent, a dear friend of Smith's who had toured with him in the Second National tour of Broadway's Book of Mormon, to orchestrate in January 2021 (also over Google Hangouts), and since that time he has created a robust piano-vocal score and sheet music for a full orchestra. Then, on August 27 & 28, 2021, Pup! A Chew Story had its first public staged reading with a 4-piece band and 15 singers. The following year, the duo decided to step up their efforts to bring Pup! A Chew Story into the theatre mainstream but they wanted to attach a worthy cause to it as well — specifically, pet adoption and the crisis of overcrowding in Los Angeles' animal shelters. They partnered with several animal rescues (Animal Spirit Foundation, A Purposeful Rescue, and the HIT Living Foundation), and, departing from the standard adoption efforts, hosted a very special, large-scale MUSICAL pet adoption event on September 10 & 11, 2022 at The Montalbán Theatre in Hollywood. The sold-out event was called THE GREAT HOMECOMING, and it was an experience that brought together theater, education and animal welfare with a large percentage of the proceeds going directly to the rescues involved!
WHERE DO WE WANT TO GO? Because this show is so timely, so edgy, and because its message and subject matter are so universal, Smith & Schäfer see unlimited possibilities in Pup!'s future. The primary goal of the moment is, of course, a long, long life on the Broadway and West End stage, with many exciting stops along the way, such as: A GREAT HOMECOMING international tour, where we partner with animal shelters throughout the country to bring awareness to pet adoption and population control; the development of a prequel and sequel to this wonderful story for the stage, an animated series similar to Bob's Burgers, Rick & Morty, or Adventure Time and even a film adaptation. The sky's the limit!
Excerpts