Home » Musicals »
Back to the 34th Annual Festival of New Musicals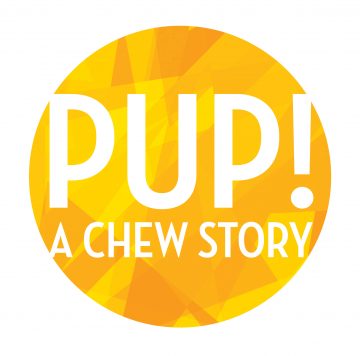 Pup! A Chew Story
2022 Festival
---
Number of Acts: 2
Number of Principals (Male): 2
Number of Principals (Female): 3
Number of Principals (Trans / GNC): 12
Preferred Ensemble Size: 18
Total Cast Size: 23
Orchestra Breakdown:
Piano (Key 1), Piano (Key 2), Bass, Drums, Guitar, Violin, Cello, Flute, Trumpet
Genre & Style:
Dark Comedy (*contains adult language)
---
---
Synopsis
Is finding a forever home at the heart of every dog? Or are they meant for greater things? The strength of friendship is put to the ultimate test when two inseparable companions — a tri-pawed pit bull and his chew toy — embark on a quest for a forever home in Hollywood.
Development History
Pup! A Chew Story was written in March 2020 over Google Hangouts. The idea bloomed in Smith's mind one morning, after a long night of scrolling through dog videos online, and the notion of a three-legged dog and his chew toy going on an impossible adventure was a story he had to tell. Because Schäfer had been Smith's musical partner since their college days, Smith immediately approached him with the idea. Although they were living in two different countries, they wasted no time. A staged reading was performed at the Broadwater Theater in Hollywood in August 2021.
Excerpts