Home » Musicals »
Back to the 34th Annual Festival of New Musicals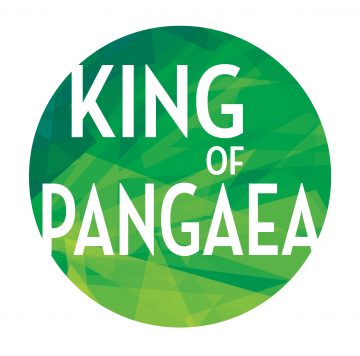 King of Pangaea
2022 Festival
Director
Richard Israel
Music Director
Deborah Abramson
Cast
Benai Boyd, Asher Edgecliffe-Johnson, Wade McCollum, Katerina McCrimmon, Shereen Pimentel, Sam Primack and Lenny Wolpe
---
Number of Acts: 1
Number of Principals (Male): 4
Number of Principals (Female): 2
Total Cast Size: 6
Orchestra Breakdown:
Piano, Drums, Guitar, Bass, Violin
Casting Notes:
Young Christopher is played by a child. Arthur/Captain and Sophie/Maya may be played by the same actors.
Genre & Style:
The musical style of King of Pangaea is folk rock. The overall tone of the show is whimsical, reverent, upbeat, and honest.
---
---
Synopsis
After a sudden loss shatters his world apart, twenty-one year old Christopher Crow travels back to the imaginary island of his childhood in hopes of finding answers that will bring the pieces back together. King of Pangaea explores the rich, complicated, and at times beautiful world of loss, examining what it means to become king or queen of one's own heart.
Development History
During the past four years, King of Pangaea has primarily been developed through a series of informal readings and work sessions in Los Angeles, with the help of a growing community of artists and friends. Milestones include a staged reading at the Whitefire Theater as part of the "Music Stand Series" (2021) and showcases at Musi-Cal in Hollywood (FNAM) and A Little New Music (ASCAP-sponsored). To date, this show has largely existed outside of the traditional New York development pipeline, and we're grateful for the opportunity to grow our community further and connect with new partners who can help us expand our reach.
Developed with Aubrey Swander
Festival Successes
NY Theatre Barn residency, 2023. Developmental production at Utah Festival Opera and Musical Theatre, 2023.
5 Things You Should Know
King of Pangaea was inspired by Martin's experience with the loss of his mother. This project began as a fantasy story about an imaginary island, but as it has evolved, it has become more vulnerable, honest, and personal. In creating the show, Martin has relied on his memories and journals, as well as his mother's journals, which he recently discovered during the writing process.
King of Pangaea s built around a small-but-versatile cast of six, and a five-member, on-stage band. Current run time for the entire show is just under 90 minutes.
We are seeking producing and theatrical partners who want to be part of the journey of this piece, as well as opportunities to continue developing and strengthening King of Pangaea in the short term, with eyes toward a world premiere production. Our ultimate goal is to make this show as strong as we possibly can so it can connect with its audience for many years to come.
To date, King of Pangaea has been developed independently with the help of a community of artists, friends, and supporters, and we are excited to be expanding our community to New York and beyond. Our first reading took place in a sunny backyard under a pop-up party tent, and since then, the 'big tent mindset' has been central to our process. This show has always had a way of finding its people – those who resonate with what we're working on and want to be part of the journey, and we're always thrilled to welcome them into the tent.
After more than 12 years in Los Angeles, Martin recently relocated to New York with his wife and six-month old daughter to become immersed in the musical theater community here. He's excited to meet new colleagues and collaborators, learn as much as he can, and bring together his artistic communities on both coasts. Reach out and let's get together :)
Excerpts
https://https://www.youtube.com/watch?v=O2rIYKmDlLw