Home » Festivals »
32nd Annual Festival of New Musicals
2020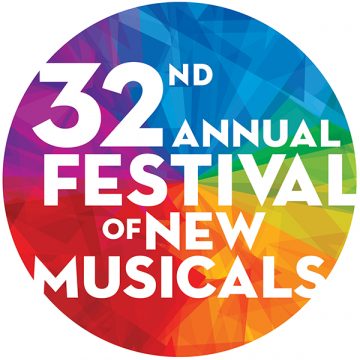 Welcome
November 19-20, 2020
Online
.
Register now for the 32nd Annual Festival of New Musicals, which will be presented online on November 19-20, 2020!
Over the course of two days, video excerpts of eight new musicals will be presented to an online audience of industry professionals. Selected from a careful review process, the Festival celebrates what's next in musical theatre and the incredible stories and artists that are leading the way. This year's reimagined Festival will be the first of its kind for NAMT, and will still include important networking opportunities for NAMT members and other industry professionals, and hallmarks you've come to expect from this annual musical theatre tradition.
Festival Schedule
Thursday, November 19, 2020 (All times ET)
2:00 - 7:00 pm
Festival Day 1
Details TBA
Friday, November 20, 2020 (All times ET)
2:00 - 7:00 pm
Festival Day 2
Details TBA
Times are Eastern.
As of 9/14/20. Subject to change!
Registration
Who Can Attend?
The full Festival of New Musicals experience is open to theatre industry professionals. We define an industry member as anyone currently working professionally in the theatre who can aid in the development of the shows or the careers of the writers we present. We'll ask you your role in the theatre when you register. Industry professionals who register through NAMT will have access to our full online Festival experience, including networking opportunities and time to meet with the writers in our virtual lobby, just like at past Festivals.
New this year, members of the general public may attend the Festival online through our partners at Broadway On Demand.
Premiere Passes
While a donation is not required for industry members, your contribution allows NAMT to create a nurturing environment for the discovery, development and advancement of the new works.
As our thanks for a donation of $250 or more, you will receive a Premiere Pass providing you with additional content and VIP access.
A donation at any level helps support our programs throughout the year, including the Frank Young Fund for New Musicals and the Innovation and Exploration Fund. Major donors join our Players Program and receive insider access to NAMT and our member theatres across the country.
NAMT member organizations receive passes as part of their member benefits (see below).
NAMT is a 501(c)(3) not-for-profit organization, and your contribution is tax-deductible to the extent allowed by law.
NAMT member organizations receive a limited number of complimentary Premiere Passes as part of their member benefits:
Institutional Voting members receive 6 Premiere Passes
Independent Producer Voting members receive 4 Premiere Passes
Academic, Developmental and International members receive 3 Premiere Passes
Associate and Student Members receive 1 Premiere Pass
(Not sure what kind of member you are? Check the directory!)
How Do I Register?
NAMT members and other industry professionals, click the button below to register now!
The deadline to register using this form is Friday, November 13. Late industry registrations will be possible directly through our online events platform, at a rate to be determined, and general public registrations through Broadway On Demand. Register now for the best registration experience!
Each attendee will receive a login to our online events platform, and important pre-event information will be sent via email. Therefore, you must provide a unique email address for each attendee on the registration form. You may register up to 12 people* from the same organization on the same form, which is the fastest and easiest way to register your organization!
Your registration will not be complete until you click the SUBMIT button at the very end of the form and you have paid (if applicable). You will see a confirmation screen and receive an email upon completion.
General public, click here to sign up to be notified when registration via Broadway On Demand is open, or continue below to make a donation to NAMT for VIP access and additional content.
Fall Conference
The Fall Conference is a separate event open to NAMT members and invited guests only. Those attendees may register for both events at once using this registration form. This year, both events will take place in the same virtual space, but your registration type will determine which sessions you have access to. Visit the Fall Conference page for more details.
*You may register more than 12 people for the Festival, this is just a technical limitation of the form; you can always come back and sign up more!
Register
Guidelines
Participation Guidelines
NAMT is committed to recognizing and celebrating the diversity of experiences, talents, skills, cultures and opinions that our members bring to our community, and specifically to our events. We invite you to participate in the Fall Conference and Festival of New Musicals in a spirit of open-mindedness, curiosity and respect.
We want every NAMT event to be a safe, inclusive and productive environment for all participants. In that spirit, we ask you to…
Be inclusive, actively seeking and inviting diverse perspectives
Listen to understand
Participate in an active and direct way, with professionalism and respect for others
Be considerate, kind, constructive and helpful in your language and actions
Refrain from demeaning, discriminatory or harassing behavior and language
Respect confidentiality requests by speakers and other attendees
NAMT staff and Board may take action (up to and including expulsion with no refund and exclusion from future events) to redress disruptive, disrespectful or offensive behavior or any other actions deemed in conflict with the above guidelines.
Thank you to every NAMT community member for helping to make all of our events informative, inclusive and respectful.
Attendees
Above the Title Entertainment
Kevin Bianchi
Management Associate
Above the Title Entertainment
Britt Marden
Director of Artistic Planning
Above the Title Entertainment
Jed Bernstein
Producer
Abrams Artists Agency or A3
Ben Izzo
Theatrical Literary Agent
Agency for the Performing Arts
Beth Blickers
Literary Agent
Appalachian State University
Keith Martin
Distinguished Professor of Musical Theatre
Ars Nova
Rick Feldman
TRUSTEE
Art Lab
Lourdes Figueroa
Creative Associate
Art Lab
Meg Fofonoff
Executive Producer/Artistic Director
ArtsPower National Touring Theatre
Gary Blackman
Founding Co-Director
ArtsPower National Touring Theatre
Mark Blackman
Founding Co-Director
Book-It Repertory Theatre
Jordi Montes
Artistic Producer/Tour Manager
Broadway & Beyond Theatricals
Victoria Lang
Founder, Co-President of Content
Broadway Unlocked
Stephanie Cowan
Charlottetown Festival
Adam Brazier
Artistic Director
Columbia University School of the Arts
Gigi Bolt
Adjunct Associate Professor
Double Play Connections LLC
Jane Dubin
Producer, Double Play Connections
Elaine Devlin Literary, Inc.
Elaine Devlin
Literary Agent
FACADE
Richard Andrews
Managing Partner
Fourth Wall Theatricals
Benjamin Simpson
Producer
GEMS Group Productions
Gabrielle Palitz
Producer
HelmsBriscoe
Laura Little
Senior Director, Global Accounts
hofstetter+partners
Bill Hofstetter
ceo
I ARE Music
Amy Engelhardt
Composer/Lyricist
Independent Producer
Julie Miller
Producer
Jean Doumanian Productions
Jeffrey Morse
Executive Assistant
Jean Doumanian Productions
Kathryn Willingham
Creative Development Executive
Junkyard Dog Productions
Sue Frost
Producer
Junkyard Dog Productions
Randy Adams
Producer
kinesound
Yuri Worontschak
Composer
Musical Theatre Factory
Mei Ann Teo
Artistic Director
National Alliance for Musical Theatre
Adam Grosswirth
Member Services Director
National Alliance for Musical Theatre
Lady del Castillo
Program Assistant
National Alliance for Musical Theatre
Kara Kirby
kara@namt.org
National Alliance for Musical Theatre
Ciera Iveson
New Works Director
National Alliance for Musical Theatre
Betsy Militello
Executive Director
National Alliance for Musical Theatre
Brittney Woolley
Development Manager
National Endowment for the Arts
Ouida Maedel
Theater & Musical Theater Specialist
National Endowment for the Arts
Ian-Julian Williams
Theater & Musical Theater Specialist
National Endowment for the Arts
Katie Fisher
Director of Scheduling | Office of the Chairman
National Endowment for the Arts
Greg Reiner
Theater & Musical Theater Director | Performing Arts
New York Theatre Barn
Matthew Woolf
Board Member, New York Theatre Barn
NewYorkRep
Markus Potter
Producing Artistic Director
Off The Leash Productions
Jeremy Handelman
President & Executive Producer
Olympus Theatricals
Danielle Joseph
Office Manager
Olympus Theatricals
Elizabeth Timperman
Executive Director
Olympus Theatricals
Kirsten Berkman
Associate Producer
Pace University
Alexander Tom
Associate Program Head
Rubicon Theatre Company
Karyl Lynn Burns
Producing Artistic Director
Schondeikkan Productions, LLC
joanna Lodin
producer, DTR Productions
Schondeikkan Productions, LLC
Lynne Halliday
producer, Schondeikkan Productions
Seoul Institute of the Arts
YounYoung Park
lecturer
Shea's Performing Arts Center
Michael Murphy
President
The 5th Avenue Theatre
Bernie Griffin
Managing Director
The 5th Avenue Theatre
Bill Berry
Producing Artistic Director
The Movement Theatre Company
Ryan Dobrin
Associate Producing Artistic Leader
The Public Theater
Cat Rodriguez
Associate Dramaturg
The York Theatre Company
Seth Christenfeld
Literary Manager
The York Theatre Company
Joan Ross Sorkin
Pres., Board of Directors
Theater Latté Da
Chris Cartwright
Marketing Associate
Theater Latté Da
Kelli Foster Warder
Associate Artistic Director
Theater Latté Da
Peter Rothstein
Artistic Director
Theater Latté Da
Elissa Adams
Associate Artistic Director
Theatre Under The Stars
Hillary Hart
Executive Director
Theatre Under The Stars
Dan Knechtges
Artistic Director
Theatre Under The Stars
Megan Larche Dominick
Associate Artistic Director/Director of New Works
Theatreworks USA
Barbara Pasternack
Artistic Director
Vineyard Theatre
Jason Kesse
Literary Intern
Vineyard Theatre
Miriam Weiner
Literary Manager
Weston Playhouse Theatre Company
Rachel Liff
Artistic Associate and Education Coordinator
Weston Playhouse Theatre Company
Jenna Jordan
Company Administrator
Weston Playhouse Theatre Company
Nathaniel Vilandre
Production and Operations Manager
Weston Playhouse Theatre Company
Emily Schriebl Schriebl Scott
Director of Development
Weston Playhouse Theatre Company
Andrew Butterfield
Director of Marketing and Communications
Weston Playhouse Theatre Company
Susanna Gellert
Executive Artistic Director
White Plains Performing Arts Center
Terence Osborne
Associate Producer
White Plains Performing Arts Center
Stephen Ferri
Executive Producer/ Resident Music Director
James Campodonico
Composer