Home » Festivals »
29th Annual Festival of New Musicals
2017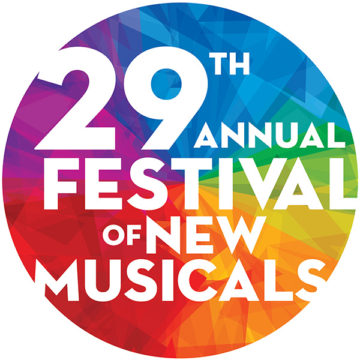 Welcome
October 19 - 20
New World Stages
340 W 50th Street, New York, NY
Register now for the 29th Annual Festival of New Musicals!
This year's Festival features shows selected from over 240 submissions from around the world, representing the breadth, depth and excitement of musical theatre today.
Festival Schedule
Thursday, October 19, 2017
9:30 - 10:00 am
Check-in/Registration
12:30 - 2:00 pm
Lunch (on your own)
(don't forget to check out the Songwriters Cabaret in the Green Room lounge during lunch both days!)
Green Room Lounge
Songwriters Cabaret
(Premiere or Select Pass required for entry)
2:00 - 3:00 pm
Track B
Green Room Lounge
Open for coffee and networking
Friday, October 20, 2017
9:00 - 9:30 am
Check-in/Registration
12:00 - 1:30 pm
Lunch (on your own)
(don't forget to check out the Songwriters Cabaret in the Green Room lounge during lunch both days!)
Green Room Lounge
Songwriters Cabaret
(Premiere or Select Pass required for entry)
4:10 - 5:20 pm
Track A
Track B
Meet the Writers Panel
(Only open to Premiere and Select Pass Holders)
Green Room Lounge
5:30 - 7:30 pm
Closing Cocktail Party
(For registered Premiere Pass holders only.)
Open bar and the ultimate networking opportunity with this year's writers and VIPs!
Saturday, October 21, 2017
10:00 am
Member's Post-Festival Collaboration Meeting
Location TBA
As of 11/1/16. This schedule is TENTATIVE and subject to change!
Hotels & Accommodations
Registration
Non-Member Attendance Eligibility
The Festival is free and open to theatre industry professionals or by donation to NAMT.
We define an industry member as anyone currently working professionally in the theatre who can aid in the development of the shows or careers of the writers we present. If you are not a NAMT member, you will be asked when you register to state your affiliation with  another professional organization/group/network, such as TCG, The Broadway League, LORT, ART/NY, etc..
If you are not industry, you may make a donation of $250 or more and receive a special pass to attend the Festival with VIP benefits as our gift (see details below). Please click the Register button below to make this donation and register for the Festival.
Festival Passes
There are four different passes available for the Festival, each with its own level of access and benefits outlined in the chart below. Industry members who are not members of NAMT will be asked to select their pass level when they register. Although a General Pass to the Festival is free to industry professionals, your tax-deductible contribution allows the Festival of New Musicals to create a nurturing environment for the discovery, development and advancement of the new works, at no cost to the writers participating.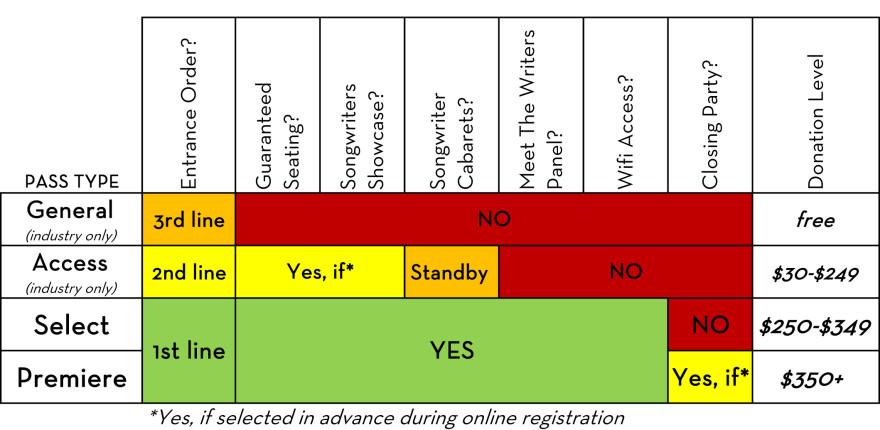 Click the chart to enlarge.
NAMT Member Registration
NAMT member organizations receive a limited number of complimentary Premiere Passes and Select Passes (see chart above).
Institutional Voting members receive 4 Premiere Passes and 2 Select Passes
Independent Producer Voting members receive 2 Premiere Passes and 2 Select Passes
Academic, Developmental and International members receive 2 Premiere Passes and 1 Select Pass
Associate Members receive 1 Select Pass
(Not sure what kind of member you are? Check the directory!)
Late Registration
Online registration for the Festival ends on October 13. We strongly encourage you to register online so that we can have your badge ready, and due to the possibility of individual readings closing due to capacity limits.
Starting October 2, there will be a $20 late registration processing fee per attendee. Walk-up attendees at New World Stages will be subject to a $30 fee.
Registration Process
All attendees must be registered, and registrations are not transferable. The Festival is also a networking event; each attendee will receive a badge, which gives you entry to the events (there are no tickets). You may register multiple attendees from the same organization on the same form.
Your registration will not be complete until you click the SUBMIT button at the very end of the form and you have paid (if applicable). You will see a confirmation screen and receive an email upon completion.
Standby
Public standby lines for those unable to register start 20 minutes prior to each reading. Standby seating is limited and is not guaranteed.
Fall Conference
The Fall Conference is a separate event open to NAMT members and invited guests only. Those attendees may register for both events at once using this registration form. Or visit the Fall Conference section of the website for more details.
The 46th Minute
Our celebrated Festival kick-off concert, open to the public, will be held on Wednesday, October 18 at New World Stages. Details to be announced. Members and invited guests may purchase tickets at the lowest possible member rate when registering for the Conference and/or Festival. Non-members who register for the Festival only prior to tickets going on sale for this special event will be emailed when tickets go on sale.
Register
Advertise
Advertising in our printed Festival program is a prime opportunity to:
Reach over 600 theatre industry professionals with your message
Announce shows to the industry
Sell services or products to the decision makers who need them
Congratulate Festival writers
DETAILS