Home » Musicals »
Back to the 29th Annual Festival of New Musicals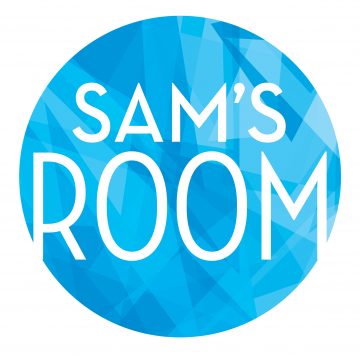 Sam's Room
2017 Festival
Director
Jaki Bradley
Music Director
Jason Pomerantz
Cast
Lincoln Clauss, Mallory Hawks and Laura Jordan
Contact for Rights
insidesamsroom@gmail.com, facebook.com/SAMSROOMSHOW, Contact Dale Sampson at (304)830-1354
---
Number of Acts: 1
Number of Principals (Male): 1
Number of Principals (Female): 2
Total Cast Size: 3
Orchestra Breakdown:
guitar, bass, drums, keys (synths), horn(s)
Casting Notes:
Our band acts as an ensemble of storytellers as well.
Genre & Style:
---
---
Synopsis
This pop concert dramedy follows Sam, a teenager in 1998 with nonspeaking special needs, on his path to find a way to communicate. Shifting between cruel reality and pop star fantasy, Sam's Room powerfully reveals the universal struggle with communication by giving a voice to someone who's never had one.
The concept and story of this piece surprised and moved us and reminded us of the power of musical theatre to give voice to the voiceless. Committee members appreciated its truthfulness, sensitivity and refusal to pander, and were intrigued by its three-performer theatrical conceit.

- Festival Committee
Development History
Sam's Room's first table-reading was held in December, 2015. The audience included Marc Campbell of the pop band MisterWives and folk musician Caitlin Marie Bell of Bell the Band, who began writing the show's album that same night. Next, the team self-produced a presentation in May, 2016. The response to that presentation led the team to Joe Barros of New York Theatre Barn and their New Works Series. This fully realized 45-minute portion of the show made Sam's Room the inaugural recipient of NYTB's IMPACT award "for having the most impact on the world, the theatre community and society."
Festival Successes
Developmental workshop at New York Theatre Barn (NY) in November 2017. Staged reading in March 2018 at Red Mountain Theatre Company's (AL) Human Rights Festival. Commercial producer and NAMT member Seaview Productions now has the option. Excerpts featured in New York Theatre Barn's (NY) live-streamed New Works Series in April 2020. Continued development at New York Theatre Barn and The Cell in 2022.
5 Things You Should Know
Sam is a teenager with nonspeaking and physical special needs. The research and exploration into this sensitive and compelling subject never ends. The team is committed to ongoing growth and discovery through field research in augmentative alternative communication and by working with teachers, families and experts in the field in order to spread awareness and strengthen the case for the importance of continued conversation on the subject of specials needs education.
The year is 1998. A JVC boombox blasts Backstreet Boys, and a Total Request Live VJ introduces the hot new boyband, N'SYNC. Debate over Bill Clinton's sexual improprieties on the six o'clock news kills time before Home Improvement and Ally McBeal. We are in the dot.com bubble, and although social media is not yet a common phrase, AIM is first to connect people through real-time chat. In public schools, the day begins with Channel One News and ends with PTA discussions concerning IDEA and their efforts to provide public education opportunities for students with disabilities.
While in the comfort of his bedroom, Sam uses his imagination to transform himself into international superstar and ultimate communicator, Sammy Star. He transforms his bedroom into a concert stadium and takes the audience on a journey through a variety of musical genres. In this imaginary world, Sam achieves something that seems impossible in his current reality; communicating to thousands of people through his own unique songs and lyrics. Through music, he constructs a place inside his mind where he can be entirely himself and express everything he wants to say.
To help separate Sam's nonspeaking reality from his superstar fantasy, we use an original style of staging inspired by the National Speech and Debate Association, the oldest and largest speech and debate honor society in the world. These techniques help the cast of 3 innovatively create storytelling magic with nothing but their voices and bodies rather than using sets, costumes, props, etc.
Sam's Room explores the human condition, exposing the difficulties of communication with one another. In a world where we can instantly speak our minds with the click of a button, we seem to suffer a mass disability when expressing feelings and ideas in a healthy productive manner. Sam's journey to communicate explores the true power of the human voice.
Excerpts