27th Annual Festival of New Musicals
2015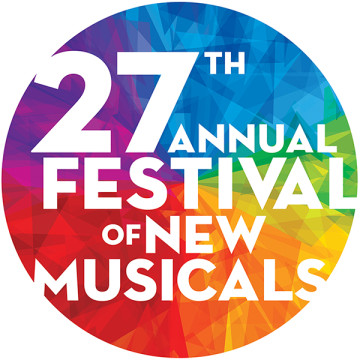 Overview
October 15-16
New World Stages
340 W 50th Street, New York, NY
We are excited about our 27th Annual Festival of New Musicals which will take place at New World Stages in New York City on October 15 & 16!
This year's Festival has shows selected from over 220 submissions sent in from around the world, representing the breadth, depth and excitement of musical theatre today:
from an agoraphobic man creating stories out of the sounds he hears through the walls, to a man and his former childhood imaginary friend learning what it means to be a grown-up
from shows that have never had an industry reading before to a show that has been seen around the world
from the sounds of the Depression Era south to the sounds of a post-apocalyptic theatre group creating its own sound
Join us this October for an exciting taste of what's next in new musicals!
---
Songwriters Showcase
THE HUNTER AND THE BEAR by PigPen Theatre Co.
MORTALITY PLAY by Scotty Arnold and Alana Jacoby
THE THEORY OF RELATIVITY by Neil Bartram and Brian Hill
ZOMBIES ON BROADWAY by Marshall Pailet and Jason Michael Snow
Midday Cabarets
Brian Lowdermilk & Kait Kerrigan
Kim Sherman & Darrah Cloud (Heartland – Fest '97)
Douglas J. Cohen (Barnstormer – Fest '08, Glimmerglass – Fest '00, The Gig – Fest '94)
Tidtaya Sinutoke & Ty Defoe.
Selection Process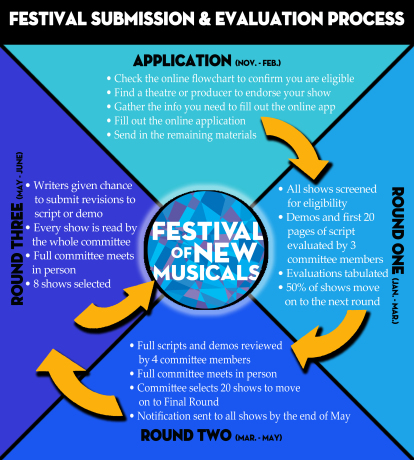 For our 27th Annual Festival of New Musicals, NAMT received 223 submissions from around the world. The submitted shows were at all the different stages of development, from shows that have never had more than a table reading to ones that have had multiple regional productions. Our process to filter from the field of 223 down to the eight you will see at the Festival started in early January and was completed in mid-June. The evaluation process is carefully crafted and executed to ensure that we are able to present an exciting and varied, top-notch Festival each year.
NAMT assembles a 15-person committee composed of NAMT Members and co-chaired by two members from across the world to represent the membership and the industry in the selection of the FestivalEach member sits on the committee for 2-3 years. The Festival selection process is overseen by the Festival Producing Director, who moderates the two committee meetings; neither he nor other NAMT staff members, however, express opinions or vote on which shows are selected for the Festival. All committee members are required to sign a Code of Integrity that outlines expected conduct as well as our need for confidentiality and transparency throughout the process.
Our evaluation process is blind, meaning the materials sent to the committee for review do not contain the writers' names, agent names or development history of the project. The committee members do not know if a show is written by someone still in high school or by a winner of multiple Tony® awards; they know only the work that is on the page and on the demo cd. This blind process is key to the integrity of the Festival selection process, and we rigorously maintain the blind nature of the evaluation process at every step along the way.
Our evaluation process has three phases:
Round 1 (January-March)
A 20-page excerpt and demo is evaluated by three members of the Festival Screening subcommittee (a group of additional NAMT members brought on to help with the volume in this initial round)
About one-third of the shows are selected to move on, based on the scores given to them by the evaluators
Round 2 (March-May):
Each show sent on to this round is fully read and evaluated by four members of the Festival Committee
The Committee has a full-day meeting to select the shows that are the strongest contenders for the Festival, based not only on the scores on their evaluations, but also on the excitement and passion for each piece expressed by committee members at this in-person meeting.
Around 20 shows are selected to become semi-finalists for the Festival.
Round 3 (May-June):
The chair emeritus (the prior year's senior chair) of the committee returns for this round to add a fresh pair of eyes and ears.
Writers are permitted to submit revisions of the script or demo for this final review.
All semi-finalist shows are read and evaluated by the entire committee.
The Committee has a full-day meeting to select the eight shows that will make the best Festival, including shows at all stages of development and of all shapes, sizes, styles and topics.
We continuously refine our selection process to ensure that we are always sharply focused on selecting great musicals that showcase the variety of voices writing today. Through the Festival, we look forward to welcoming more wonderful new musicals into the greater musical theatre canon. We know that you will be inspired and moved by this year's selections, and we are excited to share with you what is next in new musicals.
The 2015 Festival Committee is co-chaired by Mara Isaacs, Octopus Theatricals (NJ) and Paige Price, Theatre Aspen (CO). Committee members include: Bob Alwine, Goodspeed Musicals (CT); Carlos Armesto, Theatre C (NJ); Amy Corcoran, Dallas Summer Musicals (TX); Keith Cromwell, Red Mountain Theatre Co. (AL); Dana Harrel, Disney Creative Entertainment (CA); Megan Larche Dominick, The MUNY (MO); Robert Lee, NYU Tisch School of the Arts- Graduate Musical Theatre Writing Program (NY) and NAMT Festival Alumnus Writer; Jacob Padrón, The Public Theater (NY); Michael Rubinoff, Canadian Music Theatre Project at Sheridan College (ON); Greg Schaffert, Greg Schaffert Productions (NY); Stephanie Yankwitt, Barrington Stage Co. (MA); and chair emeritus Kelley Kirkpatrick, Center Theatre Group (CA).
This page was last updated on 12/11/2020. Some musical and writer information may be more recent.