28th Annual Festival of New Musicals
2016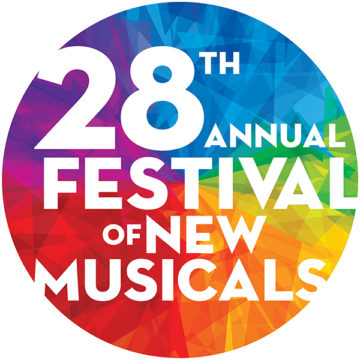 Overview
October 27 - 28, 2016
New World Stages
340 W 50th Street, New York, NY
The 28th Annual Festival of New Musicals was presented at New World Stages in New York City on October 27 & 28, 2016.
Festival Program
Over the course of two days, 45 minute cuts of eight new musicals were presented to over 600 industry professionals. Selected from a blind review process of over 190 submissions, this year's Festival celebrated what's next in musical theatre and the incredible stories and artists that are leading the way.
This year's Festival attendees saw:
Perspectives from inside political and social revolutions, spanning decades and continents
Reimagining history with new musical styles, weaving rock-and-roll into the plagued dark ages and contemporary pop into pre-WWII Europe
Intimate coming-of-age stories and large adaptations of heartfelt classics
As of 10/10/16
Songwriters Showcase
THE FAMILY RESEMBLANCE by Masi Asare
HOW I PAID FOR COLLEGE by Marc Acito
WHAT I LEARNED FROM PEOPLE by Will Aronson (The Trouble with Doug, Fest '10) & Hue Park
THE WHITE CITY by Avi Amon & Julia Gytri
Hosted by Kate Wetherhead
Directed by Amy Corcoran
Midday Cabarets
Michael Cooper & Hyeyoung Kim (Sunfish, Fest '06)
Paulo K. Tiról & Kathleen Wrinn
Emma Lively & Tyler Beattie
Michael R. Jackson
Selection Process
Submit your show to next year's Festival!
---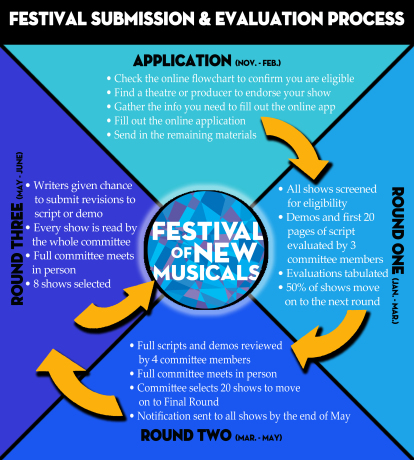 For our 28th Annual Festival of New Musicals, NAMT received 193 submissions from around the world. The submitted shows were at all the different stages of development, from shows that have never had more than a table reading to ones that have had multiple regional productions. Our process to filter the field of 193 down to the eight you will see at the Festival started in early January and was completed in mid-June. The evaluation process is carefully crafted and executed to ensure that we are able to present an exciting and varied, top-notch Festival each year.
NAMT assembles a 15-person committee composed of NAMT Members and co-chaired by two members from across the world to represent the membership and the industry in the selection of the Festival. Each member sits on the committee for 2-3 years. The Festival selection process is overseen by the Festival Producing Director, who moderates the two committee meetings; neither she nor other NAMT staff members, however, express opinions or vote on which shows are selected for the Festival. All committee members are required to sign a Code of Integrity that outlines expected conduct as well as our need for confidentiality and transparency throughout the process.
Our evaluation process is blind, meaning the materials sent to the committee for review do not contain the writers' names, agent names or development history of the project. The committee members do not know if a show is written by someone still in high school or by a winner of multiple Tony® awards; they know only the work that is on the page and on the demo cd. This blind process is key to the integrity of the Festival selection process, and we rigorously maintain the blind nature of the evaluation process at every step along the way.
Our evaluation process has three phases:
Round 1 (January-March)
A 20-page excerpt and demo is evaluated by three members of the Festival Screening subcommittee (a group of additional NAMT members brought on to help with the volume in this initial round)
About one-third of the shows are selected to move on, based on the scores given to them by the evaluators
Round 2 (March-May):
Each show sent on to this round is fully read and evaluated by four members of the Festival Committee
The Committee has a full-day meeting to select the shows that are the strongest contenders for the Festival, based not only on the scores on their evaluations, but also on the excitement and passion for each piece expressed by committee members at this in-person meeting.
Around 20 shows are selected to become semi-finalists for the Festival.
Round 3 (May-June):
The chair emeritus (the prior year's senior chair) of the committee returns for this round to add a fresh pair of eyes and ears.
Writers are permitted to submit revisions of the script or demo for this final review.
All semi-finalist shows are read and evaluated by the entire committee.
The Committee has a full-day meeting to select the eight shows that will make the best Festival, including shows at all stages of development and of all shapes, sizes, styles and topics.
We continuously refine our selection process to ensure that we are always sharply focused on selecting great musicals that showcase the variety of voices writing today. Through the Festival, we look forward to welcoming more wonderful new musicals into the greater musical theatre canon. We know that you will be inspired and moved by this year's selections, and we are excited to share with you what is next in new musicals.
This page was last updated on 12/11/2020. Some musical and writer information may be more recent.