We are thrilled to announce the line-up of new musicals for the 28th Annual Festival of New Musicals, which takes place on Thursday, October 27 and Friday, October 28, 2016 in New York.
Now in its 28th year, the National Alliance for Musical Theatre's Festival of New Musicals attracts theatre producers from around the world for this industry-only event to discover eight new musicals presented in 45-minute concert presentations over two days. All production costs are underwritten by NAMT, at no cost to the writing teams.  As a non-profit organization, NAMT funds the Festival entirely through donations, sponsorships and contributions.
The festival has introduced musical theatre producers to 236 musicals and 448 writers from around the world. As a direct result of the Festival of New Musicals, more than 85% of the musicals presented have gone on to subsequent readings, workshops, productions and tours, been licensed, and/or recorded on cast albums. Some past festival shows include the Broadway-bound Come From Away (Spring 2017), The Drowsy Chaperone, It Shoulda Been You, Striking 12, Ordinary Days, Thoroughly Modern Millie, among many others.
This year, a committee of 14 theatre professionals selected eight new musicals out of 193 blind submissions. The musicals they chose for the 28th Annual Festival are: BENNY & JOON (book by Kirsten Guenther, music by Nolan Gasser, lyrics by Mindi Dickstein); JOE SCHMOE SAVES THE WORLD (book, music and lyrics by Brett Ryback); LEMPICKA (book & lyrics by Carson Kreitzer, music by Matt Gould); THE LONELIEST GIRL IN THE WORLD (book & lyrics by Gordon Leary, music by Julia Meinwald); MORTALITY PLAY (book & lyrics by Alana Jacoby, music by Scotty Arnold); SOHO CINDERS (music by George Stiles, lyrics & book by Anthony Drewe, book by Elliot Davis); THE UNAUTHORIZED AUTOBIOGRAPHY OF SAMANTHA BROWN (book, music & lyrics by Kait Kerrigan & Brian Lowdermilk); WE LIVE IN CAIRO (book, music & lyrics by Patrick & Daniel Lazour).
In a statement, Betsy King Militello, Executive Director of the National Alliance for Musical Theatre, said:
"This year's selection of musicals is wonderfully diverse and truly highlights the changing world we live in and the rich voices that inhabit that world. Our selection committee has worked tirelessly to make sure that this year's Festival showcases some of the best talent musical theatre has to offer."
Co-Chairs Paige Price (Theatre Aspen, CO) and Robert Lee (NYU Tisch School of the Arts, NY), on behalf of the Festival Committee, stated:
"It was an honor to collaborate with our fellow committee members in this selection process. It was very difficult to cut the final selection down to only eight, but we were inspired by the quality and diversity of the submissions we received this year and excited about what they suggest about the current state of musical theatre writing."
Casting for each musical and further programming details will be announced soon.
THE MUSICALS
Benny & Joon
Book by Kirsten Guenther
Music by Nolan Gasser
Lyrics by Mindi Dickstein
Benny has taken care of his psychologically troubled sister Joon since their parents died over a decade ago. Benny is now in his early 30s, and Joon in her early 20s, but, ten years on, not much has changed.  A mechanic with his own garage, Benny feels he is a master at managing the life they've ended up with. But when they take in a strange young man named Sam, who is like a modern Buster Keaton, everything changes. This musical based on the MGM movie explores the challenge of navigating life and love in an imperfect world.
KIRSTEN GUENTHER (book) began her writing career in Paris, where she penned the popular weekly column, "The Sexy Expat" about an American navigating/dating the French. Book and lyrics: Little Miss Fix-it (seen on NBC). Book: Measure of Success (Rockefeller Grant), Mrs. Sharp (Richard Rodgers Award); The Cable Car Nymphomaniac (Bay Area Theatre Award Nominee) and Out of My Head (Steele Spring Stage Rights). She has written sketches for celebrities including James Franco, Jared Leto, Michael Douglas, Catherine Zeta-Jones, Kathie Lee & Hoda, Steve Buscemi, Deion Sanders and Queen Latifah. Kirsten was a Dramatist Guild Fellow and a Disney/ASCAP participant. MFA: NYU Graduate Musical Theatre Writing Program.
NOLAN GASSER (music) is a composer, pianist, and musicologist—notably, the architect of Pandora Radio's Music Genome Project. He holds a Ph.D. in musicology from Stanford University. His compositions have been performed at Carnegie Hall, Lincoln Center, etc. Current projects include an opera, The Secret Garden; a film score, All-Stars; and a forthcoming book, Why You Like It: The Science and Culture of Musical Taste. Nolan is the subject of a documentary highlighting his collaboration with Memorial Sloan-Kettering hospital to provide personalized musical therapy for cancer patients. He recently delivered a TEDx talk on the nature and source of our musical taste.
MINDI DICKSTEIN (lyrics) is a lyricist, librettist, and playwright.  Lyrics: Little Women (Broadway, MTI, Sh-k-boom), Faerie Tale (Rhinebeck), Snow In August (American Harmony Prize).  Book and lyrics: Trip (Playwrights Horizons, Steinberg Commission), Beasts and Saints (ASCAP Workshop, Boston Music Theater Project), Notes Across A Small Pond (Bridewell Theater, London), several musicals for TheatreworksUSA.  Book: Toy Story – The Musical (Disney).  In concert: Lincoln Center's "Hear and Now: Contemporary Lyricists" and 54 Below.  Her monologue, Starving To Death In Midtown, was performed internationally in support of Climate Change awareness in 2015.  Honors include a Larson Foundation Award and a Second Stage Klinsky Award. MFA and faculty: NYU Graduate Musical Theater Writing Program.
Joe Schmoe Saves the World
Book, music and lyrics by Brett Ryback
Joe Schmoe Saves the World tells the parallel stories of an indie rock duo in America and a pair of Iranian students in Tehran. In places where artistry and female perspective are shut out, the two young women at the center of the story fight to have their voices heard. Raging against conformity, fear, and the status quo, they risk everything in an attempt to change the world through their art.
BRETT RYBACK is an actor, composer, and writer. His plays and musicals include: Liberty Inn: The Musical (Ovation nominations Best Book, Best Music/Lyrics); Darling (Weston Playhouse New Musical Award, featured on NBC's "The Apprentice."); The Tavern Keeper's Daughter (Best Musical, Pasadena Weekly); and Just a Little Critter Musical (First Stage Children's theatre).  His musical Joe Schmoe Saves the World was selected for the ASCAP/Dreamworks Musical Theatre Workshop. His plays Weïrd & A Roz By Any Other Name are both published in "The Best American Short Plays 2007-2008." He is currently writing two new musicals: Passing Through and Nate the Great.
Lempicka
Book & lyrics by Carson Kreitzer
Music by Matt Gould
Set in Paris against the backdrop of the rising fascist tide, LEMPICKA follows the artist's path through the chaotic upheavals of the 20th century. Fleeing the Russian Revolution as a nineteen-year-old bride, Tamara lands in Paris, a penniless refugee, and transforms herself into a rising star of the art world.  But when she falls into a forbidden love affair with a prostitute—the breathtakingly beautiful Rafaela – she is forced to choose. As her world is about to shatter, will she risk it all in pursuit of love and art, or cling to the security of money and fame?
MATT GOULD (music) is a recipient of the Richard Rodgers Award (2012 and 2014), The Jonathan Larson Award, and ASCAP's Dean Kay and Harold Adamson Awards.  His musical Invisible Thread (fka Witness Uganda) had its NY premier at 2econd Stage Theater and its world premiere at ART. His upcoming original works include The Family Project for LA's Center Theatre Group, and Baby Girl with Pulitzer Prize winner Paula Vogel. Matt has performed his work around the world in Uganda, Mauritania, Japan, and across the US. A graduate of Boston University's College of Fine Arts, Matt is a frequent speaker and guest lecturer at schools and universities.   @FakeMattGould
CARSON KREITZER (book & lyrics) is the recipient of a 2016 Jonathan Larson Grant for Lempicka. Current projects include Capital Crime!, set in Gilded Age New York, and The Empire Loisaida, a late-90's era adaptation of the Orestia. She has received support from NYSCA, the NEA, TCG, and the Mellon and Toulmin Foundations, as well as two Jerome and three McKnight Fellowships at the Playwrights' Center in Minneapolis.  She is an alumna of New Dramatists, an affiliated artist with New Georges and Clubbed Thumb, and was the first Playwrights of New York (PoNY) Fellow at the Lark. Her collection SELF DEFENSE and other plays is available from No Passport Press.
The Loneliest Girl in the World
Book & lyrics by Gordon Leary
Music by Julia Meinwald
Anita Bryant always knew that she was destined for greatness. So did her biggest fan, Tommy, a young gay man who, like Anita, was searching for himself. As Anita reinvented herself as a beauty queen, a singer, a spokeswoman, a professional homemaker, and a cultural crusader, Tommy discovered his sexuality and his political voice. When they find themselves on opposite sides of the battle for gay rights, Tommy and Anita's journeys of self-discovery collide with a single pie to the face. This new musical reunites Leary and Meinwald after their 2011 Festival of New Musicals premiere with Pregnancy Pact.
GORDON LEARY (book & lyrics) is a Brooklyn-based bookwriter and lyricist. With Julia Meinwald, musicals include Pregnancy Pact (2012 Weston Playhouse, 2011 NAMT Festival, 2011 YIMT), Disappeared (2009 Lincoln Center Directors Lab, 2008 Prospect Theater Dark Nights), Something Blue (2014 NYTB), and REB + VoDKa + ME (2015 Civilians' FINDINGS Series.) Other musicals include Cheer Wars (2009 Richard Rodgers Award) and Across the River (2013 Seoul Musical Festival, 2009 Daegu International Musical Festival.) 2009-10 Dramatists Guild Fellow, 2013-14 Uncharted (Ars Nova), 2015-16 R&D Group (The Civilians), 2016 Playground Playgroup (Fresh Ground Pepper.) BA: Vassar. MFA: NYU Graduate Musical Theatre Writing Program. www.omfgordon.com
JULIA MEINWALD's (music) other musicals with Gordon Leary include Pregnancy Pact (2012 premiere production at the Weston Playhouse, 2011 NAMT Festival and Yale Institute for Musical Theatre selection), REB + VoDKa + ME (Civilians R&D Group 2015-2016), Galaxy Comics (2014 United Airlines in-flight programming), and Disappeared (2009 Lincoln Center Directors Lab). Julia was a participant in the New Dramatists Composer Librettist Development Program, the Dramatists Guild fellowship, American Lyric Theatre residency, Ars Nova's Uncharted group, the Civilian's R&D Group, and Fresh Ground Pepper's Playground Playgroup. She holds a BA in Music from Yale and an MFA from NYU's GMTWP. www.juliameinwald.com.
Mortality Play
Book & lyrics by Alana Jacoby
Music by Scotty Arnold
Mortality Play is a rock musical about Todd, a 16-year-old in 1349 London trying to justify his desire to make art in a time of great need. The plague has just broken out, claiming his friend and bandmate John as one of its first victims. John's ghost becomes a guide as Todd tries to balance his responsibilities as a son, boyfriend, doctor's apprentice, and aspiring rockstar. The show is a modern take on a medieval morality play that follows a young man's struggle to decide between what he wants to do and what he believes the world needs of him.
ALANA JACOBY (book & lyrics) is a lyricist, book writer and playwright from Newtown, CT. She graduated from Brown University with honors in playwriting in 2008, and earned her MFA from NYU's Graduate Musical Theater Writing Program in 2011, where she received the Paulette Goddard scholarship. Her work has been performed at Ars Nova, Joe's Pub, 54 Below, and the Barrington Stage Company, and her musicals Mortality Play and Trivøya Gold have been workshopped at the Yale Institute for Music Theatre and the Musical Theatre Factory. Her songs have been featured in several incarnations of William Finn's cabaret series Songs By Ridiculously Talented Composers and Lyricists You Probably Don't Know But Should, and she has twice been commissioned to write musicals for Brian Blythe's 4@15 program. She lives in Brooklyn, works as a teaching artist for the Roundabout Theatre Company, and is a member of the Musical Theatre Factory and the Dramatists Guild.
SCOTTY ARNOLD (music) is a founding member of the Musical Theatre Factory. Music: Mortality Play (NAMT Songwriters Showcase, Joe's Pub, Yale Institute for Music Theater, Ars Nova), That Time We Found a Sasquatch in the Woods (Merry-Go-Round, MTF), Trivøya Gold (NYU Steinhardt, MTF, Adelaide Raleigh Productions), Lost & Found (Nautilus Music Theater Company, NYU). His play Oscar & Richard & Joe, a contemporary riff on R&H's Allegro, received a sold-out performance at Ravinia. After receiving its premiere at the Music Theater Company in Illinois in 2013, his short musical Tereshkova was brought back for an encore performance. He is currently a writer-in-residence at CAP 21, where he is developing a new musical with Jenny Stafford and Shelley Butler. BA: SCU, MFA: NYU; also: ANMT (CA) and New Dramatists (NY). He has completed residencies at Space at Ryder Farm, New York Stage and Film, and CAP21. Proud member: Dramatists Guild, ASCAP.
Soho Cinders 
Music by George Stiles
Lyrics & book by Anthony Drewe
Book by Elliot Davis
After the untimely death of his mother, impoverished Robbie is left running her launderette in London's most colorful district, Soho. Constantly under the cheaply manicured thumbs of his two lap-dancing step-sisters, Robbie pays the rent by reluctantly accepting money from sugar daddy admirer, Lord Bellingham. Life gets more complicated when Robbie embarks on a secret romance with high-profile and highly-engaged Mayoral candidate, James Prince. Their worlds collide when Prince throws a cocktail party for his benefactors – chief amongst whom is Bellingham. Robbie, Prince, and his fiancée Marilyn, are left to fight for a fairytale ending.
GEORGE STILES (music) with lyricist Anthony Drewe: Cameron Mackintosh/Disney's stage production of Mary Poppins; Honk! (Olivier Award for Best New Musical, NAMT Festival 1999); Travels With My Aunt; Just So; Betty Blue Eyes; Peter Pan – A Musical Adventure and their trilogy The Three Little Pigs (NAMT Festival 2013), Goldilocks And The Three Bears and The Three Billy Goats Gruff. Current: with Julian Fellowes – The Wind InThe Willows (West End) and a new version of Half A Sixpence for Cameron Mackintosh. In development: Soapdish; Becoming Nancy. With lyricist Paul Leigh: Moll Flanders; The Three Musketeers (NAMT Festival 1999) and Tom Jones.
ANTHONY DREWE (lyrics & book) with composer George Stiles: Travels With My Aunt; Honk! (NAMT Festival 1999); Just So; Betty Blue Eyes; Peter Pan – A Musical Adventure; their trilogy The Three Little Pigs (NAMT Festival 2013), Goldilocks And The Three Bears, The Three Billy Goats Gruff and the new songs and additional lyrics for the Cameron Mackintosh/Disney's stage production of Mary Poppins. Current: The Wind In The Willows with Julian Fellowes for the West End; a new version of Half A Six.Pence for Cameron Mackintosh. In development: Soapdish; Becoming Nancy. With composer Tony Hatch: The Card. With composer Dick Lee: A Twist of Fate.
ELLIOT DAVIS (book) Loserville (West Yorkshire Playhouse, Garrick, West End). Olivier Nominated for Best New Musical. Peter Pan (revised book), OUT THERE (Riverside Studios), Best Friends & Butterflies, (book & Music) TicketMaster Composer Award / Best New Musical Vivian Ellis Award. Current: What I Go To School For – The Busted Musical. In development: Rehab, Becoming Nancy. Radio: In another career strand Elliot is a prolific music documentary maker for the BBC. Film: Elliot's first feature film screenplay commissioned by the BBC films in 2017 starring Geoffrey Rush. He is the inaugural recipient of the JJ Screenwriting Bursary in association with BAFTA.
The Unauthorized Autobiography of Samantha Brown
Book, music & lyrics by Kait Kerrigan & Brian Lowdermilk
Sitting in a car with the keys in her hand, 18-year-old Samantha Brown telescopes back to a time before her world fell apart. Memories of Kelly, her impetuous, daring best friend, haunt her. When Kelly was killed in a car wreck, Sam lost not only her best friend but also the part of herself that was learning how to take risks. Now, paralyzed by fear and inertia, Sam must make a decision. Will she wait for her parents to drive her to college or will she drive away into a future she can't imagine?
KAIT KERRIGAN (words) and BRIAN LOWDERMILK (music) made their Off-Broadway debut with Henry and Mudge. Other projects include the immersive house party musical The Bad Years, Republic, a sung-through adaptation of Shakespeare's Henry IV set in Northern Ireland in the 1970s, and Unbound, based on the life story of Chinese dancer Zhongmei Li. Their first album Our First Mistake charted at #1 on the iTunes Singer/Songwriter chart. Their latest album, Kerrigan-Lowdermilk Live, documents the concert tour that resulted from their breakout $35K kickstarter campaign. Together, they received the Larson Award and a Dramatists Guild Fellowship, and they have held residencies at McDowell, Johnny Mercer, Theatreworks and others. Kerrigan received the 2009 Kleban Award for libretto-writing. As a playwright, she has had her work developed at Page 73, where she was an Interstate 73 member; Primary Stages, the Lark, and Chautauqua Theatre Company. Lowdermilk received the Alan Menken Award and the Richard Rodgers Award for Red with librettist Marcus Stevens. Both are alumni of the BMI Musical Theatre Writing Workshop, co-founders of the start-up NewMusicalTheatre.com, and members of the Dramatist Guild and ASCAP.
We Live in Cairo
Book, music & lyrics by PATRICK & DANIEL LAZOUR
We Live in Cairo is about a new generation faced with the aftermath of revolution. Three years after the 2011 Egyptian Revolution, the overthrow of Hosni Mubarak, and the tumultuous events immediately thereafter, six young Cairenes gather to celebrate the homecoming of their friend from the United States. We Live in Cairo focuses on the disillusionment that set in after the Arab Spring's most promising revolution failed, but simultaneously highlights the inspired and tenacious spirit of the Egyptian youth – students who risked their lives to change their country.
PATRICK LAZOUR is a writer, lyricist and playwright. With his brother Daniel, he has written and produced four musicals including The Grand Room, which was developed and performed at the Robsham Theater Arts Center at Boston College in 2013. We Live in Cairo, about the youth movement during the 2011 Egyptian Revolution, was developed at the O'Neill National Music Theater Conference and most recently received the Richard Rodgers Award. Patrick has developed work with his brother at Rhinebeck Writers Retreat and SPACE on Ryder Farm and is a 2015-16 Dramatists Guild Fellow. He holds a B.A. in political science and theater from Boston College. He lives in New York City.
DANIEL LAZOUR has collaborated on four musicals with his brother Patrick, supplying the music and co-authoring the libretto. The two's most recent musical We Live in Cairo, centering on the youth in Egypt's 2011 revolution, was selected for the 2015 O'Neill National Music Theater Conference and received the 2016 Richard Rodgers Award. Daniel's other works include an opera scene (Bach and the Boy), a song cycle (Expat), and a string quartet (Chacarera), which all premiered at Columbia University. Daniel has spent time at SPACE on Ryder Farm and Rhinebeck Writers Retreat writing and composing on piano and guitar. He studied music composition at Columbia University. He is a 2015-16 Dramatists Guild Fellow.
---
REGISTRATION
Online registration for the Festival is now open.
Attendance Eligibility
The Festival is free and open to theatre industry professionals and major donors to NAMT. We define an industry member as anyone currently working professionally in the theatre who can aid in the development of the shows or writers we present. You will be asked to state your affiliation with one of the professional organizations/groups/unions, such as TCG, The Broadway League, LORT, ART/NY, etc., in order to register for the Festival. If you meet this criterion, you must register, but no invitation is required (subject to space and availability). If you do not, you may also register with our online form and make a donation to NAMT.
Public standby lines form prior to each presentation, for which no prior registration is required. Standby seating is not guaranteed.
Festival Passes
There are four different passes available for the Festival, each with its own level of access and benefits outlined in the chart below. Industry members who are not members of NAMT will be asked to select your pass level when you register. Your tax-deductible contribution allows the Festival of New Musicals to create a nurturing environment for the discovery, development and advancement of the new works, at no cost to the writers participating.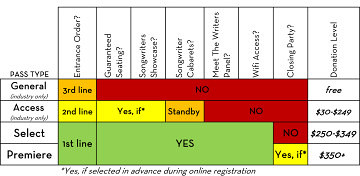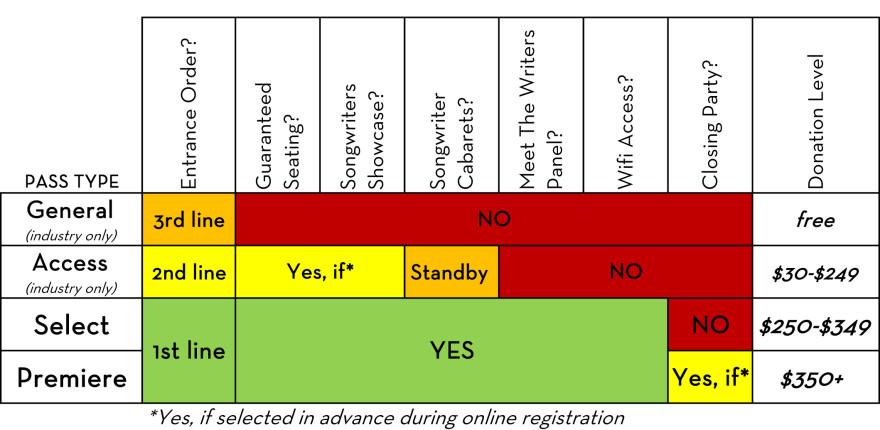 Click the chart to enlarge.
NAMT Member Registration
NAMT member organizations receive a limited number of complimentary Premiere Passes and Select Passes (see chart above).
Institutional Voting members receive 4 Premiere Passes and 2 Priority Seating Passes
Independent Producer Voting members receive 2 Premiere Passes and 2 Priority Seating Passes
Academic, Developmental and International members receive 2 Premiere Passes and 1 Priority Seating Pass
Associate Members receive 1 Priority Seating Pass
Late Registration
Online registration for the Festival ends on October 20.
Festival registrations received after October 14 will be subject to the following late registration processing fees:
October 14-October 20: $20 fee
Walk-up registration at the Festival: $30 fee
---
ABOUT NAMT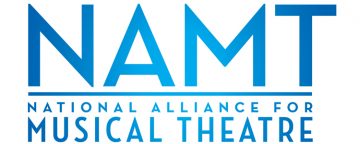 The National Alliance for Musical Theatre, founded in 1985, is a national service organization dedicated exclusively to musical theatre. Their mission is to advance musical theatre by nurturing the creation, development, production and presentation of new musicals, and to provide a forum for musical theatre professionals to share resources and exchange information. Their 200 members, located throughout 32 states and abroad, are some of the leading producers of musical theatre in the world and include theatres, presenting organizations, higher education programs and individual producers. Among the 236 musicals launched by NAMT's annual Festival of New Musicals are Broadway-bound Come From Away (Spring 2017), Thoroughly Modern Millie, Children of Eden, Honk!, The Drowsy Chaperone, It Shoulda Been You, Songs for a New World, I Love You Because, Striking 12, Vanities, Ordinary Days and many others, representing 448 writers.
ABOUT THE FESTIVAL

NAMT's FESTIVAL OF NEW MUSICALS is the cornerstone of NAMT's mission to nurture the creation, development and production of new musicals.  The Festival presents eight musicals in 45-minute presentations before an audience of over 600 industry professionals. In the short run, the Festival's goal is to connect producers with writers, so that their shows can continue their development trajectory. The long-term goal is to expand the musical theatre repertoire, bringing new musical theatre to thousands of audience members around the world.
The 28th Festival of New Musicals is overseen by NAMT New Works Director Ciera Iveson and Festival General Manager Lisa Dozier King.
The 2016 Festival Committee is co-chaired by Paige Price, Theatre Aspen (CO) and Robert Lee, NYU Tisch School of the Arts- Graduate Musical Theatre Writing Program (NY) and NAMT Festival Alumnus Writer. Committee members include: Pamela Adams, Atlantic Theater Co. (NY); Bob Alwine, Goodspeed Musicals (CT); Carlos Armesto, Theatre C (NJ); Victoria Bussert, Baldwin Wallace University (OH); Amy Corcoran, Aria Entertainment; Keith Cromwell, Red Mountain Theatre Co. (AL); Ian Eisendrath, The 5th Avenue Theatre (WA); Lori Fineman, The Transport Group (NY); Kate Galvin, 11th Hour Theatre Co. (PA); Lucas McMahon, Alchemation (NY); Michael Rubinoff, Canadian Music Theatre Project at Sheridan College (ON); Alumni Writer Representative, Janice Lowe (Composer of Lil Budda, Fest '02); and chair emerita Mara Isaacs, Octopus Theatricals (NJ).
---
NAMT thanks the following foundations, government agencies and organizations for their ongoing support of our programs:  ABE Charitable Foundation, The Alhadeff Charitable Foundation, The Alliance of Resident Theatres/New York Creative Spaces Grant, ASCAP Foundation Irving Caesar Fund, BMI Foundation, The Noël Coward Foundation, The Dubose and Dorothy Heyward Memorial Fund,The Frederick Loewe Foundation, Friars Foundation, The Hollywood Pantages, National Endowment for the Arts, New York State Council on the Arts, The Rodgers and Hammerstein Foundation, The Shubert Foundation, and Anonymous donors.