Home » Events »
A forum on education and community engagement
August 19, 2016
TheatreWorks Silicon Valley
Shoreway Conference Room
Sobrato Center
350 Twin Dolphin Drive
Redwood City, CA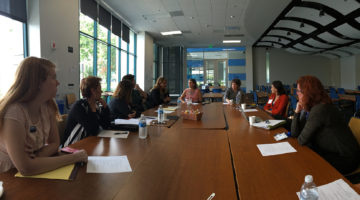 We convened at TheatreWorks Silicon Valley for an intimate day-long roundtable discussion on education and community engagement at NAMT member theatres. This was a valuable opportunity to share ideas and best practices among colleagues, finding ways to work together to deepen relationships in communities and engage the next generation of artists and audiences.
Agenda
Download
.
As of 8/17/16. Subject to change.
TW Festival
Roundtable attendees will have the option to purchase a pass to TheatreWorks' New Works Festival for the industry rate of $49 when they register. You can pick and choose the presentations you'd like to see, or stay just one extra night and see all of the Festival offerings.

Thursday, August 18
8:00pm
The Four Immigrants: An American Musical Manga*^
Book, Music & Lyrics by Min Kahng
Friday, August 19
7:00pm
I Enter the Valley
by Dipika Guha
9:30pm
Eddie the Marvelous, Who Will Save the World*
Book, Music, & Lyrics by Kate Kilbane & Dan Moses
Saturday, August 20
12 noon
Archduke
by Rajiv Joseph
4:00pm
Something Wicked This Way Comes*^
Music & Lyrics by Neil Bartram** and Book by Brian Hill**
8:00pm
The Four Immigrants: An American Musical Manga*^
Book, Music & Lyrics by Min Kahng
Sunday, August 21
12 noon
Meet the Artists Panel Discussion
3:00pm
I Enter the Valley
by Dipika Guha
7:00pm
Eddie the Marvelous, Who Will Save the World*
Book, Music, & Lyrics by Kate Kilbane & Dan Moses
*musical
**NAMT Festival alum
^Past NAMT National Fund for New Musicals recipient