Home » Events »
New Paths to New Musicals
October 22 - 23, 2019
TKP Conference Center, 109 West 39th Street, New York, NY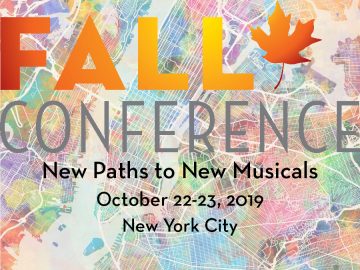 This year's Fall Conference will be bigger than ever! We're expanding our programming to include smaller group discussions allowing for deeper dives into the ins and outs of new musical development, community engagement, equity/diversity/inclusion, and more. We'll look at how theatres can prepare their audiences for shows with sensitive topics, collaborate internationally, develop new work for young audiences, bring art to their communities, become more inclusive, and more! Attendees will also have a chance to meet the writers of the 31st Annual Festival of New Musicals for an exclusive sneak peek of the Festival.
Registration
Attendance Eligibility
The Fall Conference is open to NAMT members in good standing and invited guests only. If you are not sure of your membership status, or are interested in attending the Conference as a way to learn more about membership, please email Membership Director Adam Grosswirth.
Rates and Deadlines
New rates this year with deep discounts for multiple attendees from a single organization!
Early registration rates for NAMT organizational members are:
$540 for the first attendee from a member organization
$500 for a second attendee from your organization
$435 for each additional attendee from the same organization
A day rate of $350 is available
Associate Member rates are $595 for the full Conference and $395 for one day.
Non-members may attend the conference by invitation only. Non-member rates are $100 more than organizational member rates above.
Register by September 22 for these low, at-cost rates! All prices will increase by $100 on September 23.
The final registration deadline is October 14.
Payments must be received by October 7 or your registration will be canceled. Re-registrations will be billed at the applicable rate on the date of the new processing.
Registrants may cancel up to October 1. Fees will be refunded, less a $100 cancellation fee. No refunds will be allowed after October 1, 2019. Payments must be received by October 7. If a registration is canceled due to non-payment, attendees will have to re-register at the current pricing.
Registration Process
Each attendee will receive a badge, which gives you entry to the events (there are no tickets), and important pre-event information will be sent via email. Please provide each attendee's information on the registration form. You may register multiple attendees from the same organization on the same form, for either the Fall Conference, the Festival of New Musicals, or both.
Your registration will not be complete until you click the SUBMIT button at the very end of the form and you have paid (if applicable). You will see a confirmation screen and receive an email upon completion.
Festival of New Musicals
The Festival of New Musicals is a separate event, but you may register for both events at once using this registration form. Or visit the Festival page for more details.
The 46th Minute
The Festival kicks off with a preview concert on October 23. NAMT members may purchase tickets when they register for the Conference and Festival.
Register
Agenda
Tuesday, October 22, 2019
9:00 - 9:30 am
Check-in and Continental Breakfast

TKP New York Conference Center
109 West 39th Street
Empire Lobby, 2nd Floor

9:30 - 10:15 am
Welcome and 30-Second Success Stories

Empire Room

10:15 - 11:15 am
Keynote

Empire Room

11:15 - 11:30 am
Networking Coffee Break

Empire Room

11:30 am - 12:15 pm
Breakout Sessions by Budget Size
12:15 - 1:00 pm
Public Works Case Studies
12:15 - 1:00 pm
Producing Without Borders: Bringing International Shows to the U.S.
12:15 - 1:00 pm
Board Buy-In For New Works
12:15 - 1:00 pm
TBA
1:00 - 2:30 pm
Lunch and Annual Membership Meeting

Empire Room

2:30 - 3:30 pm
Producing Without Borders: Sending Your Shows Abroad
2:30 - 3:30 pm
Commercial Enhancement: What Commercial and Non-Profit Producers Need To Know
2:30 - 3:30 pm
New Work Collaborations With Colleges & Universities
2:30 - 3:30 pm
Approaching Musicals With Sensitive Topics
3:30 - 4:15 pm
Case Study: Red Mountain Theatre's Human Rights Festival
3:30 - 4:15 pm
Co-Productions
3:30 - 4:15 pm
Writer Residencies
3:30 - 4:15 pm
TBA
4:30 - 4:45 pm
A Word From Our Sponsor: Concord Theatricals
4:45 - 5:30 pm
Panel TBA

Empire Room
Wednesday, October 23, 2019
9:00 - 9:30 am
Breakfast

Empire Lobby

9:30 - 11:30 am
Equity, Diversity and Inclusion: Getting Past The "Can'ts" and Getting Down to Business

Empire Room

In her work and travels, Seena Hodges (Founder + CEO of The Woke Coach™) often hears people say things like, "I want to better understand how racism continues to erode the fabric of this country," "I want to be a better, more inclusive organizational leader," or "I want to know more about how I can make a difference through my organization." Then, they all end with the same sentence: "But… I don't know where to start."

Join The Woke Coach™ for an engaging interaction that challenges all of the excuses that keep us from creating more inclusive organizational practices and being more intentional with our allyship. Participants will leave the session with a plan for executing the work that an authentic commitment to inclusion requires.

About The Woke Coach™
At The Woke Coach™, because we believe that racial equity is the defining issue of our time, we help clients move from ally to accomplice. We do this work by helping humans deepen their analysis, and develop an understanding around issues of racism, bias, allyship, and injustice in order to become the best, most understanding, empathetic version of themselves.


Because we are passionate about progress—and know that it is possible for everyone—we facilitate conversations and build bridges to civil engagement one interaction at a time.

11:30 am - 12:00 pm
Networking Coffee Break
12:00 - 12:45 pm
Community Engagement as Staff Recruiting
12:00 - 12:45 pm
New Works for Young Audiences
12:00 - 12:45 pm
New Work Pitch Sessions
12:00 - 12:45 pm
Immersive Musical Theatre
1:00 - 2:30 pm
Lunch and Meet the Writers

Empire Room

2:45 - 3:30 pm
Beyond The 4th Wall
2:45 - 3:30 pm
Members Collaborating On Youth Programming
2:45 - 3:30 pm
New Works and New Technology
2:45 - 3:30 pm
TBA
3:45 - 4:45 pm
Panel TBA

Empire Room

4:45 - 5:15 pm
Wrap-Up

Empire Room
As of 8/13/19. SUBJECT TO CHANGE.
Please note that there will be more concurrent sessions at this year's Fall Conference than at most of our past events. Check the color-coded start times on the agenda above as you make your plans. We'll have a handy chart when we get closer to the start of the Conference!
Hotels & Accommodations
Directions and Discounts
Attendees
Ars Nova
Rick Feldman
Member of the Board
Goodspeed Musicals
Anika Chapin
Artistic Associate
Goodspeed Musicals
Donna Lynn Hilton
Producer
Harmonia Holdings, Ltd.
Kenneth Dingledine
President
Junkyard Dog Productions
Marleen Magnoni Alhadeff
Producer
Junkyard Dog Productions
Kenny Alhadeff
Producer
Maine State Music Theatre
Curt Dale Clark
Artistic Director
Maine State Music Theatre
Stephanie Dupal
Managing Director
New Musicals Inc.
Elise Dewsberry
Artistic Director
Rhinebeck Writers Retreat
Kathy Evans
Founding Executive Director
Shea's Performing Arts Center
Michael Murphy
President
Starhawk Productions
Wendy Gillespie
President & CEO
The Human Race Theatre Company
Kevin Moore
Artistic Director
Tuacahn Center for the Arts
Shari Jordan
Assistant Artistic Producer
Tuacahn Center for the Arts
Scott Anderson
Artistic Director
Weston Playhouse Theatre, The
Susanna Gellert
Executive Artistic Director
ZACH Theatre
Nathaniel Miller
Associate Artistic Director
Guidelines
Participation Guidelines
NAMT is committed to recognizing and celebrating the diversity of experiences, talents, skills, cultures and opinions that our members bring to our community, and specifically to our events. We invite you to participate in the Fall Conference and Festival of New Musicals in a spirit of open-mindedness, curiosity and respect.
We want every NAMT event to be a safe, inclusive and productive environment for all participants. In that spirit, we ask you to…
Be inclusive, actively seeking and inviting diverse perspectives
Listen to understand
Participate in an active and direct way, with professionalism and respect for others
Be considerate, kind, constructive and helpful in your language and actions
Refrain from demeaning, discriminatory or harassing behavior and language
Respect confidentiality requests by speakers and other attendees
NAMT staff and Board may take action (up to and including expulsion with no refund and exclusion from future events) to redress disruptive, disrespectful or offensive behavior or any other actions deemed in conflict with the above guidelines.
Thank you to every NAMT community member for helping to make all of our events informative, inclusive and respectful.