We are thrilled to announce the line-up of new musicals for the 30th Annual Festival of New Musicals, which takes place on Thursday, October 25 and Friday, October 26, 2018 in New York. The Festival events will kick off on Monday, October 22 with Thank You, 30!, a gala event to celebrate the 30th Annual Festival.
Now in its 30th year, the National Alliance for Musical Theatre's Festival of New Musicals attracts theatre producers from around the world for this industry-only event to discover eight new musicals presented in 45-minute concert presentations over two days. All production costs are underwritten by NAMT, at no cost to the writing teams. As a non-profit organization, NAMT funds the Festival entirely through donations, sponsorships and contributions.
The Festival has introduced musical theatre producers to 252 musicals and 478 writers from around the world. As a direct result of the Festival, more than 85% of the musicals presented have gone on to subsequent readings, workshops, productions and tours, been licensed, and/or recorded on cast albums. Some past Festival shows include Benny & Joon, Come From Away, The Drowsy Chaperone, It Shoulda Been You, Striking 12, Ordinary Days and Thoroughly Modern Millie, among many others.
This year, a committee of 17 theatre professionals selected eight new musicals out of 226 blind submissions. The musicals they chose for the 30th Annual Festival are:
17 Again (book by Marco Pennette, music & lyrics by Alan Zachary & Michael Weiner), A.D. 16 (book by Bekah Brunstetter, music & lyrics by Cinco Paul), Gun & Powder (book & lyrics by Angelica Chéri, music by Ross Baum), Monstersongs (book, music & lyrics by Rob Rokicki), Row (book by Daniel Goldstein, music & lyrics by Dawn Landes), The River Is Me (book & lyrics by Sukari Jones, music by Troy Anthony), The Wicker Husband (book by Rhys Jennings, music & lyrics by Darren Clark), and XY (book, music & lyrics by Oliver Houser, developed with Hunter Bird).
In a statement, Betsy King Militello, Executive Director of the National Alliance for Musical Theatre, said:
"Thirty years is a tremendous milestone. For each of those 30 years, our staff and committee has worked tirelessly to encourage, support and nurture the work of musical theatre creators from around the world. This year, from over 226 submissions, we've assembled a stellar collection of stories and we are proud to be a catalyst for their development."
On behalf of the Festival Committee, Co-Chairs Søren Møller, Creative Producer, Fredericia Teater, and Pamela Adams, General Manager, Atlantic Theater Company, stated:
"We were inspired by the many musical theatre voices we heard this year in 200-plus exceptional submissions. Selecting only eight was an incredible challenge, but we are thrilled to share these eight new musicals with audiences this fall."
Casting for each musical and further programming details will be announced soon.
---
The Musicals
17 Again
Book by Marco Pennette, music & lyrics by Alan Zachary & Michael Weiner
Life doesn't always work out the way we want, or expect it to. What would happen if you could turn back the clock to a younger version of yourself and start over? 17 Again—a new musical based on the hit 2009 film starring Zac Efron and Matthew Perry—tells the story of a married 35-year-old man who fears his best days have passed him by…until he mysteriously wakes up as a seventeen-year-old high school basketball star with the chance to rewrite the future he believes he was meant to have.
While a student at NYU, MARCO PENNETTE interned for Harold Prince and sold his first script to the sitcom Kate & Allie. Pennette soon relocated to Los Angeles where he created the NBC comedy Caroline in the City. He was also a show runner for series such as Ugly Betty (Emmy nominee) and Desperate Housewives. He currently writes for the CBS comedy Mom. His theater credits include the Off Broadway play Motherhood: Out Loud and the revised book for the 2015 Broadway revival of On the 20th Century. He is currently writing stage adaptations of Return of The Living Dead and the Universal film Death Becomes Her.
ALAN ZACHARY & MICHAEL WEINER wrote songs for Broadway's First Date, which ran at the Longacre Theatre after a sold-out run at Seattle's 5th Avenue/ACT Theatres. The show can now be seen in productions across the U.S. and around the world. Recently, Zachary and Weiner penned songs for the acclaimed musical episode of Once Upon a Time on ABC. The team wrote the score for a musical adaptation of the film Secondhand Lions (book by Rupert Holmes) which premiered at the 5th Avenue Theatre. Upcoming musical projects include: 17 Again directed by Adam Shankman and 13 Going on 30 directed by Andy Fickman. For Universal Studios, the duo wrote songs with J.K. Rowling for Celestina Warbeck & the Banshees playing at The Wizarding World of Harry Potter. Currently, Zachary and Weiner are developing a TV series with Universal Television starring Kristin Chenoweth and have created shows for ABC, FOX, Disney Channel, Disney Animation and Disney Parks around the globe. Zachary and Weiner are recipients of the ASCAP Richard Rodgers New Horizons Award. www.zacharyandweiner.com
A.D. 16
Book by Bekah Brunstetter, music & lyrics by Cinco Paul
A.D. 16 tells the story of what happens when teenage Mary Magdalene moves from Magdala to Nazareth with her father and falls in love with the boy next door: teenage Jesus. Featuring an R&B score that evokes the best of TLC, En Vogue, Prince and more, this comedic coming-of-age story asks the question: what if your first crush really WAS perfect?
BEKAH BRUNSTETTER's plays include The Cake (The Echo), Going to a Place Where You Already Are (South Coast Repertory), The Oregon Trail (Portland Center Stage Fall 2016, O'Neill Playwrights Conference; Flying V), Be A Good Little Widow (Ars Nova, Collaboraction, The Old Globe) and Oohrah! (The Atlantic Theater). She is currently a member of the Echo Theater's Playwright's group. She has previously written for MTV (Underemployed; I Just Want My Pants Back), ABC Family's Switched at Birth and Starz' American Gods. She is currently a Producer on NBC's This is Us. MFA, The New School for Drama.
CINCO PAUL, with Ken Daurio, has written the movies Despicable Me, Despicable Me 2, Despicable Me 3, Dr. Seuss' Horton Hears A Who, Dr. Seuss' The Lorax, The Secret Life Of Pets, The Santa Clause 2 and Bubble Boy. He also wrote the lyrics for the six songs in The Lorax, and is the recipient of the ASCAP Sammy Cahn Award for lyric writing and the Harold Arlen Award for the score of Bubble Boy the Musical, the original cast recording of which was recently released on Ghostlight Records. BA in English, Yale University. MFA in Screenwriting, USC.
Gun & Powder
Book & lyrics by Angelica Chéri, music by Ross Baum
Gun & Powder is inspired by the true story of Mary and Martha Clarke: African American twin sisters who passed for White and were outlaws. Set in Post-Emancipation Texas, the musical follows our heroines' journey of defying racial boundaries and seizing what rightfully belongs to them. They are successful, until a little romance shakes everything up.
ROSS BAUM is a composer, performer and music arranger. His musical scores include: Gun & Powder (2018 Richard Rodgers Award, Signature Theatre's SigWorks Musical Theater Lab), Crowndation: I Will Not Lie To David (National Black Theatre), Anne Frank: My Secret Life and A Letter to Auntie Rosa (Diverging Elements Theatre Company). He was selected as winner of NY City Center's Sondheim Remix contest and Disney/NMI's 2018 New Voices Project. As founder and music director of RANGE a cappella, he has provided vocal arrangements for Nickelodeon, Sesame Street, Billboard, Playbill, the E! Network and a YouTube channel totaling 30 million views. Education: MFA in Musical Theatre Writing, NYU; BFA, Syracuse; BMI Workshop. www.rossbaum.net
ANGELICA CHÉRI is a playwright, bookwriter/lyricist and screenwriter. Her play Berta, Berta premiered at the 2018 Contemporary American Theater Festival. Plays from her trilogy The Prophet's Cycle include: The Seeds of Abraham (workshop, Pershing Square Signature Center, 2013, mentored by Lynn Nottage; production, Billie Holiday Theatre, 2014), The Sting of White Roses (production, North Carolina Black Repertory Company, 2016) and Crowndation: I Will Not Lie to David (2018 workshop, National Black Theatre, I Am Soul Residence). She and Ross Baum received the prestigious Richard Rodgers Award for Gun & Powder. Angelica holds a BA in Theater from UCLA, an MFA in Playwriting from Columbia University and an MFA in Musical Theatre Writing from NYU.
Monstersongs
Book, music & lyrics by Rob Rokicki
Monstersongs is a unique theatrical event that immerses audiences in a synthesized world of graphic novels, rock musicals, live performance and new technology. A portal into the psyches of often misunderstood creatures, Monstersongs flips the switch on the monster narrative, inviting audiences to explore the humanity that binds us all.
ROB ROKICKI is a songwriter, performer, music director and educator. He is the composer/lyricist of The Lightning Thief: The Percy Jackson Musical (book by Joe Tracz) which was nominated for three Drama Desk Awards, an Off Broadway Alliance Award and a Lortel Award. He is a member of the Dramatists Guild and Actor's Equity, and is an alum of the BMI Musical Theatre Workshop. Other projects: Love, NY, Strange Tails, Relativity (with Michael Ruby) and the graphic novel rock album, Monstersongs (art by David O'Neill). Albums are available on Broadway Records and Great White Wax. BFA, BA University of Michigan. www.robertrokicki.com
The River Is Me
Book & lyrics by Sukari Jones, music by Troy Anthony
The River Is Me is a coming-of-age musical theatre adventure, about a little boy who dreams of becoming an underwater superhero to save his mother from the grown-up world of violence. Bo—a funny kid with a big imagination—travels from Chicago to Mississippi in 1955 to win friends with his hijinks. But when he whistles at a white woman, he's kidnapped, killed and thrown into the Tallahatchie River. Rather than be destroyed in death however, Bo transforms into the water-powered superhero he dreamed of as a living boy, returning to walk the earth to change it forever to save his Ma.
TROY ANTHONY is a composer, actor and director based in New York City. He and his writing partner Sukari Jones have presented work at Joe's Pub, Feinstein's/54 Below, Prospect Theater Company and the Musical Theatre Factory. Commissions include Atlantic Theater Company, The Civilians and Princeton University. Troy has been seen in the Public Theater's Twelfth Night and As You Like It, as well as Prospect Theater Company's Tamar of the River. He leads the Public Theater's Public Works Community Choir and focuses on the intersection between art and social justice at the DreamYard Art Center. He's a graduate of Otterbein University.
SUKARI JONES is a playwright, screenwriter and lyricist whose work explores the intersection of race and power in the United States, with a particular focus on the Black experience in America and complicated mother-daughter relationships. She received her BA from Vassar College, and her MFA from New York University Tisch School of the Arts Graduate Musical Theatre Writing Program. Memberships: Advanced BMI Musical Theatre Workshop; The Public Theater Emerging Writers Group. Sukari's work has been commissioned/produced at Goodspeed Musicals, Lincoln Center Theater, The Lark Play Development Center, Village Theatre, Barrington Stage Company, Atlantic Theater Company, Joe's Pub and The Public Theater. Fellowships: W.K. Rose (Vassar College), MacDowell Colony.
Row
Book by Daniel Goldstein, music & lyrics by Dawn Landes
Adapted from the book A Pearl in the Storm by Tori Murden McClure
In 1998, Tori Murden set out in her homemade rowboat attempting to become the first woman to cross the Atlantic solo. She unknowingly rowed into the heart of Hurricane Danielle. Row tells a heartbreaking and ultimately uplifting story of finding your heart in the middle of the ocean.
DANIEL GOLDSTEIN is a writer and director based in Brooklyn. He is the winner of the 2016 Kleban Prize for most promising musical theatre librettist. His musical Unknown Soldier, written with the late Michael Friedman, had its world premiere at the Williamstown Theatre Festival. He is currently under commission by Roundabout Theatre Company for a play about Tony Schwartz, the ghostwriter of The Art of the Deal, called Orange Crush. He is developing a new musical based on the David Lynch film The Straight Story. His work as a director has been seen on and off Broadway and around the world.
DAWN LANDES is a singer-songwriter whose thoughtful music you might have heard if you watch Bored to Death, House, Gossip Girl or The Good Wife. Along with releasing six albums since 2005 (and an EP inspired by yé-yé, '60s French pop music), she's a frequent collaborator with contemporaries such as Sufjan Stevens, Norah Jones and composer Nico Muhly. She has appeared with the NYC Ballet, TED and Lincoln Center's prestigious American Songbook Series. Her newest album Meet Me at the River was produced by Country Music Hall of Fame legend Fred Foster and will be released August 2018 on Yep Roc Records.
The Wicker Husband
Book by Rhys Jennings, music & lyrics by Darren Clark
Based on the original short story by Ursula Wills-Jones
Woven from a blend of folk music, storytelling and puppetry, The Wicker Husband is a magical story of love, redemption and revenge. It tells the timeless tale of the outsider, of the battle for self-acceptance in a society that constantly reminds us what it means to be "Ugly."
Rhys Jennings trained as an actor at the Royal Welsh College of Music and Drama. The Wicker Husband, which won the MTI Stiles + Drewe Mentorship Award in 2016, is Rhys' first professional credit as a bookwriter. Visiting the US in 2005, he wrote and created a large scale community theatre show called The Color Goblins for the town of Burgaw, North Carolina. As an actor, Rhys has worked extensively on stage and radio, and in 2009 he won the BBC Carleton Hobbs Award. His next collaboration with Darren Clark will be Turing, a biographical piece about WWII codebreaker Alan Turing.
DARREN CLARK's musical and lyrical commissions have included: Day of the Living (RSC); Fantastic Mr. Fox (lyrics only for Nuffield Theatre, UK Tour 2016); The Scarecrows' Wedding (Edinburgh Festival, UK Tour, West End for Scamp Theatre 2016); These Trees Are Made of Blood (Arcola Theatre, Southwark Playhouse). Darren is an associate artist with the children's theatre company Paper Balloon, writing music and lyrics for all their shows. His collaborations with Rhys Jennings include: The Wicker Husband, which won the Inaugural MTI Stiles + Drewe Mentorship Award in 2016, and Turing, a musical exploring the life of codebreaker Alan Turing.
XY
Book, music & lyrics by Oliver Houser, developed with Hunter Bird
Chris can't shake Christine. She's with him everywhere he goes, staring back when Chris looks in the mirror. But when Chris falls in love, the divide between then and now begins to blur. XY is a musical drama about accepting the past and coming home to the most unfamiliar of places: ourselves.
OLIVER HOUSER​ is a NY-based actor and musical theatre artist. His work has been performed at The Other Palace Theatre in London, The Kennedy Center, The NY Musical Festival, the NY Fringe Festival, The SoHo Playhouse, the Kaufman Center, Feinstein's/54 Below and other venues across the United States. He has developed work at Goodspeed Musicals, the Johnny Mercer Songwriters Project, the ASCAP and BMI Musical Theatre Workshops and the Ucross Foundation. Oliver is ​a 2017 Dramatists Guild Fellow and winner of the ASCAP Foundation Sammy Cahn Award for songwriting. He is a proud member of ASCAP and the Dramatists Guild. ​www.oliverhouser.com
HUNTER BIRD is Brooklyn-based maker of new plays and musicals. He has directed and developed new work at Ars Nova, Roundabout Theatre Company, The McKittrick Hotel, Signature Theatre with Columbia University, The Getty Villa, 59E59, Lincoln Center Education, Edinburgh Fringe Festival, Musical Theatre Factory and Feinstein's/54 Below. He is currently developing new work with Nikko Benson, Andrea Daly, Kate Douglas, Marcy Heisler & Zina Goldrich, Oliver Houser, Chas LiBretto, Madeline Myers, Angela Sclafani and Zack Zadek. Artistic Producer of The Chase Brock Experience; Line Producer of ANT Fest 2018 at Ars Nova; Colony Coordinator of the Johnny Mercer Writers Colony at Goodspeed Musicals from 2014-2016. www.hunter-bird.com
---
REGISTRATION
Online registration for the Festival is now open.
Attendance Eligibility
The Festival is free and open to theatre industry professionals and major donors to NAMT. We define an industry member as anyone currently working professionally in the theatre who can aid in the development of the shows or writers we present. You will be asked to state your affiliation with one of the professional organizations/groups/unions, such as TCG, The Broadway League, LORT, ART/NY, etc., in order to register for the Festival. If you meet this criterion, you must register, but no invitation is required (subject to space and availability). If you do not, you may also register with our online form and make a donation to NAMT.
Public standby lines form prior to each presentation, for which no prior registration is required. Standby seating is not guaranteed.
Festival Passes
There are four different passes available for the Festival, each with its own level of access and benefits outlined in the chart below. Industry members who are not members of NAMT will be asked to select their pass level when they register. Although a General Pass to the Festival is free to industry professionals, your tax-deductible contribution allows the Festival of New Musicals to create a nurturing environment for the discovery, development and advancement of the new works, at no cost to the writers participating.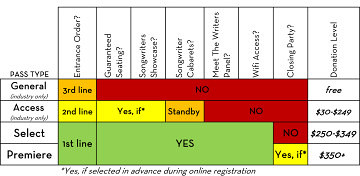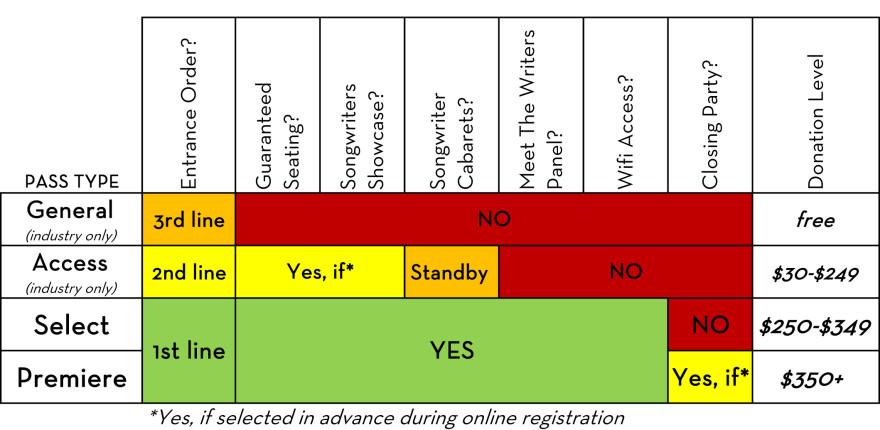 Click the chart to enlarge.
NAMT Member Registration
NAMT member organizations receive a limited number of complimentary Premiere Passes and Select Passes (see chart above).
Institutional Voting members receive 4 Premiere Passes and 2 Select Passes
Independent Producer Voting members receive 2 Premiere Passes and 2 Select Passes
Academic, Developmental and International members receive 2 Premiere Passes and 1 Select Pass
Associate Members receive 1 Select Pass
Late Registration
Online registration for the Festival ends on October 21. We strongly encourage you to register online so that we can have your badge ready, and due to the possibility of individual readings closing due to capacity limits.
Starting October 9, there will be a $20 late registration processing fee per attendee. Walk-up attendees at New World Stages will be subject to a $30 fee.
---
ABOUT NAMT
The National Alliance for Musical Theatre, founded in 1985, is a national service organization dedicated exclusively to musical theatre. Their mission is to advance musical theatre by nurturing the creation, development, production and presentation of new musicals, and to provide a forum for musical theatre professionals to share resources and exchange information. Their 209 members, located throughout 29 states and abroad, are some of the leading producers of musical theatre in the world and include theatres, presenting organizations, higher education programs and individual producers. Among the 252 musicals launched by NAMT's annual Festival of New Musicals are Benny & Joon, Come From Away, Thoroughly Modern Millie, Children of Eden, Honk!, The Drowsy Chaperone, It Shoulda Been You, Songs for a New World, I Love You Because, Striking 12, Vanities, Ordinary Days and many others, representing 478 writers.
ABOUT THE FESTIVAL
NAMT's FESTIVAL OF NEW MUSICALS is the cornerstone of NAMT's mission to nurture the creation, development and production of new musicals. The Festival presents eight musicals in 45-minute presentations before an audience of over 600 industry professionals. In the short run, the Festival's goal is to connect producers with writers, so that their shows can continue their development trajectory. The long-term goal is to expand the musical theatre repertoire, bringing new musical theatre to thousands of audience members around the world.
The 30th ANNUAL FESTIVAL OF NEW MUSICALS is overseen by NAMT New Works Director Ciera Iveson and Festival General Manager Lisa Dozier Productions and Associate General Manager Dailey-Monda Management.
The 2018 Festival Committee is co-chaired by Søren Møller, Creative Producer, Fredericia Teater (DK) and Pamela Adams, General Manager, Atlantic Theater Co. (NY). Committee members include: Rick Edinger, Associate Professor of Music Theater, Carnegie Mellon University School of Drama (PA); Lori Fineman, Executive Director, The Transport Group (NY); Dana Harrel, Executive Creative Director, Disney Parks Live Entertainment (CA); Donna Lynn Hilton, Producer, Goodspeed Musicals (CT); Tim Kashani, Co-Founder/CEO, Apples and Oranges Arts (CA); Dan Murphy, Managing Director, Broadway Rose Theatre Company (OR); Danielle Karliner Naish, Finance & Operations Manager, 321 Theatrical Management (NY); Patrick Parker, Associate Artistic Director, Paper Mill Playhouse (NJ); Ann-Carol Pence, Co-Founder/Associate Producer, Aurora Theatre (GA); Amy Rogers Schwartzreich, Director of Musical Theatre, Pace New Musicals (NY); Phil Santora, Executive Director, TheatreWorks Silicon Valley (CA); Matthew Schneider, Co-Owner/Producer, Creative Endeavor Office (NY); Yuvika Tolani, Line Producer, The Public Theater (NY); Robert Lee, Associate Arts Professor, NYU-TSOA-GMTWP (NY), Chair Emeritus; and Cheryl Davis (Alumna Writer Representative), writer of Barnstormer (Fest '08).
---
NAMT thanks the following foundations, government agencies and organizations for their ongoing support of our programs: The Alhadeff Charitable Foundation, The Alliance of Resident Theatres/New York Creative Spaces Grant, ASCAP Foundation Irving Caesar Fund, BMI Foundation, The Frederick Loewe Foundation, The Dubose and Dorothy Heyward Memorial Fund, The Hollywood Pantages, The Lucille Lortel Foundation, National Endowment for the Arts, The New York State Council on the Arts, The Rodgers and Hammerstein Foundation, The Shubert Foundation, The Ted Snowden Foundation, and Anonymous donors.