Save the Date: Thank You, 30!
Celebrating The First 30 Years Of NAMT's Festival of New Musicals
October 22, 2018
Guastavino's, 409 East 59th Street, New York, NY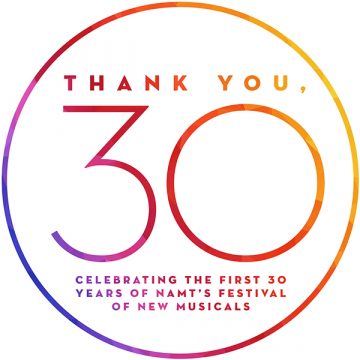 On the evening of Monday, October 22nd (exact time TBA), we will kick off NAMT Fall Events week with a gala event to celebrate the 30th Annual Festival of New Musicals. We are delighted to announce that our amazing and deserving honorees will be Marleen & Kenny Alhadeff and New World Stages. Expect Broadway-caliber talent at Guastavino's, a beautiful, uniquely New York venue, with plenty of food, drink and mingle time. You (and your friends and colleagues and vendors and…) will not want to miss this chance to spend the evening together while raising funds for NAMT.
Get Tickets
Registration will open in July.
VIP tickets, which include a cocktail hour with special guest performances by Festival Alumni, are $500 each. Discounted rates are available for NAMT members, Festival alumni and guests under 30.
Regular single tickets to the evening's celebration are $375, with discounted rates for NAMT members, Festival alumni and guests under 30.
Sponsorships

Sponsor Benefits
Complimentary event tickets plus access to the VIP cocktail hour
Reserved seating at the event (Proscenium sponsor level and higher)
Recognition in press releases, NAMT's monthly e-newsletters and the digital journal for the event
Your company logo on our website and on Gala signs and materials
and more!
Compare All Sponsor Levels and Benefits