Home » Events »
One Theatre, One Voice: Integrating Marketing and Development
March 29 - April 1, 2017
Los Angeles, CA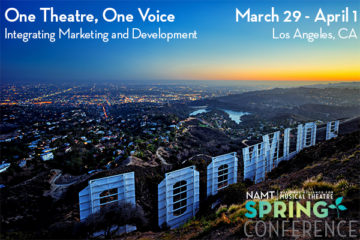 We built the 2017 Spring Conference around an idea that's surfaced repeatedly at recent marketing and development conferences: The full patron experience. In an increasingly data-driven and customer-focused world, marketing and fundraising can and should overlap more and more. While individual relationships will always matter, your patrons support your theatre — whether through subscriptions, group sales, individual ticket purchases, small contributions or big gifts — not an individual department. How do you communicate with your audience and with each other? How do you promote your theatre as a destination both to attend and to support — and how do you actively make those two goals work together? How do programming, education and community engagement play a role? How do your patrons experience your theatre from the moment they receive your mailing, to when they arrive, through the show, to when they leave?
This Conference was designed for anyone who plays a role in the message your theatre and your shows are sending — not only Development and Marketing staffs, but also Artistic Directors, Executive Directors, Managing Directors and commercial producers and presenters. Discounts were available for multiple attendees.
We've just moved all our fundraising direct mail to the marketing department for the rest of the year and already it's a revelation. Watching marketing look at it completely differently from how development has been looking at it, big score. There's something about that idea that I've always wanted to tease out, where you look at skill set more than department.

-Phil Santora, TheatreWorks Silicon Valley, at the 2016 Spring Conference

I'm fortunate…that I oversee an integrated marketing and development department. One revenue generating department that oversees all the ways that we speak to and talk to and touch our patrons. We've had much success in doing that…. Over the course of the eight years that we've had this integrated department, we've increased our donor base by just over 30%, we've increased our contributed giving three times, and we've done that because we have throughout the organization managed how we talk to and cultivate our ticket buyers. I'm a big proponent of the integrated marketing, development, education, audience outreach, customer care department, because you remove that human tendency to silo an organization.

-Gregory Patterson, WaterTower Theatre, at the 2016 Spring Conference
CONFERENCE PROGRAM
Spring Conference registration included:
panels and case studies from our members and outside experts

creating a unified experience for our patrons
breaking down silos inside our organizations
overcoming challenges to better serve our patrons and ourselves
putting a personal face on your theatre

vibrant discussion and break-out sessions
breakfast and lunch on both days
networking cocktail parties
ample networking time
and more!
Detailed Schedule
ADD-ON EVENTS
An American In Paris at the Hollywood Pantages Theatre
Fun Home at the Ahmanson Theatre
Peek Behind the Magic at Disney Imagineering
A day at Disneyland with behind-the-scenes extras (
REGISTRATION, RATES AND DEADLINES
NAMT Conferences are open to NAMT members in good standing and invited guests.
The more people you bring, the more you save!

Member registration rates were $520-600 per person ($100 discount for early registration).
Additional options were available for single day rates, Associate Members and invited non-members.

Deadlines:

Early registration ended on February 20. All prices increased $100 on February 21.
The last day to register for the Conference was March 19, 2017.
Cancellations were permitted through March 12. Fees were refunded, less a $100 service charge. We will not be able to provide any refunds after March 12, however you may transfer your registration to someone else if you are unable to attend.
The last day to purchase An American in Paris or Fun Home tickets was March 10.
Details
THANKS TO OUR SPONSORS
We are very grateful to the sponsors and exhibitors of the 2017 Spring Conference. Please click here for information on supporting NAMT and the benefits of sponsoring or exhibiting at our events.
Sponsor or Exhibit at the Conference
---
Planning Committee
Educational Resources Committee
Donna Lynn Hilton, Goodspeed Musicals (CT), Chair
Michael Ballam, Utah Festival Opera Company (UT)
Wayne Bryan, Music Theatre Wichita (KS)
Kathy Evans, Rhinebeck Writers Retreat (NY)
Mark Fleischer, Pittsburgh CLO (PA)
Phil Santora, TheatreWorks Silicon Valley (CA)
Spring Conference Committee
Frank Stilwagner, Village Theatre (WA), Co-chair
Daniel Thomas, 42nd Street Moon (CA), Co-chair
Nancy Altschuler, Goodspeed Musicals (CT)
Michael Betts, Musical Theatre West (CA)
Lisa Cooney, Paper Mill Playhouse (NJ)
T.J. Dawson, 3-D Theatricals (CA)
Matt Morrow, Diversionary Theatre Productions (CA)
Courtney Simms, The MUNY (MO)
Agenda
Download
As of 3/24/17. SUBJECT TO CHANGE.
Directions & Activities
Cars and Transit
Despite Los Angeles' reputation, there's no need to rent a car during the Spring Conference! We will provide transportation for all scheduled Conference events. If you would like to travel on your own schedule (or miss the bus), the Universal Hilton and the Pantages Theatre are both easily accessible by subway (yes, LA has a subway!). Cars are also readily available via ride-hailing apps such as Lyft.
If you'd like to rent a car for a day or even a few hours, two Zipcars are parked by the Universal City Metro station. NAMT members can receive a discount on Zipcar membership.
Airports
If you're able to find a flight, Burbank (Bob Hope) Airport is much closer to the hotel and the Pantages than LAX. If you do fly into LAX, please be advised that a regular taxi to Universal will cost around $100-115 with tip. A ride-hailing service such as Uber or Lyft will cost less. Shuttles are available to various points in the city from which you can take a cab for less, or the Metro.
Directions
Transportation will be provided between all scheduled Conference events, as outlined on the agenda. If you would prefer to travel on your own schedule, we recommend using public transit or a ride-hailing app such as Lyft. The Metro runs every 20 minutes. The only Conference events that are not easily accessible by public transit are the Walt Disney Imagineering tour and Disneyland add-ons. Click or tap the map above to open it in Google Maps and look up additional information as needed.
Hilton Los Angeles Universal City to Hollywood Pantages
Exit the hotel's main entrance and take a right, following the driveway towards Universal Hollywood Drive.
Take a left on Universal Hollywood Drive and continue down the hill.
Use the pedestrian bridge to cross Universal Dr. and Lankershim Blvd., and enter the Universal/Studio City Metro Station. Take the Metro Red Line in Union Station/Downtown LA direction. Exit the train at Hollywood/Vine Station (2 stops).
Once you've exited at Hollywood/Vine, the Pantages will be directly across the street. Take a right on Hollywood Blvd and a left at the intersection at Argyle Ave to cross.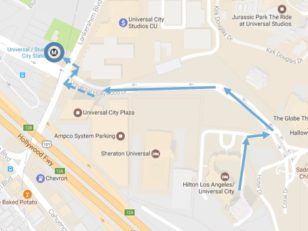 Hollywood Pantages to Hilton Los Angeles Universal City
When you exit the Pantages Theatre, cross the street at Argyle Ave. Make a right, and enter the Hollywood/Vine Metro Station in front of the W Hotel.
Take the Red Line in the direction of North Hollywood. Exit the train at the Universal/Studio City Metro stop (2 stops).
Use the pedestrian bridge to cross Lankershim Blvd. and Universal Drive. The hotel is about an 8-minute walk up a fairly steep hill. If you prefer, you can take a free shuttle from the bottom of the hill to Universal Studios, then follow the signs back down the hill to the Hilton, or take the hotel's shuttle from CityWalk.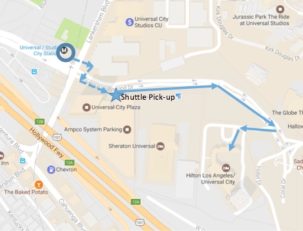 Hollywood Pantages to Center Theatre Group
Cross Hollywood Blvd and enter the Metro station under the W hotel.
Take the Red Line towards Union Station.
Get off at Civic Center/Grand Park (9 stops).
Make a right onto N Hill St. and walk one block to W Temple St. Turn left on W. Temple St. and walk one block to N Grand Ave.
Parking
If you're driving on your own, paid parking is available at the Pantages at Eastown Parking, 6201 Hollywood Blvd (entrance on Argyle St. across from the Pantages stage door). Paid parking is also available at the Hilton and the Music Center (Ahmanson Theatre).