Just moments before heating up tech rehearsal for their one-night-only concert presented by Prospect Theater Company and National Asian Artists Project, we whisked up a chat with Festival Alumni Jord Liu and Deepak Kumar to get the sweet scoop on their delicious Festival hit, Baked! The Musical!
NAMT:
So why don't you tell us who you are and what brings us to this moment?
Together:
We're Jord Liu and Deepak Kumar. <laughter>
Deepak Kumar:
We're musical theatre writers that are famously not based in New York, if I'm allowed to say that. We're bookwriters, composers and lyricists that like to tell stories that, I dunno, what do we like to tell?
Jord Liu:
We like to tell stories of stereotype-defying Asian Americans that work through the tensions inherent in hyphenated identities and achieve… end of sentence.
DK:
We like to write musicals.
JL:
I was trying to recall an artist statement I wrote for something. <laughter>
NAMT:
What did you want to achieve by coming to the 34th Annual Festival of New Musicals a year ago?
JL:
I remember saying over and over to a lot of people that at least for us, it was the holy grail for new musicals. Neither of us studied theatre. We didn't know a ton of people in the industry at that point. We both still felt like we were unproven and untested. I think that's what NAMT meant to us, at least that's what it meant to me. It meant the start of my musical theatre career. I view it as the beginning of things.
DK:
I think coming in amped-up, I was like, "We're going to get programmed into a 2023/2024 season." Obviously, that's not how the theatre works, but what was most exciting was that we got to introduce ourselves to the world, the theatre world, in a serious way. Hey, we're writing a show, but we're also here because we want to be taken seriously by this community and contribute to it in whatever way we can. It was lovely to introduce ourselves in that way.
JL:
We cared about the fact that it was our story. That was important. NAMT prioritized that idea—not just the story of the musical, but of the writers of the musical. I wanted people to know that it was both funny and heartfelt.
DK:
I wanted people to enjoy the music. It's one thing to have your friends and family say, "I like your songs." It's another thing to have an artistic director tell you, "That song was awesome, those lyrics rocked."
JL:
We did a huge rewrite over the last year. I think that we had it in our heads that it might be coming even prior to NAMT, but I would say we spent the last eight months doing a huge rewrite of the show. Every book line has changed. There are new songs. We went to the O'Neill Center for a short residency there, and we were outlining for 40 hours over the course of a week. Since then, it has been tight deadlines of getting piano/vocals done, getting book scenes done. We needed to rewrite the second act in time for the string of development opportunities that we've just had over the last few months.
DK:
Partially, it was exciting. One thing I learned at NAMT that I've taken with me is that we're all doing this together to some extent. We're already doing the work. The development stuff is the work. The reading is the work. This concert tonight… it is all part of the work. For me personally, I felt a lot more comfortable in myself as a writer and as a theatre maker post-NAMT. I want to enjoy the journey instead of constantly grinding to the next thing.
JL:
I remember the NAMT people saying last year that even if it's not this show, we are writers now, and people will know we're writers now, and that we'll write more stuff.
NAMT:
Give us the entire roadmap of the last year.
JL:
I can give the last five years in 30 seconds, and then Deepak can zoom in on the last year alone. Deepak and I knew each other in high school—
DK:
Okay, so the last six-and-a-half years.
JL:
We also knew each other in college. We started writing together after college… a little bit not knowing what we were doing. Okay, a lot not knowing what we were doing. If we had known how much work it was going to be at the beginning, we probably would have never started. But, that naiveté mixed with our, I think, healthy philosophies that art is just something you should make is what led us to try. I would categorize the first two years as us learning how to write anything at all. The middle two years were COVID, so they don't really count—we were in remote development hell with everyone else. Over the last two years, I feel that we have really started to come into the show and ask, "What needs to change? What if we put it in front of audiences? Who are we as writers?" And we have matured as people.
DK:
Oh, is that the…. Okay, gotcha. Yeah, no, sorry, I was not expecting that. <laughter>
The most recent year has been amazing for us. There was perhaps a six-month lull, while people were reading and figuring stuff out.
JL:
American theatre in crisis and all that stuff.
DK:
But around April, there was a two-week period where a ton of people were just like, "Hey, we're interested."
JL:
And we said yes to the first thing thinking, "This could be it!" And then we said yes to the second thing, thinking, "That's a little bit close to the first thing, but this could be it!" And then we said yes to the third thing, thinking, "Oh, this is a lot at once."
DK:
The first person to reach out to us was NAMT member Christopher Pazdernik, who is the Producing Director at Theo Ubique in Chicago. He said, "Let's do a developmental production." And for us, that was great, we would get the chance to see it up on its feet and have actors moving through space and rehearsal for more than 29 hours. Then, Adam Immerwahr and Brandon Ivie at the Village Theatre asked us to join their Festival of New Musicals. They said, "It's going to be really fun." And for us, that was great, to see the show realized in that way that would be awesome. But the rehearsals for both started on the same day. It's fine. This is what you do to develop a show. A couple weeks later, Cara Reichel from Prospect Theater Company called us.
JL:
"How busy are you?"
DK:
"Why don't we try doing something the first week of October?" We were like… how hard could this be? It turns out: really hard. <laughter>
But back-to-back, we've had these three amazing opportunities from the beginning of August all the way to now. We've been in-process with new casts and new directors and new creative teams again and again. Over the last eight weeks, we've been able to grow the show. We had that new first draft in August, but the one that is being presented today is significantly stronger, we think, and we were only able to do that because of the development opportunities that we got through being part of the NAMT Festival.
JL:
Plus, to be in Seattle and then in Chicago for a month, and then here. Every subway ride becomes, "Does such-and-such really work?" Every dinner becomes, "What do you think of this song?"
DK:
Right? That is extremely invaluable. To have the opportunity to truly allow ourselves to be fully immersed in the world of the play and in the world of each other—
JL:
In the world with each other.
DK:
That also unlocks something that we've never really been able to do, just spending a week together.
I also want to mention repeat collaborators like Alexander Robert Tom, who was our music director for the NAMT Festival and is also music directing tonight. Jason Ma, who saw the show at the Festival, is a new person that we've met and has been such a supporter. Jason Ma and Timothy Huang. Miranda Cornell, who is now also directing the show. They are so supportive of us.
JL:
And in Chicago, Devon Hayakawa, who has twice played the role of Kasey and just really nailed it both times. Our music director in Chicago, Tyler Miles (TM), is now our orchestrator.
DK:
I don't think we're interested in working on this thing for a week together, and then we'll never work together again. Maybe sometimes, of course that happens. But to the extent that we form these connections with people that we really like, we do try to work with them again. We try to bring them together again, this big Baked family.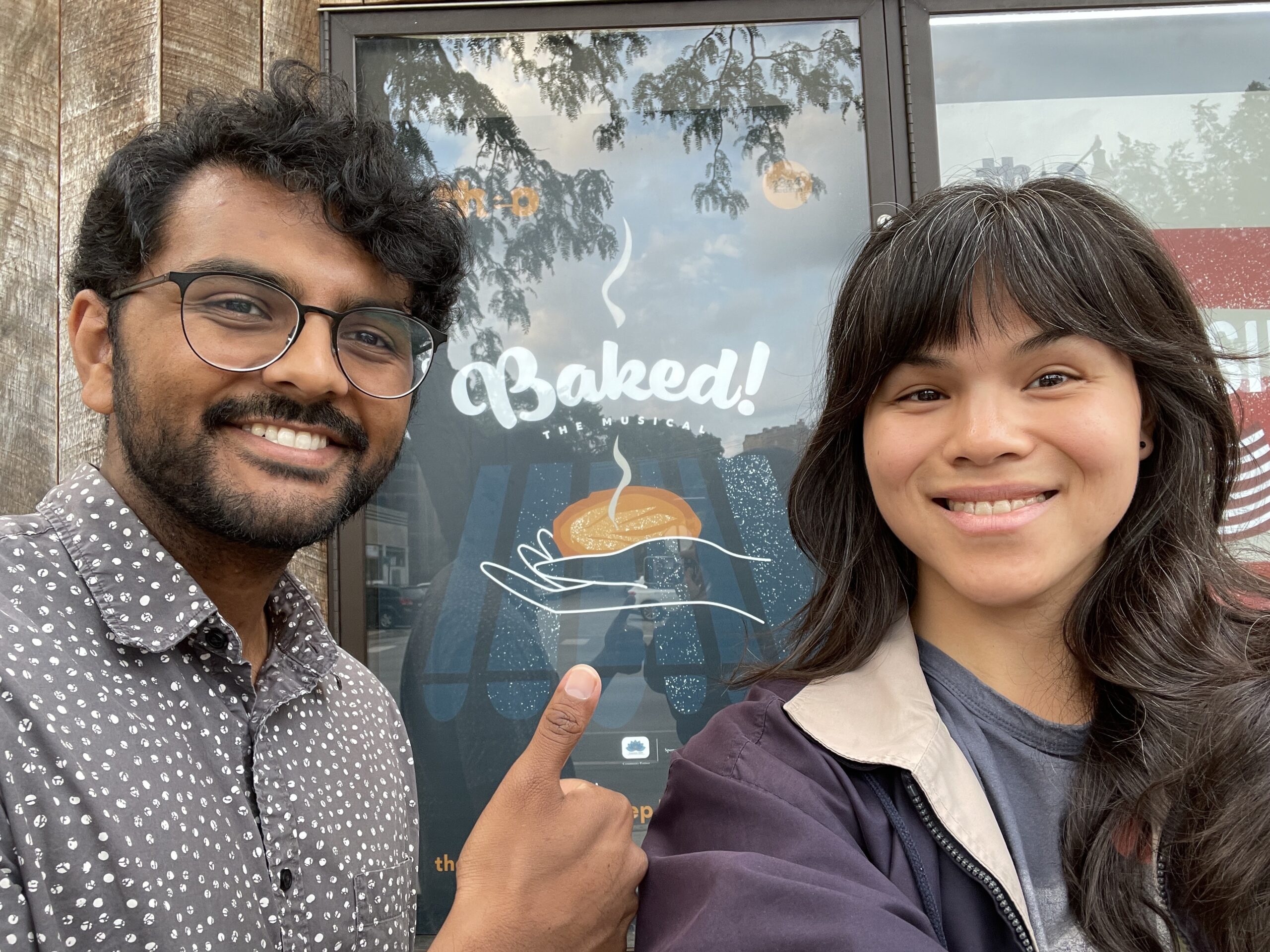 JL:
Sometimes I'll have conversations, or somebody will ask about networking. And I really want to get through to people that it's not networking. It's just meeting cool people and wanting to be their friend. No one wants to be networked. I don't want to be networked. I don't want to do networking. I want to be people's friend. I want people to be interested in me and for me to be interested in them. And when you can do that, it's better than whatever networking is. Oh, I care about you, and I would love to work with you again. I would love to put on the show again because working with you is also just living life.
NAMT:
What's it like working with producers and artists in different areas around the country?
DK:
It's interesting because there's the smallest version, which is just that Jord and I are the producers. The biggest versions I think have been things like the Village Theatre and with Prospect Theater Company here in New York City, and NAMT, obviously. One thing is that we've always been treated super, super well. That's a boon honestly, because there's never been a producer that comes to us and says, "You know what the show needs? A little bit of kissing." You hear those stories all the time, right? We've been blessed to not have to deal with any of that.
It has been interesting for me to personally navigate that every organization, every producing entity, all have scarce resources, and it's just how it goes. How do we work within the boundaries with what we still have to create? Well, if we don't have this, then maybe we can do this instead.
JL:
Having so many different casts in a row, you really start to think about the show in terms of what is written down versus what is coming to life. You write some lines and they're ambiguous. You want them to be ambiguous. You want the actor to interpret them because it'll be better that way. But then some lines you write, and an actor says it slightly differently from how you meant it. And while you didn't realize it at the time, you know that'll never work. So, we've been talking more about the lines that need to be unambiguous and how to make them undeniable.
NAMT:
What's one word that would describe the last year for you?
JL:
Do you have yours? My word is fast. It feels like it all came at once. Yes, I'd love a development opportunity. How about you get three and there's no time in between them? It's so amazing to have these opportunities. You also don't get to choose when they come. So, better get while the getting's good.
DK:
Exhilarating. It has been ride after ride after ride. And although it can be extremely stressful and tiring, I also can't help it. I'll just wake up, and I cannot believe this is happening. We should cherish every moment that we have.
JL:
Four years ago, neither of us thought that we would ever write something that would be produced at the level that is produced at now. Or that we would even be serious writers.
DK:
We actually can't be unserious.
JL:
I don't think we can. I cannot be unserious.
DK:
She's completely off the rails. <laughter>
JL:
We can take the work seriously and continue to take ourselves un-seriously. You know what I mean?
NAMT:
What do you want the next producing partnership to look like?
DK:
We're proud of the show, and the things that we're going to learn now are only going to happen when we've got actors that are there for a month and a team of people that are in the room together. A team that we can take from place to place, to the extent that it's possible, until the show eventually becomes the thing it's going to be.
JL:
We're walking out of the concert tonight with our new book, an archival recording and demos of these new songs. We have a nice package for the show. We're ready to send it out and show people the work that we did this year.
NAMT:
Where do you go next?
Together:
Home. <laughter>
JL:
Take a break. Just sleep.
DK:
I'm super excited to take a nap.
JL:
But the truth is… I have a developmental production when I get home.
BAKED! THE MUSICAL appeared in the 34th Annual Festival of New Musicals.
BAKED! THE MUSICAL
Book, Music & Lyrics by Jord Liu & Deepak Kumar
www.bakedthemusical.com