This week we finalized out New Musical Month! In case you missed it, here's our week in review!
---
Monday, Sept. 24 – NAMT Festival Shows
We love celebrating shows from our Festival of New Musicals! For more updates on your Festival favorites try searching for one on the recently launched NAMT New Musicals Map. https://namt.org/the-tech/new-musicals-map/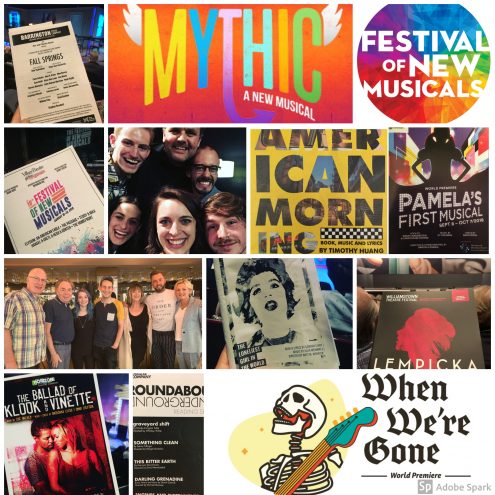 From top left:
FALL SPRINGS (Fest '17) reading at Barrington Stage Company in August 2018 Niko Tsakalakos
MYTHIC (Fest '17, fka PERSEPHONE) in rehearsals now for a World Premiere at Charring Cross Theatre, UK Marcus Stevens Oran Eldor
THE PASSAGE (Fest '17) reading at Village Theatre's Festival of New Musicals in August 2018 David Darrow
Writers from SAM'S ROOM (Fest' 17) and THE BALLAD OF KLOOK AND VINETTE (Fest' 17) at Red Mountain Theatre Company's Human Rights Festival in March 2018 Caitlin Marie Bell Dale Sampson Marc Campbell Trey Coates-Mitchell
AMERICAN MORNING (Fest '15, fka COSTS OF LIVING) reading at Prospect Theater Company in September 2018 Timothy Huang
PAMELA'S FIRST MUSICAL (Fest '08) World Premiere at Two River Theater Company in September 2018
The team of PROM QUEEN (Fest '17) with Andrew Lloyd Webber at a workshop presentation at The Other Palace in July 2018. PROM QUEEN also just opened a production at The Grand Theatre running until September 29th Mary Pat YL Kent Staines Colleen Dauncey Akiva Romer-Segal
THE LONELIEST GIRL IN THE WORLD (Fest '16) World Premiere at Diversionary in May 2018 Julia Meinwald Gordon Leary
LEMPICKA (Fest '16) World Premiere at Williamstown Theatre Festival in July 2018 Carson Kreitzer Matt Gould
THE BALLAD OF KLOOK AND VINETTE (Fest '17) American Premiere at Horizon Theatre Company in February 2018. The show has an upcoming production at Zach Theatre in Spring of 2019. Anoushka Lise Lucas
DARLING GRENADINE (Fest '17) reading at Roundabout Underground in January 2018. DARLING GRENADINE has an upcoming World Premiere at Marriot Theatre in 2019 Daniel Zaitchik
WHEN WE'RE GONE (Fest '16, fka MORTALITY PLAY) World Premiere at Lyric Theatre of Oklahoma in September 2018 Scotty Arnold Alana Jacob
---
Tuesday, Sept. 25 – Canadian Music Theatre Project at Sheridan College
Happy University Tuesday! Today we will be highlighting more NAMT member universities that have helped produce new musicals this past year. We're going to kick off the day with Canadian Music Theatre Project's CHELSEA SUNRISE. CHELSEA SUNRISE has book, music, and lyrics written by Murray Foster with music and lyrics written by Mike Ford.
Act one of CHELSEA SUNRISE was originally developed as part of the Canadian Music Theatre Project in 2017. This past May, two additional workshops were held leading to a presentation of both acts as part of CMTP's Off-Sheridan program in Toronto. A studio production of the show will be presented in April 2019 as part of Theatre Sheridan's season after a March 2019 developmental production at Millikin University.
#NAMTNewMusicals #NAMTNewMusicalsMonth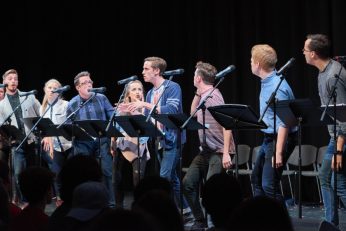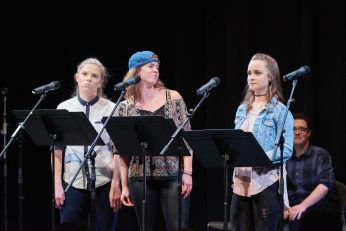 ---
Tuesday, Sept. 25 – American Music Theatre Project
#NAMTNewMusicals #NAMTNewMusicalsMonth
As part of University Tuesday, here's the American Music Theatre Project at Northwestern University with SOMETHING IN THE GAME (written by Buddy Farmer, Michael Mahler and David H. Bell) & LEGACY.
In 2016, AMTP produced a staged reading of SOMETHING IN THE GAME (fka ROCKNE) including a cast of professional actors and Northwestern students. They held reading presentations on Northwestern's campus and on Notre Dame University's campus in Indiana. From the readings, the commercial producers garnered enough support to fund a full production in partnership with AMTP and Northwestern's Wirtz Center for the Performing Arts. AMTP remained involved in the development of the musical for production with Northwestern students and recent grads creating the new orchestrations.
LEGACY is the result of AMTP's partnership with the Royal Conservatoire of Scotland (RCS) to create 2 musicals for the Edinburgh Festival Fringe. After a successful inaugural run at last year's festival, AMTP partnered again to commission, develop, and produce 2 brand new musicals written by Scottish and American writers. The shows are LEGACY: A Mother's Song written by Finn Anderson & directed by Tania Azevedo and LEGACY: The Book of Names written by Jonathan Bauerfeld & Casey Kendall, directed by Ryan Cunningham with David H. Bell. Last month, the productions ran in rep as a part of the Assembly Festival's fringe program.
First 2 photos are of LEGACY: A Mother's Song. The last 2 photos are of LEGACY: The Book of Names.
All photo credits to Justin Barbin Photography.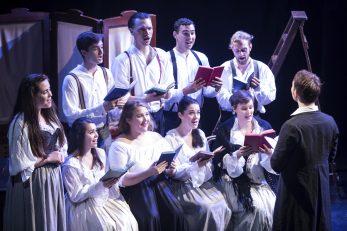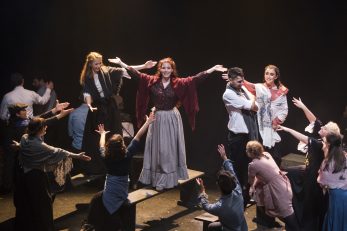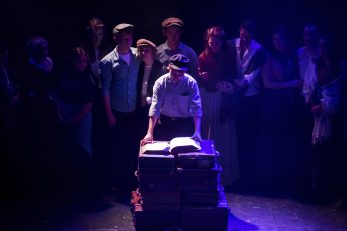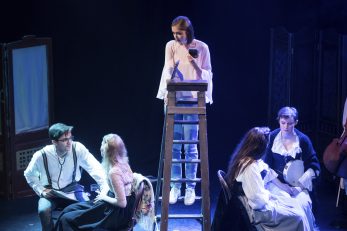 ---
Wednesday, Sept. 25 – Somerled
Somerled Arts has three great new musicals for us to highlight today: THE MUSEUM OF BROKEN RELATIONSHIPS, THE REMARKABLE JOURNEY OF PRINCE JEN, and SENZA LUCE.
After hearing a feature on NPR about the Museum of Broken Relationships in Croatia, Somerled Arts commissioned David H. Bell to write the book for a new musical inspired by the fascinating museum. Several composers were approached to submit their a opening song, and through a blind selection process, Daniel Green was chosen as composer and co-lyricist. Since then, THE MUSEUM OF BROKEN RELATIONSHIPS has been developed at the American Music Theatre Project (AMTP), The Eugene O'Neill National Music Theater Conference, The Aspen Theatre Festival, and had an industry presentation in New York last fall starring Jessie Mueller.
Daniel Green and Lezlie Wade – writers of THE REMARKABLE JOURNEY OF PRINCE JEN – began working on this adaptation of the Lloyd Alexander novel at BMI, and had developmental readings and workshops with AMTP, THE PiTCH at Finger Lakes Musical Theatre Festival, and ASCAP Dreamworks Workshop, after which Somerled Arts came onboard as producer. PRINCE JEN has been twice featured on NAMT's "Other Shows You Should Know," as well as "Bound for Broadway" with Liz Calloway. In 2016, Somerled held an industry presentation in New York and recently began puppetry development in preparation for a World Premiere.
SENZA LUCE – written by NAMT alums Neil Bartram and Brian Hill (both Fest '07, THE STORY OF MY LIFE) – was originally commissioned by The Canadian Music Theatre Project and had a developmental production at Theatre Sheridan in 2017. Somerled Arts selected the show as the first musical for the Somerled Incubator Project and produced a reading of the show in New York this summer.
First two photos by Nick Cretaro – THE MUSEUM OF BROKEN RELATIONSHIPS reading
Third photo: PRINCE JEN reading, photo by Laura Manarel
Fourth photo: SENZA LUCE reading
#NAMTNewMusicals #NAMTNewMusicalsNew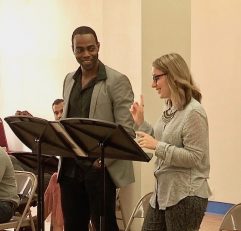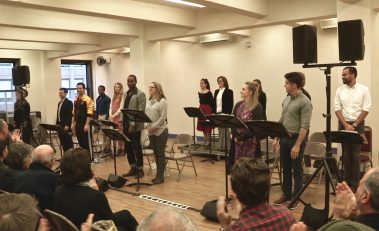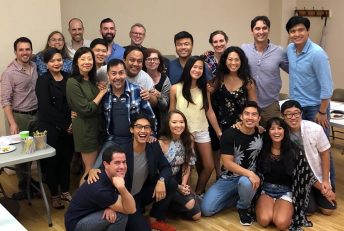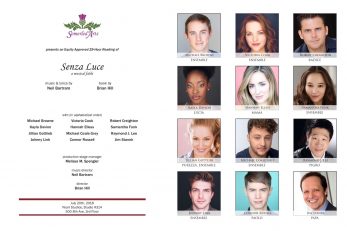 ---
Wedneday, Sept. 26 – Village Theatre
Hi NAMT world! I'm Brandon Ivie, the director of a NAMT show called THE NOTEWORTHY LIFE OF HOWARD BARNES by Kooman and Dimond that is receiving its WORLD PREMIERE at Village Theatre near Seattle where I'm also the Associate Artistic Director! I'm taking over NAMT's Facebook page today to give you a little insight into the process of producing this hilarious world premiere!
This photo of me was taken a few months ago during a workshop at Village where we re-worked the end of the show and created a 10-minute finale sequence. This is when we were storyboarding the idea with color-coded index cards (blue – story points, red – musical moments, yellow – dialogue/lyric content) alongside sets and costumes to make sure we had enough time to dramatically do what we want while also being able to make quick changes (every member of our 16-person cast has at least one if not two in this one number) and scenery moves happen (we had to go from a city look, to a front of house look, to a backstage look, to a red, white and blue look, to a full set of stairs and light hangers all within about 15 minutes!). I'll show you what the finale looked like at the end of the takeover! It's epic!
*Check out the rest of Brandon's posts on our FB!*
---
Thursday, Sept. 27 – Joe Iconis
Festival alumni – Joe Iconis (Fest '11, BLOODSONG OF LOVE) – has given us TWO huge new musicals to celebrate! One in collaboration with Penn State University and another on the way to Broadway!
LOVE IN HATE NATION was commissioned as part of Penn State's New Musicals Initiative in 2016. After the initial draft was created, Penn State produced a concert at Feinstein's/ 54 Below in January 2017 and a full reading on campus in April 2017. A developmental production was presented in February 2018 – directed by John Simpkins, with choreography by Jennifer Werner, dramaturgy by Jennifer Ashley Tepper, and orchestrations by Charlie Rosen.
BE MORE CHILL – book written by Joe Tracz – has become a cult favorite and has been taking the theatre world by a storm. BMC has it's World Premiere in Two River Theatre in New Jersey in 2015. After receiving an overwhelming positive response by younger audiences, the show earned an off-Broadway premiere at The Signature. Recently, it was announced that the show will be moving to the Broadway stage early next year!
First photo: Joe Iconis rehearsing with a cast member of LOVE IN HATE NATION
Second photo by Ariani Notartomaso, LOVE IN HATE NATION
Third and fourth photos by Jack Bowman, LOVE IN HATE NATION
You can watch the B-roll of BE MORE CHILL here! https://www.youtube.com/watch?v=t5Bgtcle4EI
#NAMTNewMusicals #NAMTNewMusicalsMonth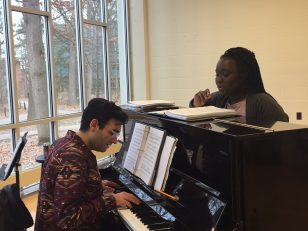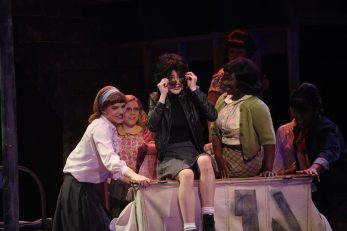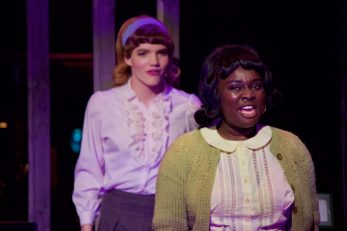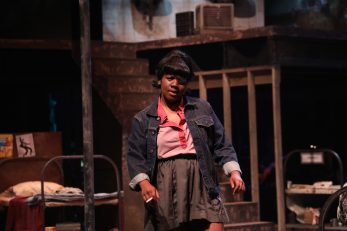 ---
Thursday, Sept. 27 – Renascence
The world premiere of RENASCENCE, written by Carmel Dean and Dick Scanlan (Fest '96,THOROUGLY MODERN MILLIE), opens on October 7! Transport Group has received a Project Development and a Production Grant for RENASCENCE through NAMT's National Fund for New Musicals. RENASCENCE is based on the life and work of poet Edna St. Vincent Millay, who in 1912 wrote an epic poem entitled "Renascence" that catapulted her to fame. The lyrics of the songs are her poems set to music. RENASCENCE isn't Transport Group's first world premiere – for the past 17 years, Transport Group has produced many world (or New York) premieres of new musicals! #NAMTNewMusicals #NAMTNewMusicalsMonth
*Check out rehearsal videos of RENASCENCE on our FB!*
---
Friday, Sept. 28 – Festival 2018: A.D 16
HAPPY FESTIVAL FRIDAY! Let's kick off our last Festival Friday with the writers of A.D. 16.
Book: Bekah Brunstetter, Music and Lyrics: Cinco Paul
If you could turn any movie into a musical, what movie would you choose?
Bekah: "Life Is Beautiful".
What was the first musical you ever saw?
Cinco: The first musical I ever saw was ONCE UPON A MATTRESS at a local dinner theater in Phoenix, Arizona. I must've been eight or nine years old. I remember very little apart from loving the King and the twist ending.
What is your go-to musical theatre shower song?
Bekah: "I Will Never Leave You" from SIDESHOW… or ANYTHING FROM SIDESHOW!
What is your favorite musical? Favorite composer?
Cinco: My favoite musical is a toss-up between SWEENEY TODD and GUYS AND DOLLS. I'm a huge Sondheim fan, but there's definitely a magic in Loesser's songwriting I would kill for.
What is your every-day super power?
Bekah: Empathy.
What are your non-theatre hobbies/interest?
Cinco: I love board games, the Marx Brothers, the Phoenix Suns, and I go to church every week.
#NAMTNewMusicals #NAMTNewMusicalsMonth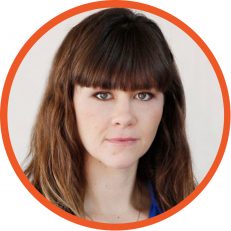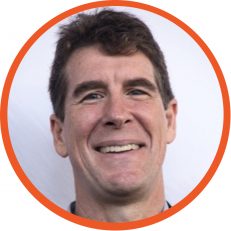 ---
Friday, Sept. 28 – Festival 2018: Gun and Powder
Ending our final festival Friday with the writing team of GUN AND POWDER!
Music by Ross Baum with book and lyrics by Angelica Chéri.
What was the first musical you ever saw?
Ross: It was either CATS or BEAUTY & THE BEAST… but CATS is definitely the more fun answer here so let's go with CATS.
What is your everyday super power?
Angelica: Making complete strangers (especially babies) smile.
If you could turn any movie into a musical, what movie would you choose?
Ross: "Miss Congeniality", Angelica: "Fried Green Tomatoes"
What is your go-to musical theatre shower song?
Angelica: "The Ballad of Sweeney Todd.", Ross: "Barrett's Song" from TITANIC – I've been working on my Brian D'Arcy James impression since the age of 7.
#NAMTNewMusicals #NAMTNewMusicalsMonth