We continued our New Musicals Month this week by showcasing Prospect Theater Company, CPA Theatricals, San Diego State University, Millikin University, TheatreWorks Silicon Valley, Goodspeed Musicals, the Fulton Theatre, the writing teams of Row and XY, and many more. Check out our week in review!
---
Monday, Sept. 17 – Prospect Theatre Company
#NAMTNewMusicalsMonth #NAMTNewMusicals
We'll be starting off the day with Prospect Theater Company!
Peter Mills and Cara Reichel are not only founding company members, but also the writers of their show – THE HELLO GIRLS. In 2017, Prospect Theater Company received an NEA grant to commission them to develop a new msucial based on the inspiring history of "The Hello Girls", the first women to serve in the US Army and who worked as a bi-lingual telephone operators on the front lines during WWI. Over the past year, Prospect Theater Company has developed the piece with salon presentations, a reading, a concert in Paris (sponsored by Broadway au Carre) and a concert at the Goodwill Theatre.
Pictured below is the historic photo of actual "Hello Girls".
Credits to Members of the Women's Army Signal Corps. Photo courtesy of Robert, Grace, and Carolyn Timbie.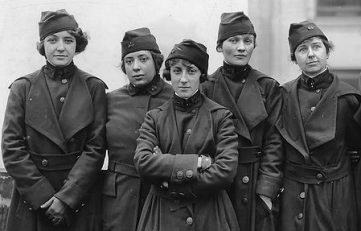 ---
Monday, Sept. 17 – CPA Theatricals
CPA Theatricals has given us two shows to highlight today!
GRACE AND THE ISLAND OF MISFITS was written by Dylan MarcAurele, Jennifer Enchin and Jaclyn Enchin. CPA Theatricals is still developing this new musical it will have a full reading in December after four table reads in 2018. This entertaining family show is perfect for the Christmas season!
CPA is also developing GIRLHOOD, a song cycle written by 26(!) composers and lyricists for middle school audiences. The first draft has been written and a workshop is planned for November.
#NAMTNewMusicals #NAMTNewMusicalsMonth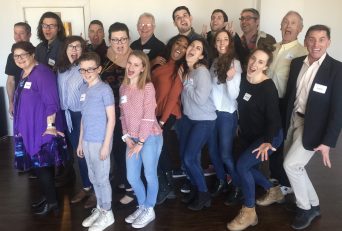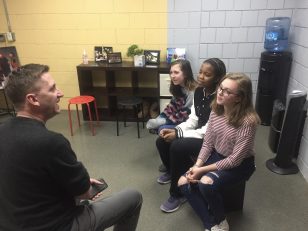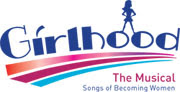 ---
Tuesday, Sept. 18 – San Diego State University
Happy Tuesday! Today we will be highlighting universities that have helped developed new musicals.
San Diego State University has married itself to Bobby Cronin and Caroline Prugh's new musical – TIL DEATH DO US PART! SDSU will be producing three different levels of development with this show, starting with a reading this Fall. Afterwards, the show will have a workshop in the Spring and a full production in 2020. SDSU's MFA students will be cast in every step of this process.
TIL DEATH DO US PART is a NAMT Writers' Residency Grant recipient.
Pictured below are productions photos of another new musical SDSU produced – ENCHANTED APRIL. Book and lyrics by Charles Leipart and music by Richard B. Evans.
Photos by Ken Jaques.
#NAMTNewMusicals #NAMTNewMusicalsMonth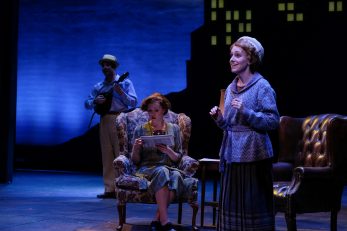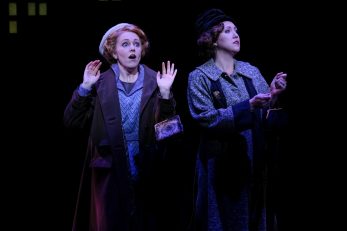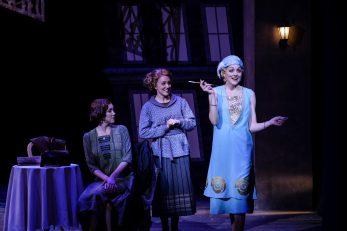 ---
Tuesday, Sept. 18 – Millikin University
Continuing our University Tuesday celebration with Millikin University!
Earlier this year, Millikin produced their 11th New Musicals Workshop where they workshopped the first draft of ERIC HERMANNSON'S SOUL written by Chris Miller and Nathan Tysen. The show was co-comissioned by NAMT members Playwrights Horizons and TheatreWorks Silicon Valley. Following the workshop, the show was further developed at the University of Nebraska in April. The show will be given its first professional reading this fall, produced by Playwrights Horizons and TheatreWorks SV.
Development of ERIC HERMANNSON'S SOUL at Millikin was supported by a NAMT Writer's Residency Grant.
#NAMTNewMusicals #NAMTNewMusicalsMonth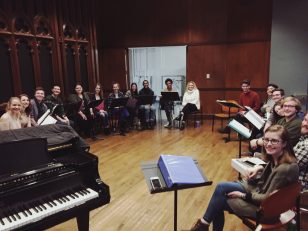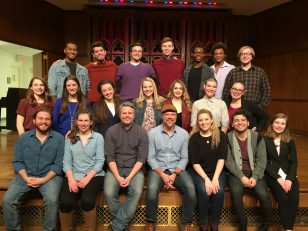 ---
Wednesday, Sept. 19 – Goodspeed Musicals
CYRANO's journey began many years ago when Michael Gennaro spoke with director and writer Erica Schmidt about her dream to write a musical adaptation of the classic play CYRANO DE BERGERAC by Edmond Rostand. Erica had always envisioned the Grammy-Award-winning indie band The National as the perfect collaborators for this project; she felt their bittersweet music channels the pain and beauty of love in a way that matched Cyrano's story perfectly. Matt Berninger, Aaron Dessner and Bryce Dessner of The National came onboard with Carin Besser.
At the Johnny Mercer Writers Colony at Goodspeed in 2016, Erica combed through hours of song snippets that the band had sent her, matching them to the script she was working on and proving that her concept for the show would work. Encouraged by her work during the residency, Goodspeed produced a reading in April 2017 for Erica and the band (now fully on board) to develop the work and begin collaborating in earnest, allowing the show to fully take shape. In April of 2018, Goodspeed produced another workshop to deepen and refine the script and score. After this, CYRANO and its creative team were ready for the next stage of the project's development: a full production at The Terris in the summer of 2018, starring Peter Dinklage in the title role.
Goodspeed advocates strongly for continued change and revision in the creative process, and has provided CYRANO a safe environment closed to critical review, as well as additional rehearsal time and access to all of the organization's facilities. Members of Goodspeed's artistic and music production staff have supported Erica and the creative team throughout the development of this new musical, providing feedback and guidance. Erica Schmidt's CYRANO, with music by The National, is a gorgeous new addition to the musical theater canon. The Goodspeed team could not be prouder to have helped it come to life.
#NAMTNewMusicals #NAMTNewMusicalsMonth
Photo credit: Diane Sobolewski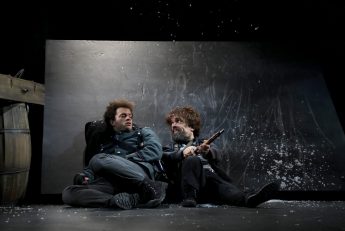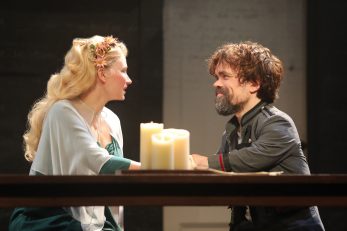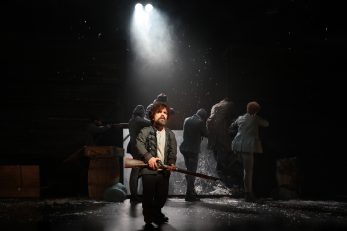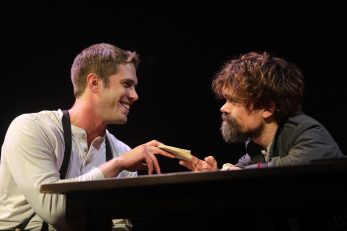 ---
Wednesday, Sept. 19 – TheatreWorks Silicon Valley
Earlier this August, TheatreWorks Silicon Valley hosted its 17th Annual New Works Festival in Palo Alto, CA. Today, they have given us two new works to showcase – PRIDE AND PREJUDICE and ONCE UPON A RHYME!
PRIDE AND PREJUDICE, written by Paul Gordon, was presented as one of four new works in development at their New Works Festival. The creator of ThetareWorks' hits EMMA and DADDY LONG LEGS returns with an unforgettable musical of the Jane Austen classic, told with a bold contemporary edge. In a romantic comedy for the ages, a liberated Lizze Bennet and disdainful Mr. Darcy discover the irresistible power of love.
ONCE UPON A RHYME written by Ronve O'Daniel and Jevares Myrick was another show presented at TheatreWorks' Festival. With his community facing the recession, a talented dancer falls hard for the girlfriend of a 'gangsta' rapper, threatening his own dreams of hip hop stardom. This tale of family, identity, and the search for truth won the "Best of Fest" Award at the New York Musical Festival.
#NAMTNewMusicals #NAMTNewMusicalsMonth
First two photos are of ONCE UPON A RHYME. Next two photos are of PRIDE AND PREJUDICE.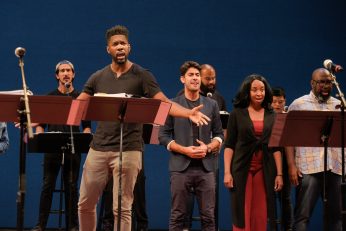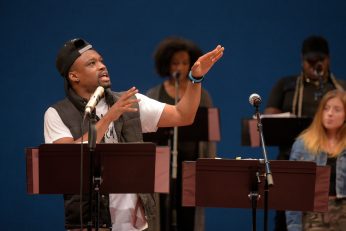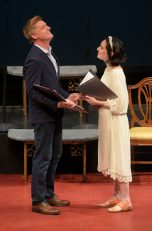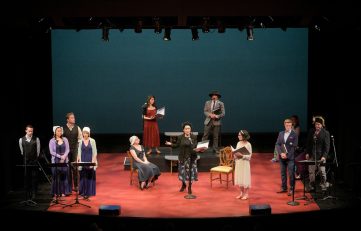 ---
Wednesday, Sept. 19 – David Coffman
#NAMTNewMusicals #NAMTNewMusicalsMonth
ONCE UPON A RHYME (formerly known as iLLA! A Hip Hop Musical) has been in the works since 2015 with book, music and lyrics by Ronve O'Daniel and music by Jevares Myrick. The show has had several readings and workshops over the past three years – from the New York Musical Festival to the TheatreWorks Silicon Valley New Works Festival. It has won multiple awards including Best Developmental Production and Best of Fest at the New York Musical Festival and the Georgia Bogardus Holof Lyricist Award at the O'Neill Theater Center. Stephanie Klemons (Global Dance Supervisor of HAMILTON) recently signed on as choreographer.
Recently, ONCE UPON A RHYME has a reading at New Works Festival at TheatreWorks Silicon Valley. They started preparing for a Studio Production as part of NYU/Tisch Artists in Residence Series this Monday.
First photo: Harrison James O'Brien
Second photo: Heather Orth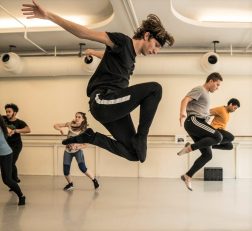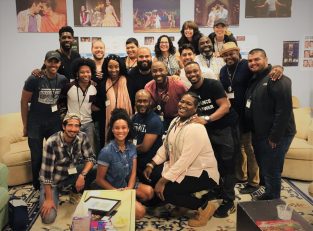 ---
Thursday, Sept. 20 – Adam Gwon
Adam Gwon (Fest '08, ORDINARY DAYS, Fest '11, BERNICE BOBS HER HAIR & Fest '14 STRING) – has given us THREE new musicals to celebrate!
THE PROXY MARRIAGE (written with Michele Lowe) was awarded a "Triple R Residency" from Rhinebeck Writers Retreat – a cold table read followed by a weeklong writing retreat, then a 29-hour reading. The reading marked the show's first professional reading in NYC, with director Lonny Price and music director Vadim Feichtner. It had a previous reading at Northwestern University's American Music Theatre Project. THE PROXY MARRIAGE is adapted from a short story by Maile Meloy. It follows two high school seniors in Montana who serve as stand-ins for the proxy weddings of soldiers who are stationed overseas. Over the course of 10 years, an unusual love story unfolds that bridges the distance between two far-away hearts.
STRING was shown in NAMT Festival of New Musicals before appearing in Village Theatre's Festival of New Musicals as a reading, then a Beta Series developmental production, and finally a world premiere in their mainstage season. STRING won the Loewe Award at New Dramatists, the Weston Playhouse New Musicals Award, and the Richard Rodgers Award, and had developmental steps at Millikin University, the O'Neill Music Theater Conference, and Playwrights Horizons. STRING is an original musical, a contemporary riff on the Three Fates. The Fates find themselves banished to a modern office building in the mortal world, spinning, measuring, and cutting the Strings of Life. When the eldest sister meets a mortal in the building and falls in love, she bends the rules to keep him at her side. But can the fabric of the Universe stand a flaw?
Finally, we are wishing ORDINARY DAYS a happy opening today at Broadway Rose Theatre Company! ORDINARY DAYS will have another production running at the Keen Company opening October 2nd!
Production photos: Mark Kitaoka and Tracy Martin
#NAMTNewMusicals#NAMTNewMusicalsMonth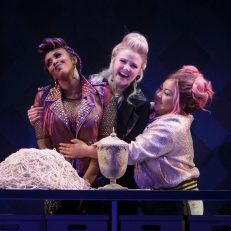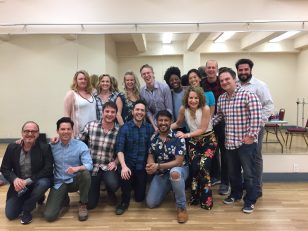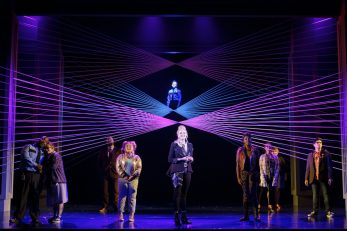 ---
Thursday, Sept. 20 – Douglas Cohen
THE EVOLUTION OF MANN (formerly NINE WIVES) was developed at Goodspeed Musicals, The Human Race Theatre Company and Lyric Theatre of Oklahoma. THE EVOLUTION OF MANN has music and lyrics by Douglas J. Cohen (Fest '94, THE GIG; Fest '00, GLIMMERGLASS; Fest '08, BARNSTORMER) with book and lyrics by Dan Elish.
THE EVOLUTION OF MANN will open on October 4th at The Cell, directed by Joe Barros.
We would also like to wish writer Douglas Cohen a happy birthday today!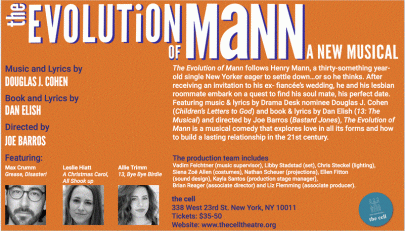 ---
Thursday, Sept. 20 – Fulton Theater
We'd like to wish a happy opening to new musical TREASURE ISLAND being produced at the Fulton Theatre. Based on the treasured classic by the Robert Louis Stevenson, this epic adventure has a cast of 36 and a 17-piece orchestra bringing to life an exhilarating and majestic score! After more than a decade of development, Treasure Island is ready for the spotlight.
TREASURE ISLAND is co-written and directed by Marc Robin—who is celebrating 10 years as the Fulton's Artistic Director, and longtime collaborator and Maine State Music Theatre Artistic Director, Curt Dale Clark.
Young Jim Hawkins is left orphaned and inherits a coveted treasure map that any swashbuckler would kill for, including the feared and unpredictable Long John Silver. Left in the care of Dr. Livesey and his squadron, Jim's naïveté could spell the end for them all! Before the sails are hoisted, Silver's band of pirates covertly invade the ship, falsely portraying cooks and other crewmen and are determined, at any cost, to seize the gold!
Be sure to check our Instagram later where our Membership Director Adam Grosswirth went live at the Fulton Theatre's opening.
#NAMTNewMusicals #NAMTNewMusicalsMonth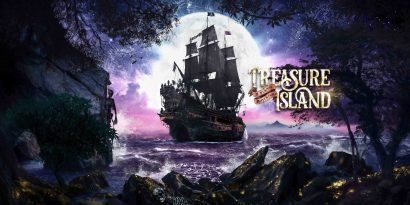 ---
Friday, Sept. 21 – The Boy Who Danced On Air's Album Release
The original Off-Broadway cast album for THE BOY WHO DANCED ON AIR (NAMT '13) was released by Broadway Records TODAY! The album features a bonus track performed by four time Grammy-winner India.Arie and a foreword by Tony Award-winning composer Stephen Flaherty. The show, which is a love story between two dancing boys in Afghanistan, is written by Jonathan Larson Grant recipients Tim Rosser and Charlie Sohne – and was awarded the 2016 San Diego Critics Circle Award for Outstanding Original Score. Order at BroadwayRecords.com.
#NAMTNewMusicals #NAMTNewMusicalsMonth
---
Friday, Sept. 21 – Festival 2018: Row
Happy Festival Friday! Today we're starting off our day by celebrating the writing team of our festival show ROW! Music and lyrics by Dawn Landes. Book by Daniel Goldstein.
What was the first musical you ever saw?
Dawn: CATS! Like 4 times, I was obssessed. I wore my black CATS sweatshirt everywhere. Danny: That is up for debate – and I'm only counting Broadway. Depending on who you ask it's either PETER PAN (Sandy Duncan style), ANNIE, or GREASE. But A CHORUS LINE was soon to follow.
What is your favorite musical?
Dawn: I get songs from SOUTH PACIFIC stuck in my head about once a week. Danny: Oh my God – impossible. It's like picking favorite children or cheese. They're all perfect and the best ones are a little stinky. Also – GYPSY.
What a fun fact about you?
Dawn: Yakov Smirnoff used to live in my basement. Danny: Uma Thurman slept in my basement.
The pictures below are of Dawn and Danny enjoyng a day rowing on Tofte Lake.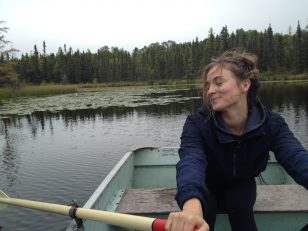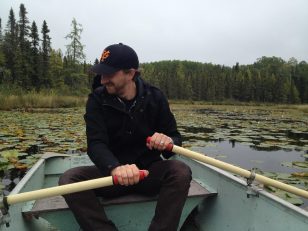 ---
Friday, Sept. 21 – Festival 2018: XY
Festival Friday continues with XY, written by Oliver Houser!
What was the first musical you ever saw?
Rebecca Luker in THE SOUND OF MUSIC. I was five years old and I was smitten.

What is your go-to musical theatre shower song?
"We Do Not Belong Together" from SUNDAY IN THE PARK WITH GEORGE. After a breakup. In the style of Bernadette Peters.
What are your non-theatre hobbies/interests?
I like leading a relational meditation practice called circling. I also like throwing people around while practicing Aikido, a Japanese martial art.