This week we kicked off our New Musicals Month with Pittsburgh CLO, Theater Latte Da, Barrington Stage Company and the writing teams of two of our festival shows this year – The River is Me & 17 Again. In case you missed it, here's our week in review!
Tuesday, Sept. 4 – Pittsburgh CLO
We are thrilled to kick of NAMT's New Musicals Month with These Girls Have Demons! The show was part of Pittsburgh CLO's Spark festival which featured 11 new small-cast musicals.
The writers—Meghan Brown and Sarah Taylor Ellis—were invited for a two-week residency in Pittsburgh. With only the first act and five demos, Meghan and Sarah were able to complete this electrifying musical in collaboration with the Pittsburgh staff and an all-female creative team. This small new musical was shared with over 300 audience members during a weekend in April.
For more information about SPARK and These Girls Have Demons: http://www.pittsburghclo.org/spark
#NAMTNewMusicals #NAMTNewMusicalsMonth
Photos by Matt Polk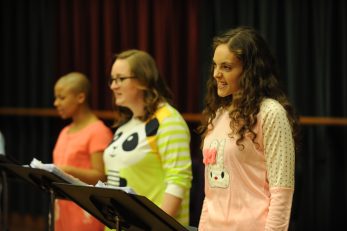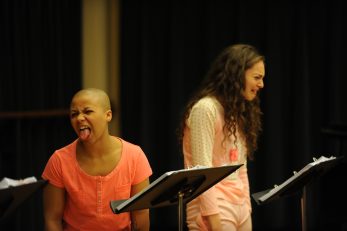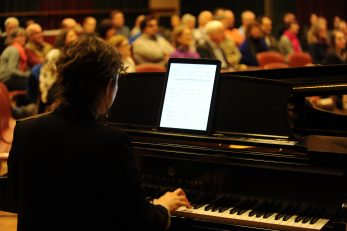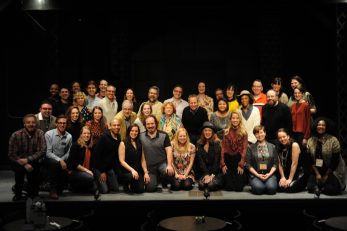 ---
Wednesday, Sept. 5 – Theater Latte Da
#NewMusicalsMonth #NAMTNewMusicals
Theater Latte Da Artistic Director Peter Rothstein shepherded Five Points after its initial stage of development, bringing on book writer Harrison David Rivers. Under the auspices of Theater Latte Da's commitment to developing new musicals, Five Points was a part of Latte Da's NEXT Festival, was workshopped at Musical Theater Factory and Goodspeed Musicals and had its World Premiere at Theater Latte Da in Spring 2018.
In July of 2018, Theater Latte Da brought two more new musicals to their 2018 NEXT Festival. PANSY, written by Max Wojtanowicz, Nikki Swoboda, and Michael Gruber, had 50 hours of workshop time before having two public presentations on the Ritz stage. GUN & POWDER, written by Angelica Cheri and Ross Baum, was also featured at the NEXT Festival and was a recipient of the 2018 Richard Rogers Award for Musical Theatre. You can see more from GUN & POWDER at NAMT's Festival of New Musicals this October!
First photo: FIVE POINTS, photo by Dan Norman
Second photo: PANSY, photo by Emilee Elofson
Third photo: GUN AND POWDER, photo by Emilee Elofson
---
Thursday, Sept. 6 – Barrington Stage Company
Barrington Stage Company has given us three new musicals to celebrate today! THE ROYAL FAMILY OF BROADWAY, book by Rachel Sheinkin with music and lyrics by William Finn, has been in development for over a decade and had its world premiere on the award-winning stage in June of 2018. Most recently, Barrington Stage Company held a reading of FALL SPRINGS (Fest '17), written by Peter Sinn Nachtreib and Nikos Tsakalakos, which also received a National Fund for New Musicals Writers Residency Grant.
Additionally, Barrington Stage Company has commissioned a new youth musical based on a novel by local Berkshire author Ty Allan Jackson. SUPADUPA KID is written by Harrison David Rivers (Fest '15, The Last Queen of Canaan), Joel Waggoner and Sukari Jones (Fest '18, The River Is Me). SUPADUPA KID tells the story of a young african american boy who gains super powers after a freak accident but at the same time so does his school's bully.
#NAMTNewMusicals #NAMTNewMusicalsMonth
First Image: FALL SPRINGS, photo by Jennifer Graessle
Second Image: THE SUPADUPA KID, artwork by Big Head Books

---
Friday, Sept. 7 – Festival 2018: The River is Me
HAPPY FESTIVAL FRIDAY! Today we want to highlight two of the writing teams that will be joining us next month. Meet the writers of THE RIVER IS ME!
THE RIVER IS ME – Music by Troy Anthony, Books & Lyrics by Sukari Jones
What was the first musical you ever saw?
Sukari: THE LION KING.
Troy: JESUS CHRIST SUPERSTAR.
What is your favorite musical and favorite composer?
Sukari: DREAMGIRLS and Leonard Bernstein.
Troy: DREAMGIRLS and William Grant Still.
If you could turn any movie into a musical, what movie would you choose?
Sukari: Beasts of the Southern Wild.
Troy: Waiting to Exhale.
#NAMTNewMusicals #NAMTNewMusicalsMonth
---
Friday, Sept. 7 – Festival 2018: 17 Again
Continuing our Festival Friday celebration, meet the writers of 17 AGAIN!
17 AGAIN – Book by Marco Pennette, Lyrics & Music by Michael Weiner and Alan Zachary
What was the first musical you ever saw?
Michael: THE MUSIC MAN.
Alan: MY FAIR LADY. I have vivid memories of singing "I've Grown Accustomed to Her Face" in the bathtub as a kid.
If you could turn any movie into a musical, what movie would it be?
Michael: 17 AGAIN… of course!
Alan: The Purge… though I'm sure competition for the musical rights is fierce.
What are your non-theatre hobbies/interests?
Michael: Disneyland.
Marco: Hanging out with my children and purchasing needless items from Williams-Sonoma.
What is your go-to musical theatre shower song?
Alan: "If I Loved You" from CAROUSEL and anything Enjolras sings in LES MIS.
Marco: "I Can Do That" from THE CHORUS LINE.
What is your favorite musical? Favorite composer?
Marco: Tie – SWEENEY TODD & EVITA. Composer – Zachary/Weiner (but if they're not reading this – Sondheim).
#NAMTNewMusicals #NAMTNewMusicalsMonth