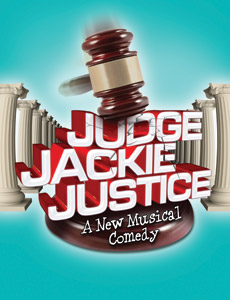 NAMT member theatre Pittsburgh CLO recently opened the world premiere of
Judge Jackie Justice
, a new musical by Michael Kooman and Chris Dimond (both, NAMT Fest '11-
Dani Girl
). The show runs through April 27 at their cabaret space. We took a moment to chat with Pittsburgh CLO's Executive Producer Van Kaplan, who also directed the show and came up with its concept, about bringing some
Justice
to Pittsburgh.
You've been summoned for a brand new musical comedy: it's CourtTV meets Springer! The musical courtroom of Judge Jackie Justice is now in session at the CLO Cabaret. Behold "real" cases involving zombies, spaceships, furries and more! TV's hottest Judge relishes in ruling on the personal affairs of people just like you, but what happens when the tables are turned? You won't "object" to this brand new musical comedy!
Judge Jackie Justice (JJJ) is a commission from Pittsburgh CLO. What was the motivation behind commissioning a show for your cabaret space?

Creating new works is part of the mission of the CLO and we are always looking for fresh material, especially for the Cabaret. Finding new and exciting small-scale musicals for our year-round programming has been a challenge for us.
You had the original idea for
JJJ. What was the inspiration for a musical about TV court shows?

After I saw Jerry Springer the Opera (which I thought was a hoot) in London I thought of creating a show along the same vein but also with some audience participation. The super-sized personalities and live and reactive audiences of Court TV shows seemed like good material to mine for musical comedy.
Why did you go with the team of Kooman and Dimond to create the show and what has that process been like?

I saw a reading of Dani Girlat the NAMT Festival and then had an opportunity to listen to Howard Barnes and was sold. They are imaginative writers and because I wanted humor that skewed a little younger for my show, they seemed right for the job. The process of creating the show was like others I have been a part of, highs and lows, agreements and disagreements, and striving to reach the best place possible. A commissioned work poses unique challenges because it is an inherently collaborative writing process. Because Judge Jackie was my idea, I knew what I wanted and was specific with the writers.

Why do think it is important for your theatre to create new musicals for your audience?
We've been involved in a number of new shows both at the Cabaret and for our main stage. As a producing regional theatre, it is important for us to contribute where we can to the expanding canon of musicals that in the years ahead will be produced here and around the world. Our subscribers are savvy theater goers who are devoted to classic musical theater and they get excited by new musicals too.
I had the pleasure of being there for the second performance and the audience was having a blast. How has the feedback been from the audience so far?

Our audiences appear to be having a good time and we are selling tickets. In addition to enjoying the zany humor I've had people tell me that the show has "heart" and very catchy songs.
What is your hope for the future of the show?

Most importantly we want our audience to enjoy this musical, which, incidentally, has lots of local references built in which can be adapted to suit any city's humorous idiosyncrasies and could be a lot of fun performed regionally.
What are your long term hopes for new musicals at the Cabaret?
We hope that any show we create at the CLO Cabaret will appeal to our audiences and find a life outside of Pittsburgh. This show is right for almost any theatre. We'll see where "the Judge" takes us!
Why should people swing out to Pittsburgh for some Justice?
The show skews to a slightly younger audience than our shows normally do but it's a pretty standard book musical format that will satisfy purists. It could work well on main stages or at smaller venues trying to attract new audiences. By the way, with a younger audience in mind we built into the start of the show some fun social media opportunities (see #judgejackie).
For more information about the show, please visit www.pittsburghclo.org