An interview with Paper Mill Playhouse's Mark Hoebee about their upcoming production of The Other Josh Cohen by David Rossmer (NAMT Fest '10- notes to MariAnne, '00- Joe! The Musical) and Steve Rosen.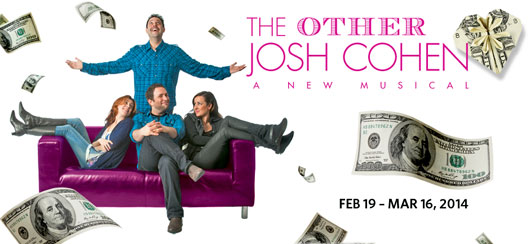 The Other Josh Cohen is more than an original new musical comedy. It's the true story of a good guy who is trying to break a streak of incredibly bad luck. He's single, broke, and just a few days before Valentine's Day his apartment is robbed of everything but one Neil Diamond CD. Six days later a mysterious letter arrives in his mailbox which changes his life forever. Will his Jewish guilt allow him to enjoy his good fortune? Will he ever be able to stop kicking himself if he doesn't? And will there ever be a time when nice guys finish first? Yep.

How did Josh Cohen find his way from his Off Broadway productions to Paper Mill?
I have known NY producer Kevin McCollum since we did summer stock together the year we both graduated college. Kevin and I have kept in touch over the years and have discussed several projects that he had which might be appropriate for Paper Mill including White Christmas which was wildly successful here last season. After Josh Cohen ran at SoHo Rep, Kevin spoke to me about the show and sent me the materials. I found the piece incredibly funny, charming, entertaining and was most impressed by the company of actor/musicians that bring the show to life – two of whom are the authors of the piece David Rossmer and Steve Rosen.

What drew you to the show and why is it a good fit for your audience?
I was most excited about this show playing at Paper Mill because it speaks to the new demographic of audience members here. Paper Mill's audience has been shifting and changing over the last six or so years. We now have a subscriber base of over 20,000 with an annual attendance of more than 200,000. The segment of audience with the largest growth has been patrons in the 35-50 age demographic. They are mostly urban transplants who have moved to the area to enjoy the benefits of living in the suburbs and to start families, but they retain their younger, hipper sensibilities. We have found that they are looking for contemporary, slightly edgier, more sophisticated musical options, and that is exactly what this show offers.

Paper Mill has a history of developing large new musicals like your recent hit, Honeymoon in Vegas, but this show is a smaller show in topic and size. Will the show get bigger for your stage or stay small and quirky?

Paper Mill has been producing new musicals for many years. Back in the 80's and 90's we had a new works initiative that launched many new musicals and plays including Paper Moon, Comfortable Shoes, Sayonara and many more. In more recent years we have been working with commercial partners and have produced several world premieres including Newsies (Disney Theatrical Productions) and Honeymoon in Vegas (Roy Gabay and Dena Hammerstein) as well as launching national tours like Little House on the Prairie starring Melissa Gilbert and the 25th Anniversary production of Les Misérables, which we collaborated on with Cameron Mackintosh and then toured for 3 years. We are producing Josh Cohen in our winter slot which typically showcases a play or small musical. Last year we did Lend Me a Tenor in this slot and several seasons back we produced Spelling Bee, so Josh Cohen fits perfectly into that model. Paper Mill is obviously a much bigger space than Soho Rep, but we maintain the small and quirky nature of the piece, which is a large part of its charm.

What has changed for Josh Cohen since its Off Broadway run last fall?
The authors and the director Ted Sperling are revisiting the show right now. There are a lot of possible changes on the table currently, but until the show gets into the rehearsal studio, I couldn't say which ones will make it to the stage.

Why should people head to Millburn, New Jersey this winter to catch The Other Josh Cohen?
A trip to Paper Mill offers a great opportunity to see the exciting work we are doing here which, of course, includes Josh Cohen. This show is a fun, feel-good evening full of humor with a brand new terrific contemporary score. Our talented writer/performers David and Steve are a witty and fresh new voice in musical theatre that no avid theatre-goer should miss. Anyone who makes the short trip from NYC won't be disappointed.
For more information on The Other Josh Cohen, please visit www.papermill.org