Home » Musicals »
Back to the 23rd Annual Festival of New Musicals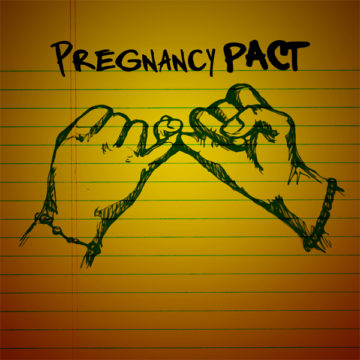 Pregnancy Pact
2011 Festival
Director
Robert Mark Brokaw
Music Director
Richard Silverstein
Cast
Krystina Alabado, Ally Bonino, Robi Hager, Emma Hunton, Phoebe Strole, Stephanie Umoh and Emily Walton
---
Number of Acts: 2
Number of Principals (Male): 1
Number of Principals (Female): 6
Preferred Ensemble Size: 8
Total Cast Size: 15
Orchestra Breakdown:
piano, electric guitar, electric bass, drums, strings
Genre & Style:
---
---
Synopsis
Pregnancy Pact is a pop-rock musical about a group of teens who make a pact to become single mothers together. 15-year-old Maddie is devoted to her three best friends and they are to her. So when Brynn gets pregnant, the friends all plan to have children, raising them together in a dream of a perfect life.  Their pact grows as other girls find out and want in. The bubble finally bursts when their secret is revealed, leaving each of the girls to face the hard realities of love, responsibility and growing up.
Development History
Pregnancy Pact was originally developed in the Dramatists Guild Fellows program, under the guidance of Lynn Ahrens and Stephen Flaherty. As the recipient of the Weston Playhouse's 2011 New Musical Award, selections were performed in Weston, VT and recorded with Kurt Deutsch of Sh-K-Boom/Ghostlight Records. The score was showcased as part of Ars Nova's Uncharted series in March 2011. Most recently, the show received a workshop in the 2011 Yale Institute for Music Theatre in New Haven, CT.
Festival Successes
Full production at Weston Playhouse (VT) in 2012. Concert presentation at Feinstein's/54 Below in 2014. 2017 Canadian Premiere with Edges Productions.
5 Things You Should Know
Though the story of the show is entirely original, it is inspired by the June 2008 new story, first nationally reported in Time magazine, about a surge in pregnancies at Gloucester High School in MA.  Seventeen girls got pregnant during the 2007-2008 school year, and faced with questions, the principal alleged that the girls had made a pact to all get pregnant together, an allegation all of the girls deny.
The show is populated only with characters aged 15 to 17.  There is a cast of 7-8, with 6 women and 1-2 men.  No adults allowed.
These girls behave badly.  (Even by teenage standards).  Crude language and frank sexuality are featured throughout the show.
The score is written for a six-piece band (piano, electric guitar, electric bass, drums, violin and cello) but can be performed with a four-piece band, without the strings.
Pregnancy Pact is slated to have its world premiere at the Weston Playhouse Theatre Company in the summer of 2012. We are seeking co-productions and second productions on the horizon!