Home » Musicals »
Back to the 31st Annual Festival of New Musicals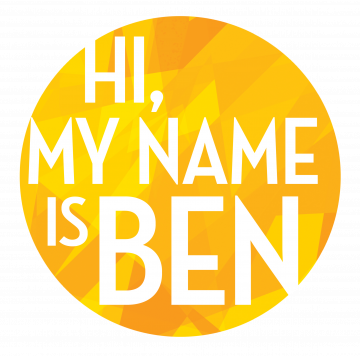 Hi, My Name is Ben
2019 Festival
Director
Hunter Bird
Cast
Jennifer Damiano, Dayna Jarae Dantzler, Richard Henry, Carlos Lopez, Mamie Parris, CJ Pawlikowski, Joel Rooks, Conor Ryan, Sonya Venugopal and Michael Winther
Contact for Rights
www.noisemaker.org.uk / noisemakerproductions@gmail.com
---
Number of Acts: 2
Number of Principals (Male): 5
Number of Principals (Female): 7
Total Cast Size: 12
Orchestra Breakdown:
Seven pieces: String Quintet / Guitar / Piano
Casting Notes:
Cast size is flexible (10-12)
Genre & Style:
---
---
Synopsis
"Hi, my name is Ben. I can't talk but I can hear."
A true, New York story of how one man changed the lives of those around him, without ever speaking a word. Using just his notepad, pen, and open heart, Ben turned a neighbourhood of strangers into a community of friends, before finally encountering a miracle of his own.
Development History
Following interviews with individuals that knew Ben, the show began life at the Johnny Mercer Foundation Writers Grove at Goodspeed Musicals in 2017. Since then the development of Hi, My Name is Ben has been a transatlantic collaboration with support from Goodspeed, Dundee Rep, Creative Scotland, Scottish Ensemble and the National Theatre of Scotland. In 2018, a developmental workshop took place in NYC, followed by a concert performance of the show at Dundee Rep in collaboration with the Scottish Ensemble string orchestra. In May 2019, the first developmental production was produced and presented by Goodspeed Musicals at the Norma Terris Theatre, Chester.
Festival Successes
Commercial option. Goodspeed Production 2019.
5 Things You Should Know
Hi, My Name is Ben is the extraordinary true story of Bernhardt Wichmann III. Scott and Claire first discovered Ben after reading his obituary in The New York Times in 2016. The article was a touching account of one man and the community he left behind, and both Scott and Claire were so taken by this old man who couldn't talk, but somehow managed to speak to so many lives. Ben's life was a mixture of unlikely coincidence, and very human challenges, and everything you see and hear in the show really happened (just with less singing and string players). His story is one Scott and Claire feel lucky to be trusted with, and they dedicate the show to his memory.
The show began life at the Johnny Mercer Writers Grove at Goodspeed Musicals in 2017, with just some newspaper articles and a lot of blank paper. Over those two weeks, Scott and Claire structured the show and managed to write the first act (although East Haddam, CT, wasn't exactly jumping with distractions in the middle of winter…). The continued support of Goodspeed made realizing Ben's story possible, and Scott and Claire were proud to see its first production happen at Goodspeed's Norma Terris Theatre earlier this year, in collaboration with Dundee Rep Theatre.
Many of the real people who knew Ben have been involved with the show since the beginning, and many of the scenes and interactions within the show are based on anecdotes and memories from the residents of East 74th interviewed throughout the writing process.
Hi, My Name is Ben has undergone extensive development both in Scotland and in the States. We're now at a stage that we're ready to secure our next North American regional production, and to partner with a team and venue that will enhance the piece and scale of the work.
Scott and Claire met as students at the Royal Conservatoire of Scotland, where they formed their writing partnership, Noisemaker (www.noisemaker.org.uk). The pair have now written 12 shows together, and are extremely proud to be the first Scottish writing team to present work at the NAMT Festival. They still have no idea how to use the subway…
Excerpts