Home » Musicals »
Back to the 24th Annual Festival of New Musicals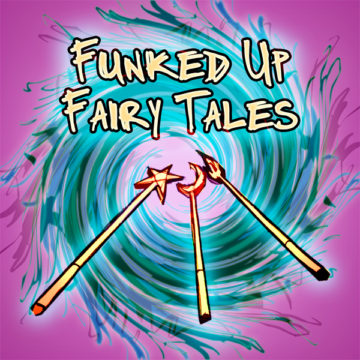 Funked Up Fairy Tales
2012 Festival
Director
Jerry Dixon
Music Director
Steve Marzullo
Cast
Drew Aber, Kerry Butler, Demond Green, Kenita Miller, Alysha Umphress and Emily Walton
Contact for Rights
John Buzzetti (212) 903-1166 jbuzzetti@wmeentertainment.com
---
Number of Acts: 1
Number of Principals (Male): 2
Number of Principals (Female): 4
Total Cast Size: 6
Orchestra Breakdown:
4 – 7
---
---
Synopsis
Funked Up Fairy Tales—a collection of delightfully twisted urban fairy tales for sophisticated children and grown-up kids—welcomes you to the world of Titania, Faireetheeya and Magikwanda, teenage fairies with attitude. They wag their heads and suck their teeth as they turn things upside down to pass their Fairyland Academy exam. Will they pull through with flying colors and earn their Happy Ending Crowns?
The committee loved the humor, energy and contemporary score of Funked Up Fairy Tales, which will appeal to children and adults of all ages with its good spirits and hip sense of humor.

- Festival Committee
Development History
Funked Up Fairy Tales had a workshop production at Barrington Stage Company (August 2007), a staged reading at The Sundance Institute Theatre Lab at White Oak (December 2007) and a staged reading at Manhattan Theatre Club's Ernst C. Stiefel 7@7 Reading Series (2009).
Festival Successes
World Premiere Production at Depot Theatre (NY) in Summer 2013. Concert presentation at Feinstein's/54 Below in 2016.
5 Things You Should Know
K-Pig, the original Funked Up Fairy Tale story, is adapted from a story (The Pig Prince) by Straparola, the 16th-Century Italian writer who gave us Beauty and the Beast and Puss In Boots.
I see the show as a melange of styles and elements of a traditional storybook world, infused with modern day trappings.  A set and a design scheme that suggests a land where grandeur meets hardcore, where Versailles meets the trailer park, where Charles II meets Christian Louboutin meets Fubu.  A place where the audience connects their real world with their fantasy.
The energy, verve and undaunted spirit of my three heroines comes directly from the energy, heart and undaunted spirit of all the brilliant, sweet, funny, bold, shy and opinionated students I have had the pleasure of accompanying to the theater in TDF's Open Doors program. This program connects theatre professionals with a group of 8 NYC high school students for a year of seeing Broadway shows together.
For the next stage of the show, my hope is that my fairy godsistahs Faireetheeya, Magikwanda and Titania are chanting the proper "Pick this thing up, yo!" spells as they wave their wands over producers' heads!
I began to write the show a while back to have something to do while I waited for a collaborator of mine to finish the book for a musical we were working on. I'm still waiting for that book :) All joking aside, I would love for the bookwriter to finish it, because it could be fantastic.
Excerpts