Back to the 24th Annual Festival of New Musicals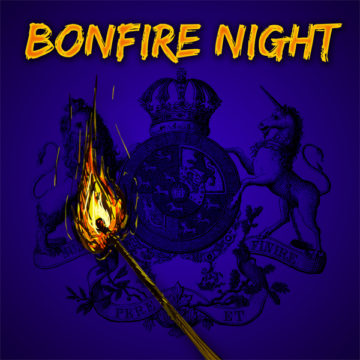 Bonfire Night
2012 Festival
Director
Sam Buntrock
Music Director
Kim Grigsby
Cast
Andre De Shields, Santino Fontana, Chester Gregory, Chris Hoch, Omar Lopez-Cepero, Wade McCollum, Jeremy Morse, Bryce Pinkham, Eddie Wardel and Michael Winther
Contact for Rights
Justin Levine, 631-897-4221, juslevine@gmail.com
---
Number of Acts: 1
Number of Principals (Male): 3
Preferred Ensemble Size: 7
Total Cast Size: 10
Orchestra Breakdown:
4- Piano, Guitar, Upright Bass, Drums
Casting Notes:
Male chorus could range from 5 to 8.
Genre & Style:
---
---
Synopsis
A rousing band of repressed 17th-Century Englishmen, led by the radical Guy Fawkes, plot to bring their tyrannical monarch down with a bang! Inspired by the 1605 Gunpowder Treason Plot, Bonfire Night is the story of 13 Catholic radicals who conspire to blow up Parliament on Opening Day in an effort to kill King James and Britain's entire governing body.
The combination of 17th-century British politics, contemporary design and modern music makes Bonfire Night a bold new musical, mixing complicated ideas about terrorism with very funny character-driven comedy.

- Festival Committee
Development History
Bonfire Night was presented in 2007 at The Robert Moss Theater at the Playwrights Horizons Theater School at New York University and had a concert reading in 2010 at New York Stage and Film at Vassar College.
5 Things You Should Know
Justin's biggest musical influences while writing Bonfire Night include the Rat Pack, Frank Loesser, Nelson Riddle, Frank Sinatra, Tom Waits, Kander and Ebb, Nat King Cole and Cab Calloway, to name a few.
In addition to being a jazz-filled romp through the Gunpowder Plot, Bonfire Night aims to shed light on unanswered questions that still arise 400 years later, such as the relationship between government and terrorism.
Bonfire Night is a holiday that is observed in England to this very day. It is celebrated by setting off fireworks and burning Guy Fawkes in effigy. For some, it is a celebration of an evil plot averted, while for others it is the lamentation of a great plan gone wrong.
Bonfire Night lives in a world where Ocean's Eleven meets The Usual Suspects.
Justin had the idea for Bonfire Night while taking a class in dramaturgy. The class wasn't so much fun, but the result was well worth it.
Excerpts