Home » Events »
Great Songs that Almost Made the Cut 2014
October 22,
6:00 pm
New World Stages, 340 W. 50th Street, NYC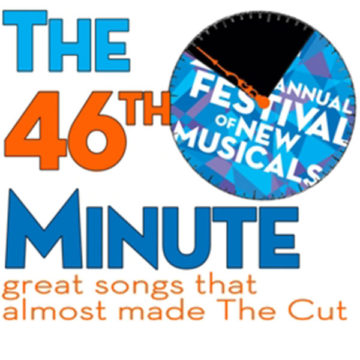 For many years, the NAMT Festival has presented compact 45-minute cuts of eight great new musicals to an industry-only audience. This meant that not only did a lot of great songs fall victim to our time constraints, but the public could not come and enjoy all of these amazing shows…until now!
The night before NAMT's 26th Festival of New Musicals, this year's writers shared some of those amazing songs that were NOT heard at the Festival.
Part preview, part therapy…all new music!
Hosted by Lindsay Mendez
Directed by Victoria Bussert
Produced by Branden Huldeen
With performances by: 
Heidi Blickenstaff
Lewis Cleale
Kevin Earley
Rebecca Hart
Aaron Jafferis
Corey Mach
Brendan Milburn
Kenita Miller
Doreen Montalvo
Chelsea Packard
Geoff Packard
Mamie Parris
Bryce Ryness
Kate Shindle
Kevin So
Emerson Steele
Yako 440
One Day At A Time from STU FOR SILVERTON
"One Day At a Time" featuring Lewis Cleale
from the musical STU FOR SILVERTON
by Peter Duchan and Breedlove, based on the life of Stu Rasmussen and the town of Silverton, OR
Don't Want to Be Here from ORDINARY DAYS
"Don't Want to Be Here" featuring Kenita R. Miller
from the musical ORDINARY DAYS (NAMT Fest 2008)
by Adam Gwon
Degree of Sincerity from BERNICE BOBS HER HAIR
"Degree of Sincerity" featuring Corey Mach
from the musical BERNICE BOBS HER HAIR (NAMT Fest 2011)
by Julia Jordan and Adam Gwon
Snip Snip Love from STRING
"Snip Snip Love" featuring Heidi Blickenstaff and Geoff Packard
from the musical STRING
by Adam Gwon and Sarah Hammond
For the Summer from MARY MARIE
"For the Summer" featuring Mamie Parris, Emerson Steele, and Kevin Earley
from the musical MARY MARIE
by Chana Wise and Carl Johnson
Sun Still Rose from DANI GIRL
"Sun Still Rose" featuring Kate Shindle
from the musical DANI GIRL (NAMT Fest 2011)
by Michael Kooman and Christopher Dimond
Stay from THE NOTEWORTHY LIFE OF HOWARD BARNES
"Stay" featuring Chelsea Packard
from THE NOTEWORTHY LIFE OF HOWARD BARNES
by Michael Kooman and Christopher Dimond
New Day Begun from GREAT WALL
"New Day Begun" featuring Kevin So
from GREAT WALL
by Kevin So and Kevin Merritt
Concrete from KINGDOM
"Concrete"
featuring Aaron Jafferis
from the musical KINGDOM
by Aaron Jafferis & Ian Williams
Horses from HOW TO BREAK
"Horses" featuring Aaron Jafferis, Rebecca Hart and Yako 440
from the musical HOW TO BREAK
by Rebecca Hart, Aaron Jafferis and Yako 440
Love Without Fear from CUBAMOR
"Love Without Fear" featuring Doreen Montalvo
from the musical CUBAMOR
by James D. Sasser & Charles Vincent Burwell
Resolution from STRIKING 12
"Resolution" featuring Brendan Milburn
from the musical STRIKING 12
by Brendan Milburn, Rachel Sheinkin & Valerie Vigoda
I Dare Say from SLEEPING BEAUTY WAKES
"I Dare Say" featuring Bryce Ryness
from the musical SLEEPING BEAUTY WAKES
by Brendan Milburn, Rachel Sheinkin & Valerie Vigoda
Nowhere Left to Go from BEAUTIFUL POISON
"Nowhere Left to Go" featuring Valerie Vigoda, Sarah Rose Davis, Corey Mach and Brendan Milburn
from the musical BEAUTIFUL POISON
by Duane Poole, Brendan Milburn & Valerie Vigoda
This page was last updated on 07/15/2015