Musicals Matter: Compelling and Creative Fundraising and Investing
April 3, 2013
7:30

-

April 6, 2013

8:00 pm

CT
Chicago Shakespeare Theatre, Chicago, IL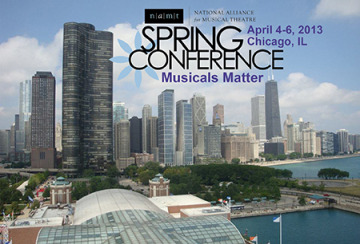 At Chicago Shakespeare Theater in April, 2013, we took a broad approach to all facets of fundraising and making a case for investing in musical theatre. Topics included making the case to give through storytelling, the intrinsic impact of art, building relationships with funders, the state of government and corporate funding, commercial/not-for-profit partnerships and uncluttered communication. Through panels, breakout sessions and lots of networking time, attendees were given concrete ideas that could be adapted for their theatres right away. Attendees also had the opportunity to see shows at local members Chicago Shakespeare Theater and Mercury Theater, and the pre-Broadway production of Big Fish.
WHO SHOULD ATTEND THE CONFERENCE
Executive management, artistic directors, development directors, commercial producers, board members and anyone at your theatre involved with fundraising and maximizing revenue. All employees of a member organization are NAMT members!

---
EDUCATIONAL RESOURCES COMMITTEE
Phil Santora, TheatreWorks (CA), Chair
Harriet Kittner, Goodspeed Musicals (CT)
Laura Little, LLL Productions (ID)
SPRING CONFERENCE COMMITTEE
Brooke Walters, Chicago Shakespeare Theater (IL), Chair
Melodee DuBois, Zach Theatre (TX)
Bridget McDonough, Light Opera Works (IL)
Todd Schultz, The Old Globe (CA)
L. Walter Stearns, Mercury Theater (IL)
Douglas Young, Blumenthal Performing Arts Center (NC)
Agenda
Download
Wednesday, April 3
7:30 pm
Big Fish

Oriental Theatre24 W Randolph

Big Fish is a new musical based on the celebrated novel by Daniel Wallace and the acclaimed Columbia Pictures film directed by Tim Burton. It features direction and choreography by Susan Stroman, music and lyrics by NAMT Festival alumnus Andrew Lippa and a new book by John August who also penned the screenplay for the film version. Norbert Leo Butz, Kate Baldwin and Bobby Steggert lead a cast of twenty-seven in this rollicking fantasy set in the American South.

Conference Add-On Event – Sign up when you register!
Thursday, April 4
5:15 – 7:15 pm
Kick-Off Cocktail Partyhosted by Chicago Shakespeare Theater

800 East Grand Avenue, on Navy Pier

Skyline Room

Sponsored by Chicago Shakespeare Theater

This is the official start of the conference and is included with your registration!

7:30 pm
Othello: The Remix

a "hip-hoptation" of William Shakespeare's Othello created and directed by GQ and JQChicago Shakespeare Theater

800 East Grand Avenue, on Navy Pier

This fresh urban take on Shakespeare's tragedy returns to Chicago Shakespeare Theater for a limited engagement on the heels of an acclaimed world premiere at Shakespeare's Globe in London, and wildly successful tours to Germany and Edinburgh. The CST-commissioned hip-hop adaptation of Othello is spun out and lyrically rewritten over original beats by The Q Brothers — America's leading re-interpreters of Shakespeare through hip-hop (Funk It Up About Nothin', The Bomb-itty of Errors). Whether you're looking for a rockin' night of rhythm and rhyme or a new way to think about Shakespeare, Othello: The Remix delivers an intense, high energy spin like no other.

FREE tickets to conference attendees provided by Chicago Shakespeare Theater.

Conference Add-On Event – Sign up when you register!
Friday, April 5
| | |
| --- | --- |
| 9:00 – 10:00 am | Check-In and Continental Breakfast |
Chicago Shakespeare Theater
800 East Grand Avenue, on Navy Pier
Skyline Lobby
Breakfast sponsored by The Pantages Theatre
10:00 – 10:45 amWelcome Remarks & 30-Second Success Stories
Chicago Shakespeare Theater
Skyline Room
10:45 am – 12:30 pmMaking The Case To Give
Skyline Room
A panel of experts will look at ways to convince donors and investors to give to your theatre or project, focusing on different tools for making your case. Following the panel, attendees will break up into small discussion groups to drill down on this topic and share stories from their organizations.
Moderated by Betsy King Militello (NAMT), with Kate Finley (Dallas Summer Musicals), Jennifer Jaquess (Red Mountain Theatre Company), Buck Mason (McCoy-Rigby) and Roche Schulfer (Goodman Theatre)
12:45 – 2:00 pmLunch
Dress Circle
Sponsored by R&H Theatricals
2:15 – 3:15 pmThe Value and Impact of Art
Skyline Room
"We make art because we believe it makes better human beings. We make art because we believe it makes being human better. So why do we spend so much energy quantifying the economics of what we do, and so little time quantifying the impact?" Last year, Theatre Bay Area and research firm WolfBrown embarked on a massive research project to study the intrinsic impact of theatre, publishing their findings in the book Counting New Beans. The study's project manager and book's editor Clayton Lord will lead present on how your theatre can measure its own impact on audiences, with a case study provided by Phil Santora (TheatreWorks).
3:15 – 4:00 pmAdvanced Relationship Building
Skyline Room
A panel of experts will look at long-term planning and building strong relationships with donors and investors. How do the non-profit and commercial worlds overlap and how are they different? How do personal relationships drive giving and investing? What do your supporters want in return?
Moderated by Elisbeth Challener (ZACH Theatre), with Randy Adams (Junkard Dog Productions), Wynne Fedele (Pittsburgh CLO) and Bridget McDonough (Light Opera Works)
4:15 – 5:00 pmBeyond Enhancement: Commercial/Non-Profit Partnerships
Skyline Room
How can commercial producers support a theatre? How can theatres help commercial producers? We'll look at this increasingly important relationship beyond individual shows and enhancement.
Moderated by Donna Lynn Hilton (Goodspeed Musicals), with Marsha Brooks (Brooks & Distler), Carolyn Rossi Copeland (CRC Productions) and Lori Fineman (Transport Group)
8:00 pmBarnum
Mercury Theater Chicago
3745 N. Southport Ave
The greatest show on earth is the setting for the life story of Phineas Taylor Barnum. Celebrating its Chicago professional premiere, Barnum sets this colorful personality inside the center ring of his own circus. Audiences will be thrilled with high flying acrobatics as Barnum tells the story of America's greatest showman. This show bursts with toe tapping melodies; ballads, marches, and ragtime tunes by Cy Coleman and Michael Stewart.
FREE tickets to conference attendees provided by Mercury Theater Chicago.
Conference Add-On Event – Sign up when you register!
Saturday, April 6
| | |
| --- | --- |
| 9:00 – 10:00 am | Networking Breakfast |
Chicago Shakespeare Theater
Skyline Lobby
Start the day with breakfast and time to talk to colleagues. We'll have tables set aside for development staffs to talk shop, and the NAMT staff will be on hand to chat about membership, benefits and our plans for 2013-2014.
Sponsored by Dallas Summer Musicals & Music Theatre International
10:00 – 11:00 amDonor Engagement
Skyline Room
Beyond money and tickets, how do you get your donors involved? How do you allow for donor interaction while guarding the artistic process? How do you make a case for support and make your brand visible? What do donors really value?
Moderated by Brooke Walters (Chicago Shakespeare Theater), with Mark Chambless (Dallas Summer Musicals), Melodee DuBois (ZACH Theatre) and Kathy Evans (Rhinebeck Writers Retreat)
11:00 – 11:45 amUncluttered Communication
Skyline Room
In an age with so many companies calling for our attention on so many devices and media, how do you cut through the noise to effectively talk — and listen — to your donors?
Moderated by Mark Fleischer (Adirondack Theatre Festival), with Robert Friend (PatronTechnology), Mark D. Sylvester (Walnut Street Theatre) and Adam Thurman (Court Theatre)
11:45 am – 12:15 pmNetworking Coffee Break
Skyline Lobby
Sponsored by Ticketmaster
12:15 – 1:00 pmGovernment Funding
Skyline Room
A panel of experts will look at how government funding has changed in recent years, at the national, state and local levels. How can theatres advocate for the arts and work with officials to ensure support? What do theatres give back to their communities to inspire vibrant government support?
Moderated by Wayne Bryan (Music Theatre of Wichita), with Meg Fofonoff (Fiddlehead Theatre Company), Ra Joy (Arts Alliance Illinois) and Catherine Warren (Lyric Theatre of Oklahoma)
1:00 – 2:30 pmLunch
Dress Circle
Sponsored by Pittsburgh CLO
2:30 – 3:30 pmBreakout Sessions
In-depth discussion of select topics in smaller groups.
Development Directors' Networking Time
The Pub
Creative Revenue: Making money for your theatre beyond ticket sales and donations
Skyline Lobby
TBD: Topic to be determined based on discussions throughout the weekend
Skyline Room
3:45 – 4:30 pmCorporate Giving
Skyline Room
How has corporate giving changed since the 2008 recession? How do you build individual relationships with the people behind the corporate facade and understand a company's giving philosophy and priorities? How can your board help?
Moderated by Douglas Young, with Lucie Springmeyer (The MUNY) and Barbara Whidden (Maine State Music Theatre).
4:30 – 5:30 pmFarewell Wine and Cheese
Raise a glass to your colleagues and all of our Chicago hosts as we close the conference and wrap up with any unfinished business and unanswered questions.
6:00 pm
Conference Closing Dinner
Quay, 465 E. Illinois
Conference Add-On Event – Sign up when you register!
Attendees
Registered Attendees as of 3/29/13
Junkyard Dog Productions
Randy Adams
Producer
Lyric Theatre of Oklahoma
Michael Baron
Artistic Director
Professional Licensing
Matt Boethin
Associate Director
Fulton Theatre
Rich Bowen
Director of Development
Chicago Shakespeare Theater
Rick Boynton
Creative Producer
Brooks & Distler
Marsha Brooks
Attorney
Larry Brooks
Brooks & Distler
Encore Theater Company
David Brush
Artistic Director
Music Theatre of Wichita
Wayne Bryan
Producing Artistic Director
ZACH Theatre
Elisbeth Challener
Managing Director
Dallas Summer Musicals
Mark Chambless
Donor Relations Manager
Maine State Music Theatre
Curt Dale Clark
Artistic Consultant
Cumberland County Playhouse
Jim Crabtree
Producing Director
National Alliance for Musical Theatre
Lucy Cumberland
Development Assistant
Eagle Theatre
James Donio
Chairman
ZACH Theatre
Melodee DuBois
Director of Development
Rainbow Stage
Julie Eccles
Executive Director
Music Theatre International
Carol Edelson
Senior Vice President
Mercury Theater Chicago
Jason Epperson
General Manager
National Alliance for Musical Theatre
Carly Erickson
Office Coordinator
Rhinebeck Writers Retreat
Kathy Evans
Founder and Executive Director
Pittsburgh CLO
Wynne Fedele
Director of Development
Transport Group Theatre Company
Lori Fineman
Executive Director
Dallas Summer Musicals
Kate Finley
Director of Development
Chicago Shakespeare Theater
Brooke Flanagan Walters
Director of Institutional Advancement
Adirondack Theatre Festival
Mark Fleischer
Producing Artistic Director
Fiddlehead Theatre Company
Meg Fofonoff
Producing Artistic Director
University of Miami
Henry Fonte
Department Chair and Producing Artistic Director of Jerry Herman Ring Theatre
Rodgers & Hammerstein
Bill Gaden
Chief Operating Officer
Musical Theatre West
Paul Garman
Executive Director/Producer
321 Theatrical Management
Nancy Gibbs
Producer/General Manager
Sarahbeth Grossman
Producer
National Alliance for Musical Theatre
Adam Grosswirth
Membership Director
Chicago Shakespeare Theater
Criss Henderson
Executive Director
Live Theatricals
Chris Herzberger
Executive
Goodspeed Musicals
Donna Lynn Hilton
Line Producer
National Alliance for Musical Theatre
Branden Huldeen
New Works Director
Village Theatre
Robb Hunt
Executive Producer
Red Mountain Theatre Company
Jennifer Jaquess
Director of Development
Dallas Summer Musicals
Michael Jenkins
President and Managing Director
Ogunquit Playhouse
Bradford Kenney
Executive Artistic Director
Fiddlehead Theatre Company
Meghan Kenny
Producing Artistic Associate
Center Theatre Group
Kelley Kirkpatrick
Associate Artistic Director
Theatre Aspen
Beth Levin
Director of Development
Pantages Theatre
Jeff Loeb
Associate General Manager
Samuel French
Brad Lohrenz
Director of Licensing
Americans for the Arts
Clayton Lord
Vice President of Local Arts Advancement
The Broadway Rose Theatre
Brenda MacRoberts
Executive Director
Chicago Shakespeare Theater
Bob Mason
Artistic Associate/Casting Director
McCoy Rigby Entertainment
Buck Mason
General Manager
Light Opera Works
Bridget McDonough
General Manager
Pittsburgh CLO
Jim Mercer
General Manager
National Alliance for Musical Theatre
Betsy Militello
Executive Director
Theatre Aspen
Paige Price
Artistic Director
Gigi Pritzker
Relevant Theatricals
Ogunquit Playhouse
Leslie Randazzo
Director of Finance and Administration
Ted Rawlins
Relevant Theatricals
The Muny
Denny Reagan
President & CEO
CRC Productions
Carolyn Rossi Copeland
Producer
Theater Latté Da
Peter Rothstein
Artistic Director
Marketing & Digital Media
Dana Saltzman Siegel
Director
TheatreWorks
Phil Santora
Managing Director
Greg Schaffert Productions
Greg Schaffert
Producer
Woodminster Summer Musicals
Harriet Schlader
Managing Director
The Muny
Lucie Springmeyer
Director Development & Civic Affairs
Mercury Theater Chicago
L Walter Stearns
Executive Director
Walnut Street Theatre
Mark Sylvester
Managing Director
Theater Latté Da
John Thew
Managing Director
Marriott Theatre
Aaron Thielen
Artistic Director
Fiddlehead Theatre Company
Jennifer Tremblay
Resident Costume Designer
Lyric Theatre of Oklahoma
Catherine Warren
Development Officer
Porchlight Music Theatre
Michael Weber
Managing Artistic Director
The Old Globe Theatre
Lynne Wheeler
Board Member
Maine State Music Theatre
Barbara Whidden
Development Director
Spencer Williams
Musical Theatre Educator
Shenelle Williams
Musical Theatre Educator
Village Theatre
Diane Wright
Director of Finance
Professional Licensing
Michelle Yaroshko
Manager
Blumenthal Performing Arts
Douglas Young
Vice President of Programming
Fulton Theatre
Aaron Young
Managing Director
This page was last updated on 07/18/2020