Home » Events »
A Class Act: Developing Your Theatre's Audience Through Education and Community Outreach
March 19, 2010
5:00

-

March 21, 2010

6:00 pm
Washington, DC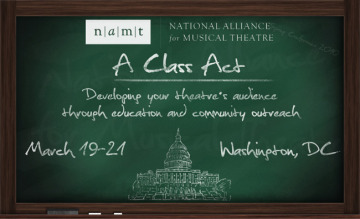 The National Alliance for Musical Theatre invites you to Washington, DC for our 2010 Spring Conference – A Class Act: Developing Your Audience Through Education and Community Outreach.
This Conference will focus on approaches to education and outreach programs from all angles, with NAMT members and other leaders in the field. Attendees will have an opportunity to see Little Shop of Horrors at the historic Ford's Theatre and tour the recently reimagined Lincoln Museum, plus ample time to network and socialize.
The Conference sessions will be held at the "beautifully sophisticated"Hotel Palomar, a Kimpton hotel in Washington's historic and vibrant Dupont Circle. We have secured a room rate of $135 per night (plus 14.5% local tax), the lowest rate for a NAMT conference in 10 years!
We look forward to welcoming you to the nation's capitol in March!
CONFERENCE PROGRAM & ACTIVITIES
Learn about different types of education and outreach programs and models; discover ways to integrate your education department with other areas of your theatre; discover opportunities for greater funding; brainstorm with your colleagues about new ways to engage your subscribers in the artistic process and create new audiences of children and their parents; network with other musical theatre producers, developers and educators; and spend a weekend in the heart of Washington, DC!
Full Conference registration includes a Networking Cocktail Party (full open bar and heavy hors d'oeuvres) on Friday, March 19th. Breakfast and Lunch will be served at the Conference on Saturday and Sunday. The Palomar Hotel offers a hosted wine reception for guests every evening.
---
2010 SPRING CONFERENCE COMMITTEE
Lisa Cooney (Paper Mill Playhouse)
Charlie Fink
Roy Hamlin (Theatre Under the Stars)
R. James Mercer (Pittsburgh CLO), co-chair
Kevin Moore (The Human Race Theatre Company)
Mark Ramont (Ford's Theatre), co-chair
Susan Quinn (Walnut Street Theatre)
Members-Only Features
This page contains content or features only available to NAMT members. Please log in for full access. Not a member? Apply now!
Log In
Learn More
Agenda
Download
Friday, March 19
5:00 – 7:00 pm
Kick-Off Cocktail Party

Zola –
800 F Street NW

Sponsored by Pittsburgh CLO

7:30 pm
Little Shop of Horrors

Ford's Theatre – 511 10th Street NW

One of the most popular musicals of all time, Little Shop of Horrors tells the story of the well-meaning flower shop employee Seymour Krelborn and his wisecracking carnivorous plant, Audrey II. Seymour delights in the attention his leafy friend attracts, but when Audrey II develops a craving for human flesh, the situation spins out of control.

The newly-reimagined Museum at Ford's Theatre will be available for visits before the performance and at intermission.
Saturday, March 20
9 – 10 am
Registration and Continental Breakfast

Hotel Palomar – 2121 P Street NW

Phillips Room and Foyer (1st Floor)

Sponsored by Travelzoo

10 am – 10:15 am
Welcome Remarks

Phillips Room

Denny Reagan, The Muny, NAMT President

Kathy Evans, Executive Director

10:15 am – 10:45 am
Pop Quiz!  30-Second Lessons

Phillips Room

In this fast-paced NAMT tradition, a representative from each organization will have 30 seconds to share an education/outreach-related success from the past year, or a goal he/she has for the conference.

10:45 am – 12:15 pm
Open Your Textbooks: Approaches to Education and Outreach

Phillips Room

Small group discussions of attendees' current education programs and goals for current audiences, new audiences, and young audiences, concluding with goals and tasks for the weekend ahead.

Led by Lisa Cooney (Paper Mill Playhouse), Jim Mercer (Pittsburgh CLO) and Susan Quinn (Walnut Street Theatre)

12:30 pm – 2 pm
Lunch

National Room (2nd Floor)

Sponsored by

The Rodgers & Hammerstein Organization and The Muny

2 pm – 2:45 pm
Group Project: Education and Outreach as Part of the Whole

Phillips Room (1st Floor)

Working with your education and outreach programs as you plan your season, marketing, budgeting and more.

Moderated by Kevin Moore (The Human Race Theatre Company), with Edie Demas (New Victory Theater) and Ken Gargaro (Pittsburgh Musical Theater)

2:45 pm – 3:30 pm
Lunch Money: Funding Your Education Program

Phillips Room

Finding and creating revenue for education and outreach through grants, tuition, and other sources.

Moderated by Jim Mercer (Pittsburgh CLO), with Bernie Griffin (The 5th Avenue Theatre), Carol Lanoux Lee (Theater and Musical Theater Specialist, National Endowment for the Arts), and Nancy Daugherty (Arts Education Specialist, National Endowment for the Arts).

3:30 pm – 4 pm
Networking Coffee Break

Phillips Foyer

Sponsored by Dallas Summer Musicals

4 pm – 4:45 pm
Adult Education: Community Outreach and Audience Enrichment

Phillips Room

Engaging your patrons and neighbors with talkbacks and beyond!

Moderated by Lisa Cooney (Paper Mill Playhouse), with Heather Patterson-King (North Carolina Theatre), Kristin Staskowski (Red Mountain Theatre Company), and Steve Stettler (Weston Playhouse).

5 pm – 6 pm
Wine Reception for Hotel Palomar guests

Palomar Lobby

Open Evening – Click here for local resources and recommendations
---
Sunday, March 21
9:30 am – 11 am
Breakfast + Membership Meeting

National Room (2nd Floor)

Breakfast begins at 9:30 am for all attendees. NAMT's annual Membership Meeting begins at 10:00 and is for NAMT Members only. (All employees of a Member organization are NAMT Members!)

Sponsored by The 5th Avenue Theatre

11 am – 11:45 am
Homework: Tools for Success

Phillips Room (1st Floor)

Learn about the nuts and bolts of starting a successful outreach program, or how to graduate to the next class.

Moderated by Susan Quinn (Walnut Street Theatre), with Michael J. Bobbitt (Adventure Theatre), Bob Lawson (Theatre Under The Stars) and more to be announced.

11:45 am – 12:15 pm
Networking Coffee Break

Phillips Foyer

Sponsored by Theatre Under The Stars

12:15 pm -1:00 pm
Creative Writing: Finding, Commissioning and Programming Shows for Young Audiences

Phillips Room

Finding a musical that appeals to both young audiences and parents can be a daunting task! Learn about resources and techniques for finding the right show, or creating your own new work to fit the bill.

Moderated by Roy Hamlin (Theatre Under The Stars), with David Armstrong (The 5th Avenue Theatre), Tim McDonald (iTheatrics), Russell Ochocki (Music Theatre International) and Fred Stuart (Theatrical Rights Worldwide).

1:00 pm – 2:30 pm
Lunch

National Room (2nd Floor)

Sponsored by Broadway/L.A.

2:30 pm – 3:15 pm
Field Trip: Notes from Teaching Artists

Phillips Room (1st Floor)

Teaching artists and education directors share their experiences of working in schools, and discuss how they can support each other in their work.

Moderated by Sarah Jencks (Ford's Theatre) with Marianna Houston (Theatre Development Fund), April Nickell (Jaradoa Theater), Stephen Schmidt (Ford's Theatre) and Frank Ventura (CAP21).

3:15 pm – 4:00 pm
Trophy Case: High School Musical Theatre Awards and Festivals

Phillips Room

Programs to support and engage your community's schools, from grass-roots to national and everything in-between.

Moderated by Kiesha Lamala-White (Pittsburgh CLO), with Brett Bernardini (Spirit of Broadway), Wayne Bryan (Music Theatre of Wichita) and Nick Manos (Theater of the Stars).

4:00 pm – 4:15 pm
Report Card: Conference Wrap-Up and Closing

Phillips Room

5 pm – 6 pm
Wine Reception for Hotel Palomar guests

Palomar Lobby

Spending the night in DC? Click here for local resources and recommendations
Attendees
Adventure Theater
Broadway/L.A.
CAP21
Coeur d'Alene Summer Theatre
Cumberland County Playhouse
Ford's Theatre
Goodspeed Musicals
Gorgeous Entertainment Inc.
iTheatrics
Jaradoa Theater
Maltz Jupiter Theatre, Inc.
McCoy Rigby Entertainment
Music Theatre International
Music Theatre of Wichita
Musical Theatre West
National Endowment for the Arts
National New Play Network
New Victory Theater
North Carolina Theatre
Paper Mill Playhouse
Pittsburgh CLO
Pittsburgh Musical Theater
Red Mountain Theatre Company
Samuel French, Inc.
The 5th Avenue Theatre
The Broadway Rose Theatre
The Hartt School – Theatre Division, University of Hartford
The Human Race Theatre Company
The Little Theatre On The Square
The Muny
The Rodgers & Hammerstein Organization
Theater of the Stars
Theatre Development Fund
Theatre Under The Stars
Theatrical Rights Worldwide
Travelzoo
Utah Festival Opera Company
Village Theatre
Walnut Street Theatre
Weston Playhouse
This page was last updated on 02/19/2016