Home » Events »
2014 Management Roundtable
An Up-Tempo Duet: Staff and Boards Making Music Together
February 20, 2014
6:30

-

February 21, 2014

10:00 pm
The Jerry Herman Ring Theatre at the University of Miami, Miami, FL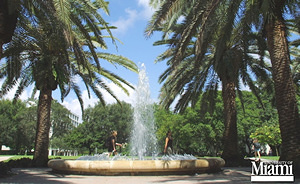 For our first Management Roundtable, we went to the University of Miami to provide opportunities for staff and board members to share ideas and best practices for how we can all work together to grow and sustain thriving arts organizations.
This full day of conversation and networking, plus a reception and a show at UM's Jerry Herman Ring Theatre, cost just $75! Breakfast and lunch were included.
We encouraged staff and board members to attend together, to take advantage of this unique opportunity to share with and learn from colleagues at other NAMT member theatres (and to go to Miami in February!).
The Management Roundtable was open to NAMT members in good standing and invited guests. All staff and board members of member organizations are NAMT members. If you are not a NAMT member and you are interested in NAMT events, please email Membership Director Adam .
WHAT'S INCLUDED
A kick-off reception on Thursday, February 20, hosted by the University of Miami
Tickets to UM's production of Floyd Collins at the Jerry Herman Ring Theatre on Thursday, February 20
The Management Roundtable on Friday, February 21.

Breakfast and lunch included

Optional: Purchase discounted tickets to Assassins at the Arsht Center on Friday, February 21
LOCATION and ACCOMMODATIONS
The Management Roundtable was hosted by the Department of Theatre Arts at the University of Miami, 1312 Miller Drive, Coral Gables, FL 33124, with accomodations at the nearby Holiday Inn Coral Gables.
REGISTRATION and RATES
The Management Roundtable is open to NAMT members in good standing and invited guests. All staff and board members of member organizations are NAMT members.
Fee: $75

Includes kick-off cocktail party, Floyd Collins tickets and breakfast and lunch during the Roundtable

Registration Deadline: February 13, 2014.
Registrants may cancel up to February 1. Fees will be refunded, less a $10 cancellation fee. No refunds will be allowed after February 1, 2014.
---
EDUCATIONAL RESOURCES COMMITTEE
Phil Santora, TheatreWorks (CA), Chair
Mark Fleischer, Adirondack Theatre Festival (NY)
Harriet Kittner, Goodspeed Musicals (CT)
Michael Robertson, The Lark Play Development Center (NY)
MANAGEMENT ROUNDTABLE COMMITTEE
Lisa Grele Barrie, North Carolina Theatre (NC)
Bernadine Griffin, The 5th Avenue Theatre (WA)
Robb Hunt, The Village Theatre (WA)
Paige Price, Theatre Aspen (CO)
Agenda
Agenda
As of 2/7/14 – SUBJECT TO CHANGE
Thursday, February 20
Friday, February 21
9:30 – 10:00 am
Breakfast & Introductions
University of Miami Alumni Center
10:00 – 11:00 am
The Ideal RelationshipWhat does the optimal board/staff partnership look like? How can we work together to maintain and grow a perfect symbiosis? What are the key components of successful Board/Staff duets? What are the similarities and differences between theatre boards and other non-profits? What can we learn from the business world?

Led by Betsy King Militello

11:00 am – 12:00 noon
Defining the BoardWho serves on our boards? How are board members selected and terms determined? How do we ensure that boards are diverse and reflect our communities, audiences and artists?

Led by Phil Santora

12:00 – 1:00 pm
Communication and EngagementCase studies and best practices for communicating with and engaging boards.

Led by Lisa Grele Barrie

1:00 – 2:00 pm
Lunch
2:00 – 3:00 pm
Managing the "Life Cycle"How do you build on the initial excitement brought to your organization by a new Board member? What can you do to keep the "honeymoon" going? How do you sustain a strong board relationship? How do you adjust when it isn't working? How do you deal with Board fatigue?

Led by Lisa Grele Barrie

3:00 – 4:00 pm
Discussions TBDBefore our final session of the day, we'll pause and see what topics have been raised so far that we want to spend some more time discussing. What questions have the day's conversations raised for you? What will you take back to your theatres?

Led by Betsy King Militello

4:00 – 5:00 pm
Staying Strong in Tough TimesHow can the relationships we've spent the day discussing help our theatres remain strong through challenges of all kinds? How can an organization, led by its staff and board, adapt to change while staying true to its mission, balancing art and commerce? How does a changing organization remain true to what drew board members to the board?

Led by Phil Santora

7:30 pm
Assassins
Arsht Theatre (Click here for details.)Add-on event — buy your tickets when you register.
Attendees
CAP21 – Collaborative Arts Project 21
Frank Ventura
Executive Artistic Director
CAP21 – Collaborative Arts Project 21
Eliza Ventura
Artistic Director
Fulton Theatre
Elliot Sterenfeld
President – Board of Trustees
Fulton Theatre
Dave Taylor
Trustee
Fulton Theatre
Aaron Young
Managing Director
Greyman Theatre Company
Matt Tolbert
Artistic Director
Music Theatre of Wichita
Wayne Bryan
Producing Artistic Director
Music Theatre of Wichita
Angela Cassette
Development Director
National Alliance for Musical Theatre
Adam
Membership Director
National Alliance for Musical Theatre
Betsy Militello
Executive Director
North Carolina Theatre
Lisa Grele Barrie
President & CEO
North Carolina Theatre
Mitch Perry
Board Chair
Theatre Aspen
Paige Price
Executive Artistic Director
Board of Trustees
Julie Kaufman
Chair
TheatreWorks
Phil Santora
Managing Director
Transport Group
Lori Fineman
Executive Director
Lisa Dozier King
University of Miami
Henry Fonte
University of Miami
Woodminster Summer Musicals
Gregory Blackburn
Vice President Advisory Board
Woodminster Summer Musicals
Judy Boraas
Assistant Stage Manager
Woodminster Summer Musicals
Ed Loss
Advisory Board President
Woodminster Summer Musicals
Harriet Schlader
Managing Director
This page was last updated on 01/28/2015