2009 New Works Roundtable
Regional Models of Producing New Musicals
August 14, 2009,
1:00 - 6:00 pm

PT
Village Theatre in Issaquah, Washington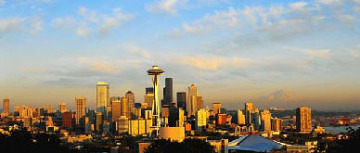 On Friday, August 14, 2009 we will hosted the New Works Summit at the Village Theatre in Issaquah, Washington just 20 miles east of Seattle.
Agenda: The Summit this year focused on Regional Models for Producing New Musicals, starting at 1pm and ending with a wine and cheese networking hour at 4:30pm.
Shows: The Summit was held in Seattle so we were able to attend the Village Theater's Festival of New Musicals over the weekend, where they will present 6 new musicals in staged reading format. Also, all Summit attendees had the opportunity to see the world premiere of Catch Me If You Can, the Broadway-bound musical from the creators of Hairspray, for free at The 5th Avenue Theatre!
The cost of this year's summit cost only $35 (which includes free tickets to the Village Theatre Festival shows, Catch Me If You Can, and the wine-and-cheese reception at the end of the Summit)
Agenda
1:00 pm

Welcome
1:30 pm
The Poetic and the Prosaic: Art and Logistics of a Festival
A Village Theatre-led panel discussion of how festival presentations fit into the development process of new musicals and the importance of nurturing the producer-writer relationship. What are the factors that really count? How do you know where to go from here?
2:30 pm
Break
2:40 pm
Different Approaches, Same Destination
NAMT Members from across the country will have an opportunity to share the different and unique ways they are approaching new work, including the Academy for New Musical Theatre's Producer Driven Project which develops musicals from scratch for producers, and using University partnerships to develop new work.
3:30 pm
The Broadway-Bound Show
The 5th Avenue will talk about why and how it has become one of the nation's leading incubators of Broadway-bound musicals, share with you some of the pleasures and pitfalls of partnering with New York commercial producing teams, and give you the inside scoop on this summer's world premiere of Catch Me If You Can — the new musical from the creators of Hairspray.
4:30 pm
Wine and Cheese Reception
Shows
Catch Me If You Can
Book by Terrence McNally
Music by Marc Shaiman
Lyrics by Marc Shaiman & Scott Whitman
Choreographed by Jerry Mitchell
Music Direction by John McDaniel
Directed by Jack O'Brien
Thursday, August 13 at 8pm
Friday, August 14 at 8pm
Saturday, August 15 at 2pm and 8pm
Sunday, August 16 at 1:30pm and 7pm
at The 5th Avenue in Seattle, WA

Village Theatre Festival of New Musicals

Thursday, August 13 at 7:30pm
Rocket Science
Book by Patricia Cotter (NAMT Fest 2007- The Break-up Notebook)
Music by Stephen Weiner, Lyrics by Jason Rhyne
Friday, August 14 at 7:30pm
The Cuban and the Redhead (NAMT Fest 2008)
by Robert Bartley & Danny Whitman
Saturday, August 15 at 2:00pm
Green Gables
by Janet Yates Vogt & Mark Friedman
Saturday, August 15 at 7:30pm
Route 66
Book by Jerold Goldstein, William Squier, Music by Fred Stark, Lyrics by William Squier
Sunday, August 16 at 2:00pm
Take Me America
Book & Lyrics by Bill Nabel, Music by Bob Christianson
Sunday, August 16 at 7:30pm
The Man Who Would Be King
Book and Lyrics by DJ Salisbury, Music by Neil Berg
This page was last updated on 07/18/2020