Home » Member Services »
"If you're involved in musical theatre, you have to be here. This is the center of the musical theatre universe."

Elisbeth Challener
Managing Director, ZACH Theatre
Member Types, Dues and Criteria

Compare Member Types and Benefits
Not sure what your dues will be our what kind of membership is right for you?
Dues Calculator
Organizational Membership
NAMT membership is open to professional producing organizations in several categories:
Producing theatre organizations

Dues: ranging from $1,030 to $7,200 per year, based on a percentage of musical theatre box office income

Tour presenters, producers or bookers
Independent commercial producers
Developmental organizations
Accredited colleges, universities and higher education programs
Organizations as above, outside of North America
"Professional" is defined as employing at least some union actors, stagehands, etc., or compensating a majority of your performers and/or staff minimum wage or above (academic members must be accredited higher education programs instead). Your organization must have been in operation for at least 2 years and have a proven track record of producing musical theatre. Membership is on an organizational level, making all employees NAMT members.
Apply for Organizational Membership
Individual Associate Membership
A limited personal membership designed for individual theatre professionals who do not meet criteria for organizational membership*: agents, casting directors, investors, musical theatre writers whose work has been produced by professional producing organizations or published by professional publishers/licensing houses, press and other theatre professionals at the discretion of the membership committee and board of directors.
Dues: $430 per year
Apply for Associate Membership
*Associate Membership is intended for theatre professionals who are not eligible to be full members. Employees of organizations that qualify for full membership are encouraged to apply under the auspices of their organizations.
Compare Member Types and Benefits
Individual Student Membership
A personal membership designed for current undergraduate and graduate students studying theatre management, arts administration, producing, theatre production or similar fields.
Dues: $80 per year
Compare Member Types and Benefits
Not sure if membership is right for you? Contact Member Services Director Adam Grosswirth at adam@namt.org or (212) 714-6668 x15. Or take a look at other ways you can get involved with NAMT.
Not sure what your dues will be our what kind of membership is right for you?
Application Process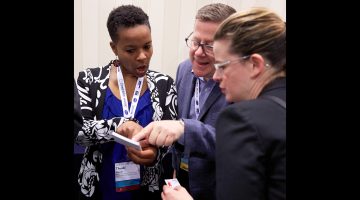 "My experience at NAMT made me aware how inviting an organization can be. Thank you."

Mark Fleischer
Producing Artistic Director, Adirondack Theatre Festival
Applications are reviewed by the Membership Committee and the Board of Directors. We do this as frequently as possible, but as these are all dedicated volunteers, the process may take a few weeks. NAMT's membership year runs from May 1 through April 30; new organizational members joining from June through March will have their dues pro-rated from the date the application is approved, and new members approved in April will simply be invoiced for the following year. Associate members pay half dues when joining in the second half of our fiscal year. If you're interested in applying to receive benefits for an event in the next month, please let us know and we'll make every effort to expedite your application.
Apply Now
"NAMT is the future of musical theatre. Their commitment to new musical development and expanding the horizons of musical theatre is unparalleled. Goodspeed is proud to be a NAMT member and proud of the passion for musicals that all of its supporters share."

-Michael Price
Executive Director, Goodspeed Musicals
If you have any questions about the application process, contact Member Services Director Adam Grosswirth at (212) 714-6668 x15 or adam@namt.org for more information.