Back to the 30th Annual Festival of New Musicals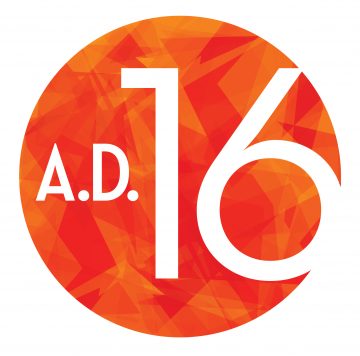 A.D. 16
2018 Festival
Director
Stephen Brackett
Music Director
Julie McBride
Cast
Alex Boniello, Trista Dollison, Alan H. Green, Greg Hildreth, Brian Charles Johnson, Brittney Johnson, Hailey Kilgore, Jevon McFerrin, Bonnie Milligan and Graham Stevens
Contact for Rights
Joyce Ketay at the Gersh Agency, (212) 634-8105, jketay@gersh.com
Derek Zasky at WME, (212) 903-1396, DZasky@wmeentertainment.com
---
Number of Acts: 2
Number of Principals (Male): 3
Number of Principals (Female): 4
Preferred Ensemble Size: 4
Total Cast Size: 11
Orchestra Breakdown:
piano, keys, guitar, bass, 3-piece horn section, drums
Casting Notes:
Diverse casting is a must with this show.
Genre & Style:
---
---
Synopsis
A.D. 16 tells the story of what happens when teenage Mary Magdalene falls in love with the boy next door: teenage Jesus. Featuring an R&B score that evokes the best of TLC, En Vogue, Prince and more, this comedic coming-of-age story asks the question: what if your first crush really WAS perfect?
Development History
Cinco got the idea for A.D. 16 about two years ago and immediately outlined a story and began writing songs. He'd completed a first act when he realized it was foolish to do this alone and found Bekah, who it turned out had always been obsessed with the idea of Jesus as a teenager. Stephen Brackett directed a reading of a new first act in NY in May 2017. Encouraged by this, they finished the show and did a concert presentation at Joe's Pub in October 2017. This led to the current version of the show, which they finished in March 2018.
Festival Successes
Residency at Rhinebeck Writer's Retreat (NY) summer 2019; world premiere production at Olney Theatre Center (MD) in February 2021 following reading at ZACH Theatre (TX) and workshop at Olney.
Extended world premiere production at Olney Theatre Center (MD) just closed (March
2022)
5 Things You Should Know
The Biblical record is silent on Jesus' teenage years—we leave him at 12 and catch up with him again at 30. So who knows what happened to him when he was 16? We're also told little about Mary Magdalene's past, apart from the fact that she had seven demons cast out of her. And she was most definitely NOT a prostitute. That was a confusion originating with Pope Gregory the Great in 591 A.D.
Young women in 16 A.D. had little to no rights. As our opening number points out, fathers could sell their daughters as slaves; young women did not get to choose their husbands; and most women were married by the age of 14. Our musical explores not only how far we've come, but how far we still have to go.
Our score is inspired by a wide variety of 80's and 90's R&B: you'll hear songs that evoke the old school grooves and slow jams of TLC, En Vogue, Prince, Janet Jackson, Tony! Toni! Tone!, Guy, Deniece Williams, Stevie Wonder and more.
When Cinco approached Bekah about the show she was thrilled: a childhood spent in Sunday school had led to an obsession with teen Jesus that she'd already explored in several short plays. The tone of her book is a cross between Hairsprayand Wicked, treating the religious subject matter with humor and heart and appealing to both believers and non-believers alike.
We feel the next step for the show would be some development leading to a production. We would love to see the show on its feet.
Excerpts