Home » Member Services »
About NAMT
"I believe NAMT is the nation's central intersection for organizations committed to the future of the American Musical Theatre. As an organization not based in NYC, NAMT provides an opportunity to intersect with our national colleagues in a profound way."

Peter Rothstein
Artistic Director, Theater Latté Da
The National Alliance for Musical Theatre, founded in 1985, is a national service organization dedicated exclusively to musical theatre. Our mission is to be a catalyst for nurturing musical theatre development, production, innovation and collaboration. NAMT is committed to a musical theatre field that includes and embraces people of all backgrounds, identities and abilities. We strive every day to nurture a musical theatre canon that reflects and celebrates the rich diversity of our nation and the world.
Our Members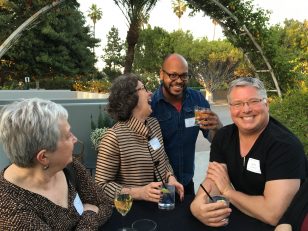 "NAMT members are uniquely approachable and friendly."

Matthew Schneider
Creative Endeavor Office
Our 170 organizational and 80 individual members — including institutional theatres, developmental companies, higher education programs, presenting organizations and individual producers — are some of the leading producers of musical theatre in the world. These organizations' leaders believe in the value NAMT adds to their theatres through new work development and funding, conferences, relationships, and the sharing of ideas, regardless of whether they produce only musicals, a mix of musicals and straight plays, new works, classics, or all of the above.
We foster relationships among our members, which have led to exciting partnerships and co-productions, as well as other opportunities to network and brainstorm, facilitate innovation in the field and bring our members together from all over North America to collaborate. As a NAMT member, you would find yourself in the company of like-minded, energetic producers from across the country, all working to advance the field.
---
​NAMT's members make a vital impact in their communities — economically, in education, and by entertaining millions of people.
Last season, the NAMT members collectively…
Employed over 20,000 staff members and 14,000 artists
Staged more than 19,000 performances attended by 10 million people
Entertained over 543,000 loyal subscribers
Provided education programs for 1.5 million students and teachers
Had operating budgets totaling $680 million
Performed in 300 venues with a total of 189,000 seats
as of 8/27/19
NAMT by the Numbers Survey (PDF)
---