19th Annual Festival of New Musicals
2007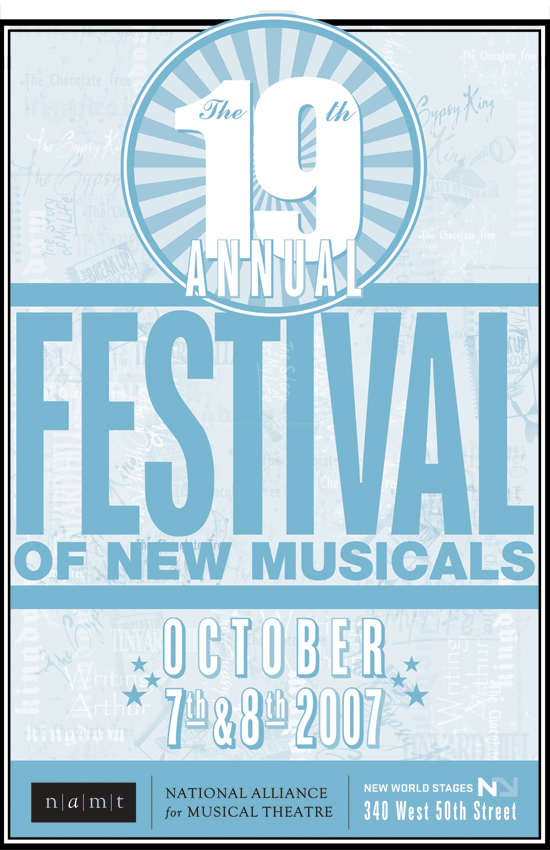 Overview
October 7 - 8
New World Stages
340 W 50th Street, New York, NY
The 19th Annual Festival of New Musicals was held in New York City at New World Stages, 340 W. 50th Street on Sunday, October 7 and Monday, October 8, 2007 for an invited audience of NAMT members and musical theatre producers.
Festival Program
Songwriters Showcase
BEAUTIFUL CRIMINALS by AnnMarie Milazzo and Leigh Silverman
THE BLONDE STREAK by Dan Lipton and David Rossmer
BROTHER WOLF by Preston Lane and Laurelyn Dossett
EMILY by Richard Ouzounian and Marek Norman
HOW CAN YOU RUN WITH A SHELL ON YOUR BACK? By Michael Mahler and Alan Schmuckler
LUCKY LINDY by Barry Harman and Keith Herrmann
SAINT HEAVEN by Martin Casella, Keith Gordon and Steve Lyons
SECONDHAND LIONS by Rupert Holmes, Alan Zachary and Michael Weiner
This page was last updated on 07/18/2018. Some musical and writer information may be more recent.