On the heels of exciting announcements for all, NAMT alumni writers Brandon James Gwinn & EllaRose Chary met with NAMT Member and Diversionary Theatre's Executive Artistic Director Matt Morrow to discuss their collaborative process, insights from their career in queer theatre and their future projects.
Brandon James Gwinn:
I'm Brandon James Gwinn, my pronouns are he/they, and I am the co-lyricist and composer of Thelma Louise; Dyke Remix and a NAMT alum.
EllaRose Chary:
I'm EllaRose Chary, call me Ella. I am she/her pronouns. I'm the bookwriter and co-lyricist of TL;DR, which was in the 33rd Annual Festival of New Musicals. A lot of cool things came out of TL;DR being at NAMT, one of which is that we met Matt Morrow and got to know Diversionary. We did a workshop reading there in January through a Writers Residency Grant from the Frank Young Fund for New Musicals. We also got to work on a different queer show, Queer. People. Time., through a NAMT grant, and we'll be coming back to TL;DR soon through another NAMT production grant.
Matt Morrow:
I'm Matt Morrow. I'm the Executive Artistic Director of Diversionary Theatre, the third oldest queer theatre in the country and I've been here for eight-and-a-half years. I am soon going to be outgoing to join another NAMT Member, Center Repertory Company, up in the Bay Area as their Artistic Director.
From my point of view, coming from New York to San Diego those years ago to run this space, I was a little nervous because I wondered, "is this limiting me, or is this liberating me?" I wasn't sure. And I have to say that once I buckled up for the ride at Diversionary, finding a way to not only do my art and provide opportunities for emerging writers, but to meld that with activism through storytelling, was a very powerful thing to discover for me. Leaving Diversionary means I'm going to Center Repertory… means that I'm leaving this beautiful queer, safe bubble. It means that I am going to be doing theatre—
BJG:
—Now you're doing "Queer+ Theatre."
MM:
I'm doing "Queer+ Theatre!" <everyone laughs>
EC:
Something I want to pick up on that is part of this conversation about queer space is that by being queer in the space, we make the space queer. So, I feel like it's impossible for you to not make queer theatre, Matt, because that's who you are and what you bring to it. But I also feel like it's a double-edged sword there because then it can be like, "we can only make queer art," or that our art is explicitly queer.
Part of the TL;DR script is wrestling with these ideas: why is it so important to create this space, but also do we then get pigeonholed in some way? Do we not just get to have fun making a musical because we have to be responsible for creating a space in that way? And another part of the reason that we wrote it especially is to think about what it is to be a queer woman in a space that has been historical dominated by queer men, which is what musical theatre is. When I show up as a queer woman in a musical theatre space, I am changing musical theatre in some way. Brandon and I say this all the time: musical theatre is so gay, right? But it's not very queer, and it's not necessarily woman-centric of any variety. And to be a queer woman in musical theatre is often to feel invisible in that space. How do we become more visible?
MM:
I would argue that it's predominantly white as well, and that's something we have to work on changing, and it's something we've been advocating here at Diversionary. Intersectionality is where it's at! The LGBTQIA+ community is such a beautiful example of that, and once you add the layer of racial identity, it becomes a truly dynamic mix—and then when you add in age diversity, it gets even more rich. So, when you're thinking of all these intersections all the time, you're actually creating an inclusive space.
EC:
And gender diversity, not just women but all genders. And class diversity, because musical theatre is not just often only a white space, it's often a wealthy space.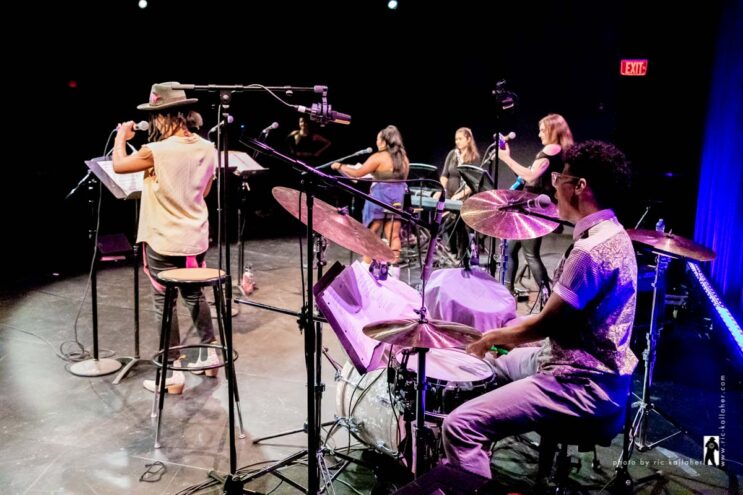 BJG:
It's important to have queer specific spaces, but as Ella said, when we bring our identities into the room to create new work, they have no choice but to be at least a little queer. I just set out to make work that I thought I would want to sit in the theater and enjoy. And when it comes to my own gender journey, that's been something that's blossomed in the past four or five years while having written a lot of queer work already with Ella specifically. On our first show together, we didn't really set out to tackle a whole lot about queerness. It was way more about class. And it's queer because we wrote it, you know? <laugh>
MM:
When I started at Diversionary, there was a deep discussion about what is the definition of queer theatre and what could be programmed on our stage. And from the jump, I was very clear that if the writers are queer, the work is queer. Full stop. There have been a few shows that we have produced on our stage that didn't necessarily have a queer issue embedded in the story or some queer person dealing with trauma around their identity. It's just the point of view that was queer.
And I maintain to this day: the world is a darker place than it was five years ago for our community, and in many ways, we're just discovering how dark it's been for certain members of our community as well. It's important to continue to tell the stories of our community around our identities, but those aren't the only stories we get to tell. And that's not how you queer space anyway. You just bring your outsider point of view and what makes you unique into the space and let your magic freak flag fly!
EC:
They can try to make us go back, but we're not. To shift and say, "well, now we're exactly where we were before" is disrespectful to our history and to our ancestors and to the folx who came before us who have been fighting and have made progress, even if there is like a regressive movement happening. How do we hold onto that?
BJG:
Isn't gathering in a room to tell human stories that involve queer people and a queer point of view inherently activism? Isn't making theatre one of the tools to combat where we are and what we see and how we're being pushed?
MM:
Part of the gift of queer theatre is that is a form of activism at its core because it's about representation. We have a long history of living in secret spaces and coded lives because we're constantly under attack. So, the opportunity to not only be storytellers, but also to be activists politically, is a gift. We have to find the light; we have to find the hope and we have to find all the glitter and the love.
BJG:
And the sheer act of gathering—you're not alone, right? So much of the queer story is tied to the joy, to the songs, to the rituals. All of it is a sense of community and the joy that comes from finding people that think like you. And if they might not think like you, they certainly don't think like them.
EC:
What do we have in moments like this but the strength of our community? It's our willingness to have each other's backs and know who we can trust. Because by ourselves, we are vulnerable but together we are mighty.
MM:
This is why arts education around queer theatre and representation is so important. We have nine arts ed program and we just wrapped up a tour visiting eight schools, performing for over 1200 young people. When creating a queer theatre space, it's incumbent upon you to do that arts outreach as well. That's part of the work. And to me, that's the secret special sauce of Diversionary, these programs that underpin the theatrical work that we do, that speak to the next generation of theatre makers and theatergoers.
BJG:
It's one of the only sources queer youths have. Even in politically liberal areas, it's just not part of the education.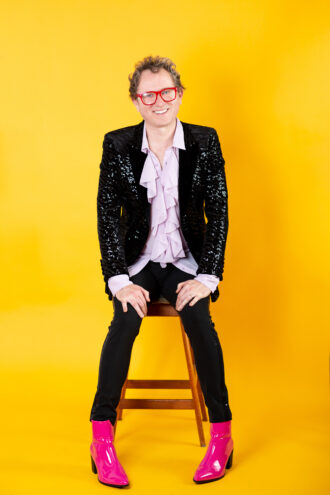 EC:
It's important to have queer spaces/theaters and queer artistic directors like Matt who are willing to champion the work of queer artists like us because larger institutions are often less likely to support a diversity of new queer work and queer artists from the get. And I've learned that sometimes the thing that is the difference between people seeing your show and not is having one person who is willing to champion you and flip tables for you and make sure that you can be in the room, and I'm grateful to Matt and Diversionary for creating that space for us and our shows.
MM:
What I really love about your work is how courageous it is and how it is just unflinching in terms of… "this is what we have to say, we're putting our money where our mouth is." What I've always been attracted to in TL;DR is how wild the form is. You set up one expectation and then explode it and suddenly we're somewhere else. To just break form, then break it again and again, is just so brave but also inherently queer.
BJG:
We've said it's about queer women and the perception of them in the media, but it's also about relationships. Not just romantic ones, but with your community. I got to make that with my lady and femme rock influences and pop influences. And that was just the most fun I ever had.
EC:
We should get to just have fun and be a musical too. My hope is that audiences get to see that.
We won the Richard Rogers Award. We have money for the show to be done by a nonprofit in New York. We would love for New York audiences to be able to see the show, and we have some funding for that. We would love to take it to additional other cities where queer folks are hungering for new musicals. That's my priority: to find the places where people who want to see this are and invite them into our space to see it.
MM:
Well, it's inevitable that it's going to happen, and I just feel so honored that Diversionary gets the first chance at it. I'm so excited about this piece!
BJG:
More to come!
EC:
More to come.
TL;DR: Thelma Louise; Dyke Remix appeared in the 33rd Annual Festival of New Musicals.
TL;DR: Thelma Louise; Dyke Remix & Queer. People. Time. were both supported in part by the Frank Young Fund for New Musicals, a program of National Alliance for Musical Theatre – www.namt.org
TL;DR: Thelma Louise; Dyke Remix
Book by EllaRose Chary
Lyrics by EllaRose Chary & Brandon James Gwinn
Music by Brandon James Gwinn
www.brandonandella.com
*Soundcloud*
*Spotify*