In honor of Mother's Day, Shannon Burkett (Fest '22) pens a guest piece inviting us into her world that unveils a harmony in the intersection of art, adolescents, and advocacy.
The current state of my career and family life… should I be honest? It's pure chaos!! Have you ever had every aspect of your life that you have so carefully compartmentalized suddenly come crashing together? But not in a bad way? Where to start…
My musical, The Female Pope, with lyrics by me and music by the brilliant Heather Christian, was accepted into Apples & Oranges: The Heroine's Journey, a program that melds musical theater and XR technology. I've always envisioned this show living on multiple platforms, so I dove in headfirst. Pamela and Tim Kashani are fantastic and so supportive, and make you work your tail off in such a good way. This past Friday, my cohorts and I presented our XR pitches at their Sing Tank (like Shark Tank for musicals). This has pushed me to hone my vision in the world of AR and VR and has opened my eyes to all the possibilities that lie in and outside the proscenium box.
My teenagers, Cooper and Alex, have been my Geek Squad for the VR headset. They have saved me! This Gen X'er is fully utilizing her Gen Z offspring, and we are having so much fun when I'm not banging my head against the wall trying to understand this stuff! This program has come at the perfect time because my short film just was accepted into two film festivals and is going to screen at Animaze Animation Day at Cannes, which is such a dream come true! And because of the A&O program, I have more tools in my toolbox as I go off to promote my stop motion animation musical comedy.
NAMT's 34th Annual Festival of New Musicals was the first time that my kids got to see something I wrote because I haven't always written things that were, shall we say, appropriate for young children. My kids aren't little anymore, so for the first time, my two teens were able to sit and experience how an audience reacted to my work. Alice, my oldest, was away at college, which was so sad, because not only is she my editor for this piece, but the young protagonist was based on her, my little erudite. This character was so obvious that her former director and teacher, Irene Lazaridis, recognized Alice as Young Joan in the presentation. What an incredible experience working with the generous, artistic, kind-hearted folks at NAMT! Having our piece performed by the magical cast of the miraculous Mary Testa, magnificent Mariand Torres, and getting to introduce the young force of nature, Matilda Luz Concha, as Young Joan was such a gift and highlight of my life as a writer.
On a more challenging note, my son and I have been lobbying Albany and advocating for the eradication of lead in our communities. My son was diagnosed with lead poisoning when he was nine months old, and he has had very serious complications and side effects. The construction site below our apartment contaminated our apartment with lead and he got sick. New York State has the highest lead levels in the nation. Over 150,000 children since 2005 and over 2,500 in New York City in 2021 alone.
When we first started this work, he asked me how I get people to listen to me. That was one of those parenting moments that makes you smile inside: your kid actually wants to be like you. And I told him that it was all about "story." His story. Putting a face to the numbers. Humanizing the horror. And that is what we writers do, right? Try to have an impact through story. And here was my kid, in front of the New York City Council Committee on Housing and Buildings and the Committee on Health testifying at a hearing, telling his story. So that he can have an impact. Prevent other children from suffering the way he did.
This month, I finished a play on our experience. During our journey of advocacy, it became crystal clear that misinformation and lack of education is why the numbers are so high and so disproportionately affect people of color and people living at or below the poverty line. This is a moral issue. This is a class issue. And this is a race issue. Children are getting hurt every day and we have the power to stop it. We just need the political will.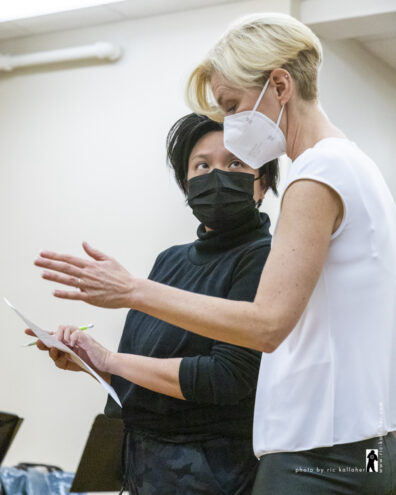 Unscripted: Musical Theatre & Motherhood
My support systems intersect because many of my parent friends are either artists or art enthusiasts. I have a wonderful village who supports me, and I could not have gotten through cancer (I'm a breast cancer survivor), nursing school or working with kids without them. My husband and I have always respected each other's work. Our work is our work, and we don't get in each other's way. Andy has been very successful as a sound mixer for TV and Film, but it took him years of insane hours (working every day for 3-4 months without any days off, no Saturday, Sunday, nothing) and me taking care of the kids alone and figuring out how to do my own work and school and art.
The hardest aspect of parenting and trying to keep up a career is socializing. When Cooper was sick, and then I was sick, that aspect became an impossibility. I couldn't maintain relationships. I couldn't keep my head above water. I am so heartened and inspired by some of my contemporaries' response to this barrier that keeps parents, disproportionately mothers, from keeping a presence in the arts. Julia Jordan is a fierce pioneer, fighting for women's rights and parental rights in this business. She was a force behind The Lily Awards and the Family Residency on Ryder Farms. Leigh Silverman had a breastfeeding room during tech! I remember rollerblading home to breastfeed during rehearsals, tech and performances. Trying to pump in public bathrooms. I really hope that we continue as a society to make more space for parents to work in the arts.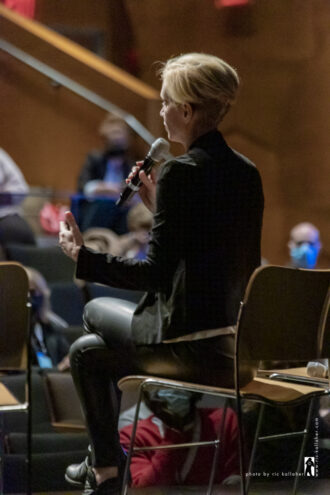 Ensemble Work: Sharing the Stage
Put them to work! Make them edit, give you feedback and inspire you as you create full characters with depth and humor. I would never be the writer I am today without my kids. But having kids has also inhibited me in the industry. Having a sick kid and cancer put a stake through the heart of my theatrical acting career, so I threw myself into my writing. I also got a nursing degree when my son got sick. Some people google an article, I got my BSN.
How do I navigate between my role as a parent and as a writer? Uh, not well. Whenever someone comments on how much I get done, I always tell them that I have 20 plates spinning in the air, 15 of them fall and crash into a million pieces on the ground and they just see the 5 ones that I've managed to keep spinning in the air. When my kids were little, I would steal moments to write when they were napping. My first musical I started the day after my bilateral mastectomy. I remember pulling my laptop over as I tried to clear the Percocet fog that induced my brain and with one hand I started to type. But I cheated that year. I had so many surgeries and could write because I was so bedbound.
When the kids were little, I would write during their naps and as they got older, I would write while they were at school. I took a year off after getting my nursing degree to write The Female Pope. It took me eight years to obtain that degree because…well, cancer and a sick kid, but to be honest, I was truly exhausted and my career in voice overs was doing well enough for me to spend my days in the BMCC library writing and researching this musical. It was such a cathartic time for me. I could listen to my kids play on the playground at recess from my little cubby. I had a lot to process, and I needed that space and time. Sometimes the universe gives you a break when you need it the most.
Both children and writing take so much energy and patience and perseverance and commitment and love. Both have brought me the greatest joys, and both have brought me to my knees. And I have this other element now, my nursing. Which oddly services this bottomless ache I have to right the wrong that was perpetrated against my son. For my failure to protect him, that haunts me every day of my life. When I help those families, when I latch a little "preemie," the littlest ones that feel like a freshly hatched baby chick in my hands, I feel some peace, knowing that I was able to help a family with a sick child.
But I couldn't do the nursing without my art, and I couldn't do either without my kids.
THE FEMALE POPE appeared in the 34th Annual Festival of New Musicals.
Lyrics & Libretto
Shannon Burkett
Music
Heather Christian