Header image: (Left to right) Jacinta Clusellas, Tatiana Pandiani and Melis Aker. Photo: Furiosa Productions.
On the afternoon of their EP release and just hours before their celebratory concert at Feinstein's/54 Below, we sat down with Melis Aker (Book/Lyrics), Jacinta Clusellas (Music/Lyrics) and Tatiana Pandiani (Book/Lyrics/Director), the creators of the new musical Azul (Fest '21) at the Consulate General of Argentina in New York City.
NAMT:
Thank you so much for having us today. We'll start right off with: what's the flight path for this musical? What brings us into tonight? Tell us the journey of the show.
Tatiana Pandiani:
So, Jacinta is a composer and had an album come out in 2015 called El Pájaro Azul. There was a release party here in the same building where we are right now.
I loved the music and I thought, "Oh, this could be a musical." Jacinta's album is based on a short story, and so I started looking into that author, Ruben Dario, a turn-of-the-20th-century writer, reading some of the other short stories he had and seeing where there could be a narrative that I was interested in. We did that for about a year. We had the arc for the first half of a musical, and we were stuck. So, we invited Melis to join the team, and we've been working together ever since.
We did all of the emerging artists residencies and fellowships, including New York Theatre Workshop where I was a 2050 fellow. And then I think the year after, Melis was a 2050 fellow. We did BRIClab at the BRIC in Brooklyn. We did the PRELUDE Festival. We did developmental residencies at the Drama League. We rehearsed in a music school for kids that Jacinta used to teach at, we would use their spaces.
Jacinta Clusellas:
We held auditions. Remember? In the music school. <they laugh>
TP:
We held auditions in a music school for toddlers. We would do table work in Melis' apartment, often, all the time on the rooftop. We did PRELUDE, then COVID hit. But then we did the NAMT Festival, and then the O'Neill, which it took two years to be able to do. Now we're doing 54 Below, and then we're doing another concert celebration of the EP at Joe's Pub. So, it's been 7-8 years, and of course, we all lived in New York for most of that. Melis moved to London in 2021. I moved to Miami in 2021. So now the three of us live in different cities. In the last two years, a lot of the development has been on Zoom. We also did the Writers Grove at Goodspeed. We had also done Tofte Lake.
Melis Aker:
That was formative.
TP:
Tofte Lake was the first time we had a whole story. That was '18.
NAMT:
So, you're traveling quite a bit.
MA:
I professionally split my time as a writer, but for the past few months, I also teach. I've been more so on London time. You know, it's the challenge of trying to work through the time difference and trying to organize quality time to work on it, among other things. I'm hopeful for the next steps.
JC:
I'm based here. I'm originally from Buenos Aires, Argentina. Tatiana as well, but basically, I've been based in New York for seven years.
TP:
And I'm the New Works Director at Miami New Drama, which is why I now split between Miami and New York.
NAMT:
So then considering all this activity, what has been the most surprising part of the EP release as a process?
JC:
I think the process has been incredibly inspiring and fulfilling… and challenging. Having enough resources is always the biggest challenge. We were so lucky to have support from so many amazing people who helped us make it happen. I worked closely with Alex Lacamoire and Kurt Crowley on the development of the EP. That process was a dream come true. They both are the most generous, giving, dedicated people. They are part of our team in a way that I didn't imagine was possible. <laughs>
I discovered a lot about the scope of the music and how big it can feel. I think we all realized that. And I remember I met Kurt to listen to "Sol Del Domingo," the video that came out a few weeks ago, at his apartment. And we were both so moved at the end. And he was telling me, "This is so big!" You know, it's like we discovered how big it is, how big it feels, I think that's the word—how big.
TP:
I learned the impact that the internet has, and will continue to have, with this show. It was when the video came out, you probably saw on Playbill. And I've realized that the impact that it was having on people and the generational aspect of it. It got me thinking, "You know, for people that are 10 years older than me, that's what RENT was, right?" There was a whole generation of teens and 20-year-olds that were like, "Oh my God."
There were days people were tagging Lin Manuel Miranda, "You have to produce this." We had 200,000 views on that video.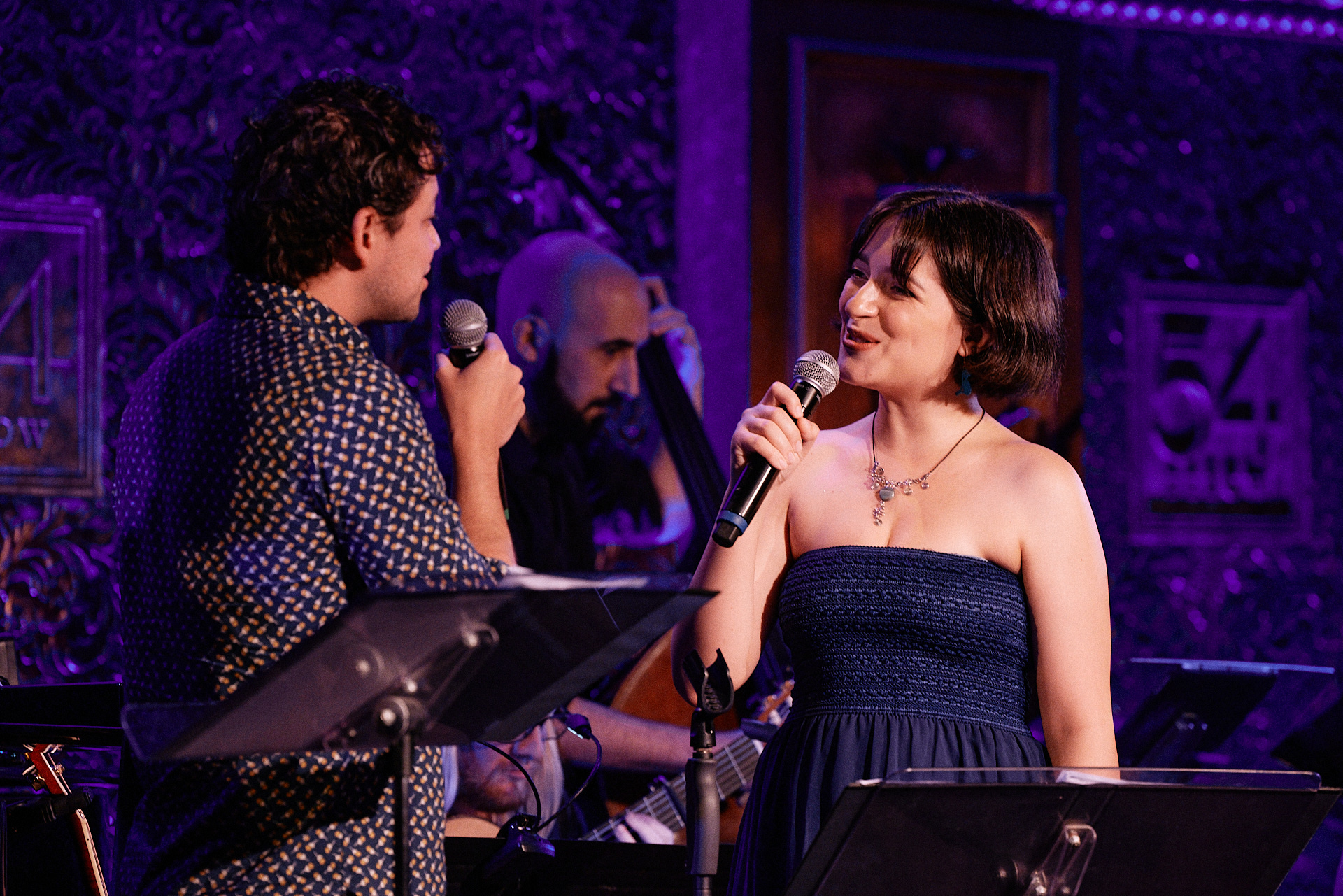 NAMT:
With book by [Melis & Tatiana], music by [Jacinta], and then you all work on the lyrics together, can you talk about what that's like in the room or on Zoom?
JC:
We're very close. <everyone laughs>
A little bit like sisters sometimes, so we are not afraid to be very direct. There's a lot of trust and there's a lot of overlap of ideas. I feel like we created Azul together. It's the three of us. It's a little bit like the label of the music or the lyric or the book, it's all one thing. To me, it really feels like that. And it feels like that when we are in the room. So, there's a very fluid process—
MA:
Especially when we're in the room together—I miss that. One thing that I always realize is that there's a unified thing of what we each like and what, I think, we each want with the piece. Deep down, the base layer, there are things that we all like that are similar, and we know that we can probably build something that is a unified piece and has a very particular aesthetic. There are things we can negotiate, there are things we don't want to negotiate. And I think that's something that continues to build the trust and the world of the story.
TP:
We work a lot with outlines. So, we work a lot with Google Docs and outlining scene by scene. There was a time where that meant like, "Okay, Melis, I will see you in three hours." <everyone laughs>
And you come back with a scene between this person and this person. So usually there's me fluctuating between, I go there, we do this, then Jacinta goes away, then I come here, then she sings. So, a lot of it is me going back and forth between rooms. <laughter>
I think it's fair to say that 25% of the show was conceived through WhatsApp, which is a generational thing. We have our WhatsApp group, a huge archive of this writing process has been WhatsApp texting, video sharing and voice notes. So, Google Docs and WhatsApp.
NAMT:
Can you talk about what it means to have this show be part of the Latiné Musical Theatre canon? What does it mean to you to have a show that's rooted in the Spanish language?
TP:
It feels like the very beginning of something. I was 18 years old when IN THE HEIGHTS happened, and I went to see it on Broadway. I had a $20 standing room ticket, and I only saw the bottom half of the proscenium, but I heard everything. I heard all the lines, and you know, people in that show are like "English, English, English, English, English, Spanish, English…." <everyone laughs>
And it was crazy! It was like the most radical thing had happened. That was 2008. And I love that show, and it was very meaningful to me. It's been 15 years and I don't really think that anything else has occupied that space. I'm not saying there's not people doing the work. More and more composers that are contemporaries are doing it. So, I think the canon is starting to happen.
The hope, I think, would be that when we're in our seventies and someone says "Oh, there's a new Latino musical on Broadway" and for that to not mean anything at all. We could be about to watch any genre, any kind of music. That would be ideal. Because there's always a multiplicity of experiences. It would be very strange to be like "I'm gonna go see a 'white American play'." So, what's the vibe? Are we watching Tennessee? Or Mac Wellman? Or Kushner? See? That makes no sense.
MA:
Just adding to that, I'm the person on the creative team who is not Latiné, who's Turkish, but to add to the value of what this piece can do, first of all, I think if there's going to be a bilingual musical in America, it should be one in Spanish. I think it's an effort to decentralize English. So, coming from each of us having parents in a different country, I think it could still be equally meaningful for my family to understand that a piece can exist in a different language. Where certain people, even who are not English-speaking, not Spanish-speaking, can be included into the story as it goes. That's the offering this piece has, to be included in that and not negotiate that the language can exist in fullness. That's something powerful.
NAMT:
What has it meant to be self-producing artists?
JC:
We've done all of this with zero commercial dollars. It's all been support from wonderful institutions who believe in us, from our talented and actors and musicians and sisters and brothers and collaborators and mentors. Everyone has given their hearts, and this would not be possible if it wasn't for everyone who has been so generous. We are hoping we can find producers to continue supporting us, but we don't want to be producers anymore.
TP:
There are times when it's empowering to be able to look back and say "Oh my God, that's a lot." And for tonight, some might be like, "Oh, just another 54 Below Concert," but the producing load on us is extraordinary. It reveals a lot of how this industry works, which is there's a lot of things that get produced with people's private wealth. And this is not that, so the grassroots part of it is huge. But, you know, the truth is that not only are we young, but we're also women. There's a mistrust because of age and gender, and also that none of the three of us are American or from New York or have families in the theatre. But Alex Lacamoire and Alex Gemignani at the O'Neill, these people who were like, "I don't care who you are, this is very good and we're gonna keep on working on it." Those are the true heroes. Most people don't do that.
JC:
At some point in your career, I think you need someone who's ahead of you to tell you, "Keep going." <laughs> "You're doing it, I believe in you." I really hope for all of us that we can be in that position one day, and that we can also do that for other people. It's the only way to grow.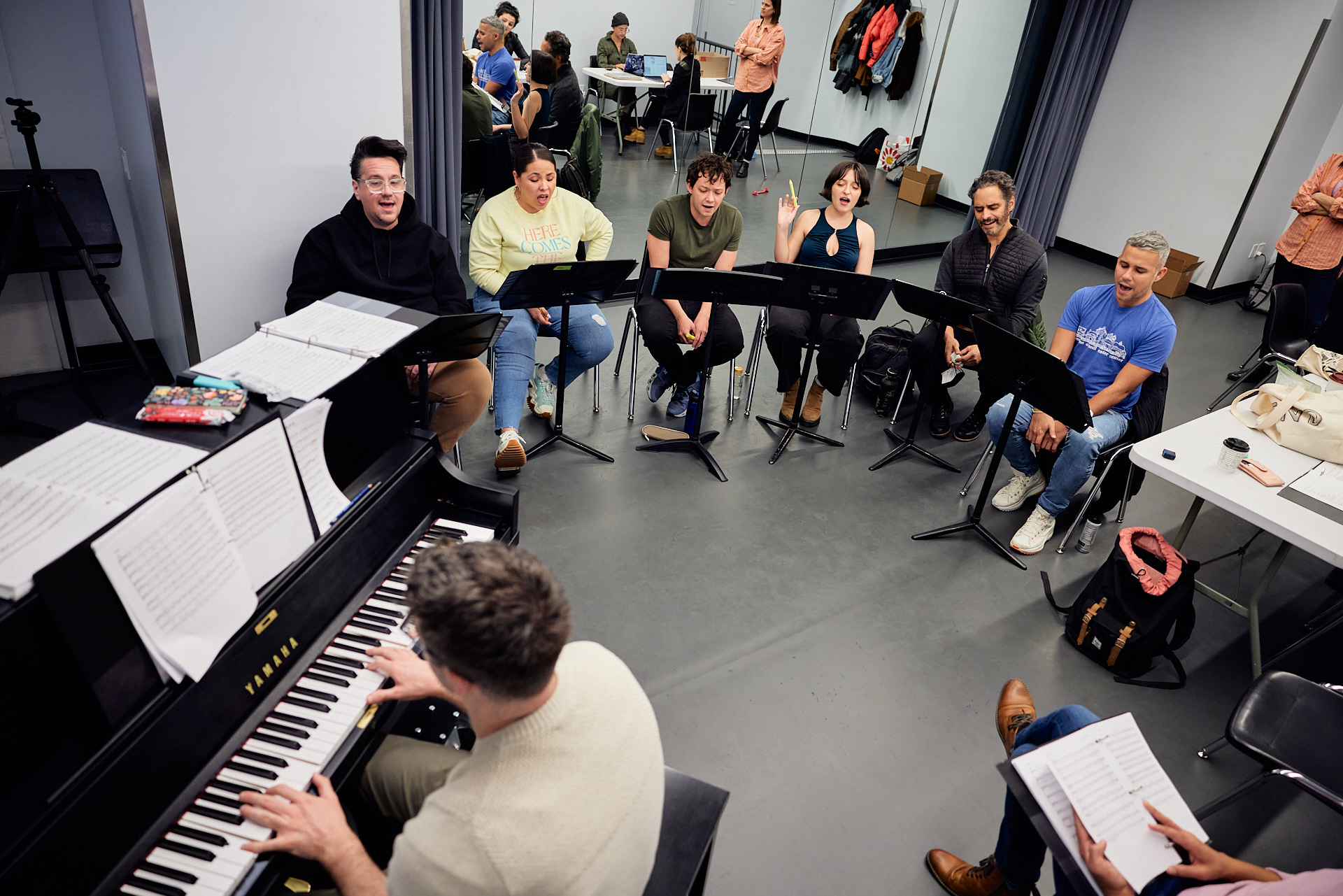 NAMT:
What advice would you give young playwrights, composers, lyricists and songwriters? And what advice would you give your peers?
TP:
I will recycle advice that I got from Sam Gold. Especially when you're younger, because we can be young for a long time in this industry, there's a tendency to reach up—to get liked or included with people that are ahead of you. Everybody's trying to go up, up, up. He's like, "You gotta go side, to side, to side." And why I think this project and other projects are moving, is that I'm always paying attention to people in my generation. And I'm always trying to pair people up, which is what I did here.
JC:
And I think also trusting in the organic connections that you feel creatively and really cultivating them and taking care of those relationships over time. In my experience, the person sitting right next to you is the one that's going grow with you.
MA:
This is also recycled advice from a playwright who said that young writers are taught to say "yes" a lot—taught to say "yes" to opportunity. "Yes" to everything, maybe because of the desperation that's connected to this feeling of "do I not have enough resources?" Scarcity? All of those things. And I think learning to say "no" can be a gift. I don't mean that as an exclusion. I mean that as when you feel the need to say "no" to something, whether that's a creative choice or a collaboration, I think there's a reason you want to say "no" to it. Trusting that because it gives a lot of information. I think it's, in a way, like knowing your boundaries as a creative person, or as a human trying to function in capitalism.
NAMT:
So where are we headed?
<lots of laughter>
TP:
We don't know, is the truth. For me, the piece is bilingual for a reason. Now we're moving into production, and past the writing of it, and we find answers to music and writing via production. The production has to happen for the audience that this show is for, and that other audiences get included throughout that process—as opposed to productions that are trying to problem-solve the thing before it gets to the people it's made for. That's a reason why we would like to get the show on its feet regionally where there are a lot of bilingual speakers, Spanish-speakers, mixed-language households. You know, where you have a grandma that only speaks Spanish, and kids that speak English and a little Spanish, and then parents that are bilingual. So, institutions that understand that are important. I hope that we can put the thing up for its audience, and then think commercial after.
NAMT:
And where do you all go after tonight?
TP:
I'm going to Texas. I'm going to the Alley. I'm doing a play called TORERA at the Alley Theatre about bullfighting, so I'm off to choreograph bullfights.
JC:
And I will start co-music directing and playing guitar for a bilingual adaptation of THE COMEDY OF ERRORS at The Public Theater which begins in less than two weeks.
MA:
Currently, I'm in residence with the Signature Theatre, so hopefully I will be writing two new plays at some point. And then trying to sell an audio series to Audible. And I'm writing a novel. It's a bit of a juggle. <laughter>
Check out AZUL at Joe's Pub on May 24th.
Tickets are available at publictheater.org or by clicking here.
AZUL appeared in the 33rd Annual Festival of New Musicals.
AZUL
Book by Melis Aker and Tatiana Pandiani
Music by Jacinta Clusellas
Lyrics by Jacinta Clusellas, Tatiana Pandiani and Melis Aker
www.azulthemusical.com