Back to the 33rd Annual Festival of New Musicals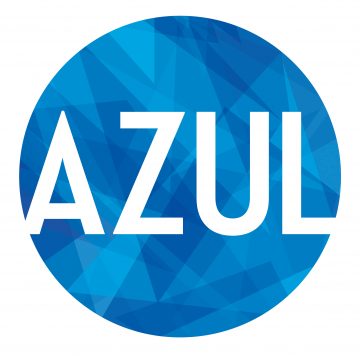 AZUL
2021 Festival
Director
Elena Araoz
Music Director
Kurt Crowley
Cast
Danny Bolero, Blanca Camacho, Renata Eastlick, Henry Gainza, Robi Hager, Claudia Mulet, Martin Sola and Claudia Yanez
---
Number of Acts: 2
Number of Principals (Male): 4
Number of Principals (Female): 2
Preferred Ensemble Size: 8
Total Cast Size: 14
Orchestra Breakdown:
Minimal: Piano, Guitar, Percussion
Ideal: Cello, Viola, Clarinet, Flute, Trombone, Guitar, Piano, Percussion, Bass, Accordion
Casting Notes:
– A majority of the roles must be cast with bilingual (English and Spanish-speaking) actors. Those with experience in popular Latin American folkloric music and dance preferred.
– Gender notations notate character, not actor. Those with no clarification can be anywhere on the gender spectrum.
– The casting should be representative of the true racial and ethnic diversity and rich history of Latin America.
– We envision this musical to represent all racial and ethnic identities of the Latine community. At least two out of the 10 tracks can be cast by gender non-conforming or transgender performers.
Genre & Style:
---
---
Synopsis
In a world of magic realism, Blue Bird, an ambitious poet seeks a better life in a new land. In present-day Jackson Heights, Rita, a composer, struggles to write her debut album about a motherland she has never known. AZUL weaves together these two distinct worlds to explore how memory and imagination shape immigrant identity. Driven by a constellation of songs rooted in Latin American folklore, AZUL is a bilingual musical about loss, and what it means to step back in order to move forward.
Development History
AZUL has previously been developed at National Music Theatre Conference at the Eugene O'Neill Theatre Center's NMTC (2020), Catwalk Institute (2021/2020), Musical Theatre Factory (2020, postponed due to COVID-19), Tofte Lake Center Residency (2019), Westben Performer – Composer Artist Residency (2019), Brush Creek Foundation for the Arts Residency (2018), BRIC Lab (2018), New York Theatre Workshop (2017) and The Drama League First Draft Residency (2017).
Festival Successes
Received a NYC Women in Media grant to record an EP in fall 2022, with orchestrations by Alex Lacamoire. Workshop at the O'Neill Music Theatre Center. 54 Below concert in fall 2022. Residency with Goodspeed and O'Neil Theater (2022) Melis Aker invited to participate in The Johnny Mercer Foundation Writers Grove at Goodspeed. (2023) EP Release Concert at 52 Below, March 2023.
Excerpts