Header image: (Left to right) William A. Williams, Justin Huertas, Kiki DeLohr in Lizard Boy at Seattle Rep. Photo: Kevin Berne
As they prepare to begin rehearsals for their Off-Broadway premiere, LIZARD BOY's (Fest '20) creator Justin Huertas and Prospect Theater Company's Producing Artistic Director Cara Reichel join forces to discuss having secret powers and roll out the green carpet to assemble their team of real-world superheroes.
Cara Reichel:
Justin! I'm so excited for this chance to talk about your marvelous show's journey. Let's start by sharing our origin stories and how we had the opportunity to come together around this musical.
Justin Huertas:
So, I started writing Lizard Boy over 10 years ago. I had come out of college as an actor. The then Artistic Director of Seattle Rep, Jerry Manning—
CR:
Legendary.
JH:
Legendary Jerry Manning. He knew me as an actor because my first show out of college was Speech and Debate at Seattle Rep. And then he happened to come to a musical theatre concert, and he saw me play cello in the band. He said, "You're an actor who plays cello. You should have a show where you play cello in it." And I'm like, "Yeah, whatever that means. I agree with you." So, he says, "I'm going to commission you to write yourself a show." Knowing nothing about my ability to write. I didn't know if I was, you know… I took a playwriting class in college, but—
CR:
—and did you ever think when you were studying the cello that it would be the keystone for you?
JH:
<laughs> I was even told by friends and colleagues in the area that I have to do one or the other. I was told if you choose to be an actor and be a cellist, you're never really going to break through in either one. And I hated that, but I also believed it. And then Jerry Manning saying, "You should have a show where you play the cello." What?! He had me keep a journal. He paired me with a playwright, Andrea Allen. And I just wrote whatever was in my brain, and the things in my brain are very comic book superhero oriented. <both laugh>
I grew up with Spider-Man and X-Men and Power Rangers. I dream of being a superhero all the time. So, one of the things in my journal was imagining myself as a superhero. And that superhero became Lizard Boy. Jerry Manning pinpointed that story and was like, "This should be the thing. This is it." And Brandon Ivie came on to the project in 2014 as our director, and the four of us have been working on this show ever since. We premiered at Seattle Rep in 2015. In 2016, we brought the show to New York for industry readings, so people could know what we're up to.
CR:
And that's when I first saw the show because I had worked with Brandon on Jasper in Deadland in 2014, and it was Brandon who first introduced me to your work as a performer and writer. We owe a lot to him. He's amazing.
JH:
Yeah! And since then, Lizard Boy has performed at Diversionary Theatre in San Diego. Just as the theatre was coming out of the pandemic, we performed at TheatreWorks Silicon Valley in 2021.
CR:
What I love about the Lizard Boy origin story is that there's a lot of simpatico with Prospect's story – especially in our approach to friends making theatre. Prospect was founded by a group of artists who did college theatre together. A couple years after we graduated, we all really missed collaborating. Initially it was about a space for our founding members making their own work, but very quickly we saw that there was a need in the community to support other artists and projects. What NYC didn't have was a scrappy theatre company that was going to go beyond a developmental reading, and fearlessly put brand new shows out there, on their feet, in front of audiences. We eventually grew up into a full-fledged producing organization… and became a NAMT member. I think Lizard Boy was also able to have cool opportunities from an early stage to get feedback from public audiences. We're so excited to be able to have you come to New York and be part of the Prospect fam here!
JH:
What I know of Prospect is that the work that you do is always… I don't want to be buzzword-y… but on the cutting edge. It feels like the stuff that you're doing is the stuff that I would be seeking out here in Seattle. You know, new musicals that don't really fit the mold of like traditional musical theatre. If I were New York-based, I would see shows at Prospect all the time. <both laugh>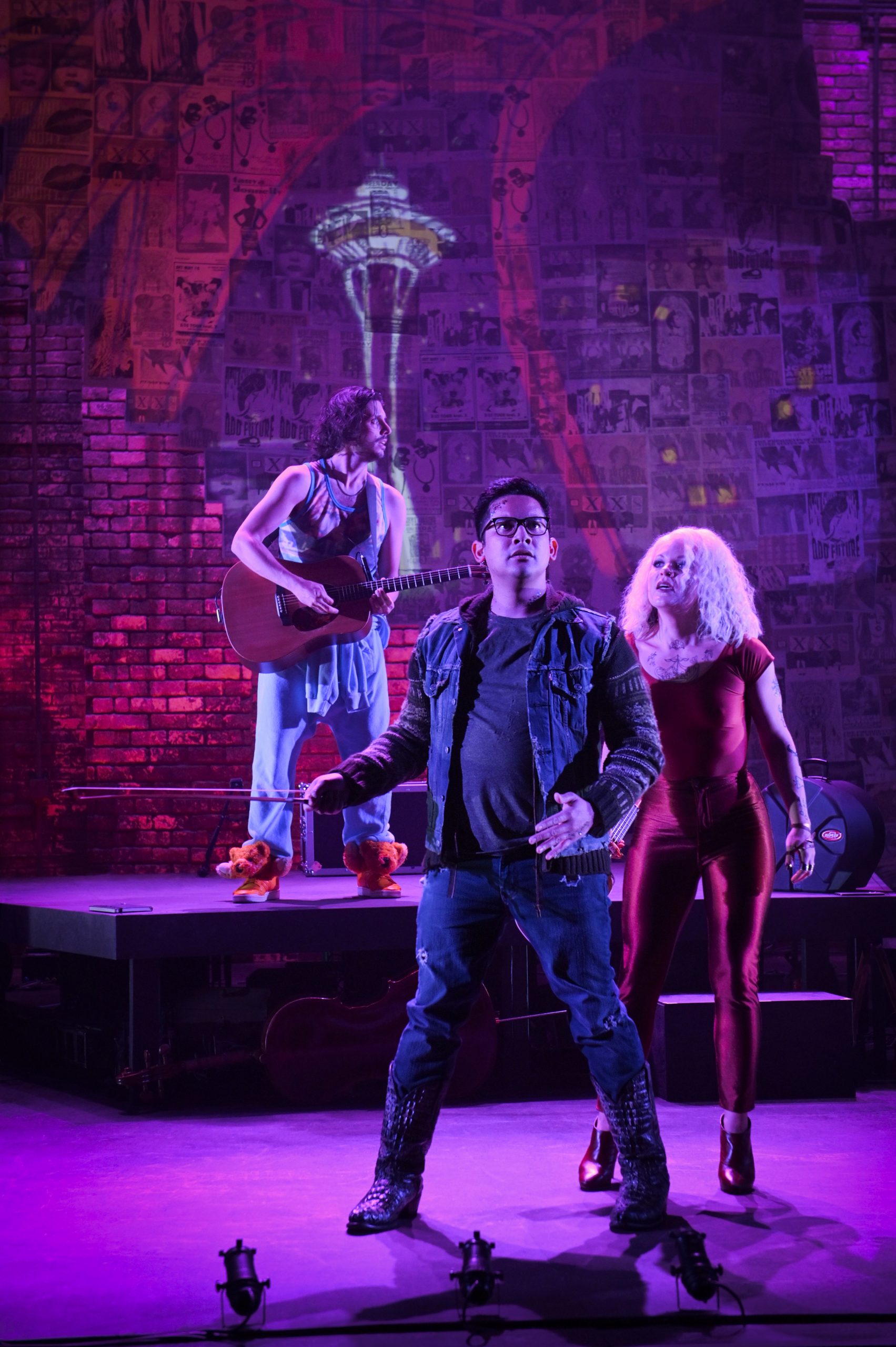 CR:
It is interesting to hear you talk about being a cellist versus being an actor and now a writer. By the time I came to New York, I knew I didn't want to be a performer so much anymore, but I definitely was told: don't market yourself as a director, a producer, a writer. You have to pick one thing and stick with it and project that image. But we are who we are, and we can and should bring forward all our individual superpowers to any project. It's exciting that the field is evolving to actively embrace people who are multihyphenates. We all love it when this art form that is complex can also engage with the complexity of our humanity.
JH:
Fun fact, I was keeping the journal while I was playing cello on the national tour of Spring Awakening. We all really thought that my solo show with me and a cello was going to be a travelogue. Andrea Allen would sometimes prompt me for my journal entries, "Can you write your coming out story?" Which is nothing. I told everyone I was "ga—" and they were like "we already know." So, I decided to spice it up by adding superpowers to it. I mean, I'm gay and no one cares. But I have lizard skin and superpowers, and I was ostracized for that reason. People didn't like me for that reason. And that's what everyone gravitated to is this concept of this lizard person, it's his hidden superpowers that he's insecure about.
But I didn't know when I was writing it that it was a metaphor for growing up brown in white spaces. I was just making this really fun comic book story and trying to make drama that I related to without knowing why I really related to it. Truly, it wasn't until we were workshopping, and even into rehearsal for the first production in 2015, where I was like, "Oh my god, the lizard skin is a metaphor." And the cool thing that I've loved over the years is that the metaphor is very specific to me, but audience members will come, and they will watch the show and interpret the lizard skin was whatever they interpret it as. I love that. It doesn't have to be only for people who look like me. Everyone will find something in it.
CR:
I'm just getting to know the superpowers that this team has. Do you want to tell me about your collaborators and fellow cast members?
JH:
Our amazing director, Brandon Ivie, he brings a sort of unhinged, chaotic imagination! <laughs> As any comic book story does, our story culminates in a fight scene that I had written knowing this would be an actor-musician musical. I never imagined that we'd actually fight. I imagined it would be almost like a radio play moment where you're hearing all the lines and we're underscoring everything, and maybe there's projections that show you this person's punching, that person's kicking. Brandon was the one who was like "I think you can do all of it. Fight while you play. Use your instruments as weapons." Over the years, it's our favorite thing.
CR:
It is pretty fun! I've seen the group work on it and it's intense!
JH:
And Kiki DeLohr. Siren was written so much for her. Her voice is like… she is a siren in her own right. She will sing and you will do whatever she says.
CR:
There's a lot of power there.
JH:
And William A. Williams, we call him Bill, is such a sweet soul who is so kind and accepting of literally everyone. I think his superpower is beatboxing while playing guitar. It's something that we've never, ever seen or heard. So, we use it at least twice in this musical. <both laugh>
CR:
I would agree. You guys are like, what's the name… the Power Rangers or Voltron? Where they fused together. You have everyone who has their individual coolness, but then everybody comes together and creates this uber superhero.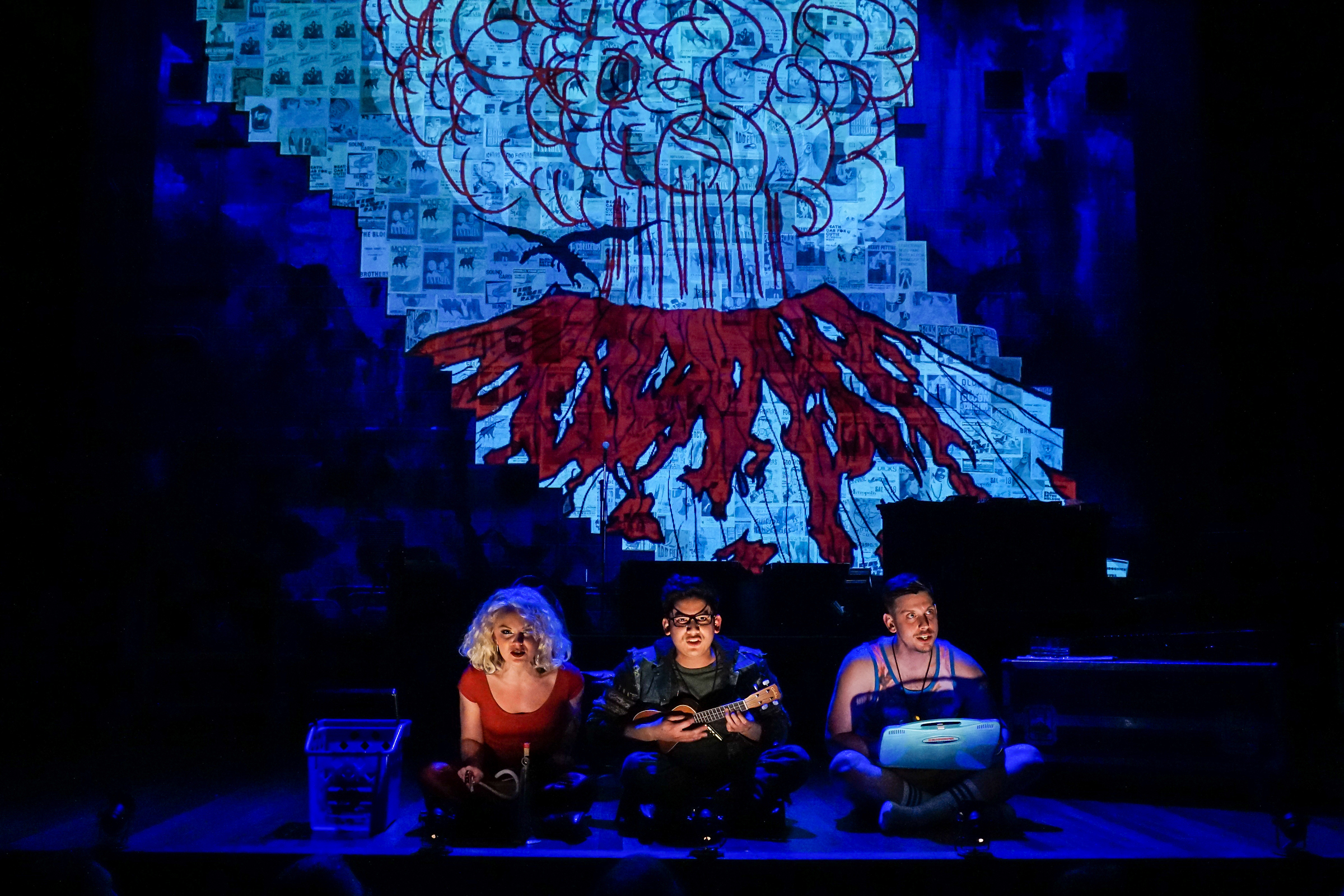 JH:
And I really appreciate having a creative producer and I learn a lot from anyone who has different life experiences than me. So having conversations with you about the show and the questions you've been asking me, it's really rewarding. It's only making the show more complex and well-rounded.
CR:
My producing is an outgrowth of wanting to bring projects to life that I care about. I'm not a producer because I want to raise money—although I do have to raise money, so huge thanks to NAMT for the Frank Young Fund Production Grant that's supporting this ambitious production! But where my heart lies is in creative producing and trying to manifest exciting visions. How can it become real? There are also a team of commercial producers moving this show along. How have they been heroes for this process, and what has it been like having their support?
JH:
It's been a crazy cool experience to have them on our side. Our commercial producers are Carolyn Miller and Matthew Schneider from Creative Endeavor Office and Blair Russell, and together they collectively are Lizard Boy Entertainment. It's just amazing to have them take us on this journey. They brought us to Manchester in the UK last summer, then they brought us to Edinburgh Fringe. Those experiences, I will remember forever and ever.
CR:
Before you went to the UK last summer, Carolyn emailed me because she knew I was a fan of Lizard Boy and wanted to put it back on my radar. And remember Lizard Boy was in the NAMT Festival! I think it's amazing that you have forged that partnership with them, because it is rare and precious that a show can have a team of people carrying it through. Prospect always aims to provide a launching pad for pieces in NYC, but it's a gift to go into this production with partners who are thinking ahead, and willing to be flexible and adaptable for this process.
What do you hope audiences will take away from the show Off-Broadway? Is there going to be an expanded universe of Lizard Boy?
JH:
Oh my god, I love that. I think what excites me most about Lizard Boy is that it has a character with a very specific kind of background journey experience, but there's something in Trevor that everyone can relate to. All three of these characters—Trevor, Siren and Cary—are all three just trying to find their way in this world that might be ending at sunrise, you know? They're all just trying to figure out where they fit, how they fit, who they maybe fit with, and how they move forward as fully as themselves as possible.
CR:
I think people are hungry for the mix of things that this show brings. We need that connection, especially coming out of the pandemic. We've talked about "My Difference Is My Power" being the t-shirt slogan of the show, and the way you share that important message sends people out singing boppy tunes that stick with them.
JH:
Yeah!
CR:
And you know, I definitely see that there could be lots of spinoffs in the Lizard Boy Universe.
JH:
There are a lot of stories to be told in this world, for sure.
LIZARD BOY will play June 1 – July 1, 2023, at Theatre Row (410 West 42nd Street).
Tickets are available at prospecttheater.org.
LIZARD BOY appeared in the 32nd Annual Festival of New Musicals.
LIZARD BOY
Book, Lyrics and Music
Justin Huertas