The incredibly busy New York awards season is underway, and the hard work of many NAMT members and alumni has been recognized in this full season of musical theatre. Congratulations to all!
The 70th Annual Tony Award nominations were announced last week. Hamilton (developed at and produced by member The Public Theater) received a record-breaking 16 nominations. Shuffle Along, Or the Making of the Musical Sensation of 1921 and All That Followed (produced in part by member Center Theatre Group) received ten nominations, including Best New Musical. School of Rock, written by Festival Alum Glenn Slater (Fest '08, Beatsville) received four nominations, include Best New Musical. Duncan Sheik's (Fest '15, Noir) American Psycho the Musical (produced in part by Center Theatre Group) earned two nominations, and the revival of his Spring Awakening received three nominations, including Best Revival of a Musical.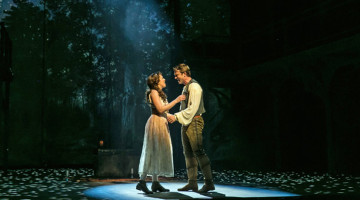 In addition, member theatre Paper Mill Playhouse will receive the special 2016 Regional Theatre Tony Award. According to a statement from The Broadway League, Paper Mill has been chosen for establishing itself as a well-respected pre-Broadway destination and for fostering future Broadway audiences. Festival Alum Sheldon Harnick (Fest '89, That Pig of a Molette) will also receive a Special Tony Award for Lifetime Achievement, alongside Circle Repertory founder Marshall W. Mason.
Nominations for the 82nd Drama League Awards were announced in late April. Many NAMT members and alumni have received nominations in the category of Outstanding Production of a Broadway or Off-Broadway Musical. Congratulations to Duncan Sheik on the nominations for American Psycho the Musical and Spring Awakening; Stacey Mindich Productions for Dear Evan Hansen; The Public Theater for Hamilton; Ars Nova for their co-production of FUTURITY (NFNM Production Grant Recipient) with Soho Rep; Glenn Slater for School of Rock; and Playwrights Horizons for their production of Iowa. The winners will be announced on May 20th.
The 61st Annual Drama Desk Awards announced their nominations last month. Congratulations to Festival alum Duncan Sheik on the eight nominations for American Psycho the Musical as well as four nominations for the revival of Spring Awakening; Glenn Slater on the five nominations for School of Rock; and Paul Gordon (Fest '13, Analog and Vinyl, '06, Emma) & John Caird (Fest '96, Children of Eden) on their two nominations for Daddy Long Legs. Additionally, Sheldon Harnick will receive a Special Drama Desk Award for his contributions to the musical theatre canon.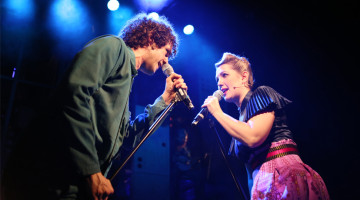 NAMT members also received an impressive slate of Drama Desk Award nominations. The Public Theater received eight nominations total for Southern Comfort (Fest '12) and First Daughter Suite. Shuffle Along received five nominations, including a nod for Outstanding Musical. Atlantic Theater Company earned three nominations for their play with music, These Paper Bullets! Stacey Mindich Productions received three nominations for Dear Evan Hansen. Ars Nova received a nomination for their co-production of FUTURITY.
The 6th Annual Off Broadway Alliance Award nominations, honoring commercial and not-for-profit achievements in the 2015-2016 Off-Broadway season, were announced late last month. Cagney (music and lyrics by Christopher McGovern, Fest '00, Lizzie Borden), Daddy Long Legs, Dear Evan Hansen and Who's Your Baghdaddy? (by Marshall Pailett and A.D. Penedo, both Fest '07, The Chocolate Tree) make up the nominees for Best New Musical. Winners will be announced on May 18th.
Winners of the 2016 Outer Critics Circle Awards were announced this week. Dear Evan Hansen received two awards including Outstanding New Off-Broadway Musical. The revival of Duncan Sheik's Spring Awakening also received an award, and his American Psycho the Musical received two awards.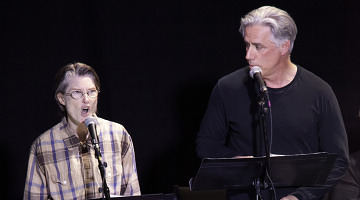 The 31st Annual Lucille Lortel Awards ceremony was held earlier this month. The Public Theater's production of Southern Comfort received two awards for Annette O'Toole and Jeffrey Kuhn's performances. Ars Nova received the award for Outstanding Musical for their co-production of FUTURITY.
The New York Drama Critics' Circle has named Shuffle Along the Best Musical of the 2015-2016 season. Special citations were also given to Oskar Eustis, of The Public Theater, for outstanding leadership. The 81st annual awards reception will take place on May 17th.
Congratulations again to all our members and alumni!