As their show "graduates" from Southern California to New York City, Mary Marie bookwriter and lyricist Chana Wise sweetly reflects on how it felt to be greeted by a fresh new group of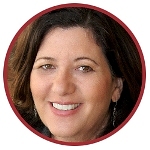 actors and singers who will breathe new life into their musical.

So, we've made it into the NAMT Festival. We've got an amazing director and musical director, we've sweated over cutting our piece to the required 45-minutes, and now—casting!
Truth be told, almost from the first moment I put fingertips to keyboard in the creation of Mary Marie I was able to hear the voices of the characters coming from the mouths of specific actors; friends who had agreed to help us develop the show. They got us through the teething, crawling, first steps, dare I say potty training, and eventually the adolescent stage of the show, and we have been so fortunate that these actors stayed with us through the whole development process, which included five or six staged readings. Not only had they become entrenched in the work, but we all
grew to become a sort of Mary Marie family.
Now we couldn't be more thrilled that Mary Marie would be growing up and taking a trip from Southern California to New York, but it also meant that it would be time for a new set of amazing actors to bring their own unique talents to these roles. To carry the metaphor a little further, it's a bit as if Mary Marie would be taking a cross-country trip to the prom—to a new cast of five blind dates. Since neither Carl Johnson (composer) nor I have spent much time in New York, we depended a lot on Branden Huldeen (NAMT Festival Producing Director), Michael Cassara, (Casting Director) and Daniella Topol (Director) for their expert advice, input, and contacts to cast the show. We had access to an initial list of actors who have worked for the Festival in previous years, which was helpful, but not knowing or having ever seen them, it was still difficult to tell, from our end, who might be right for the specific characters in our show. Thank goodness for YouTube!
Our first role cast was that of the Male Swing. In the full show (the uncut version) this character plays six different characters and contributes much of the comic element. We were delighted and relieved that Colin Hanlon was available. Our first character was cast! After that, our other cast members Kevin Earley, Mamie Parris, and Ruth Gottschall eventually and fortunately for us, fell into place. We were especially concerned that we find a Mary Marie who was not only close to the right age of the character (13-years-old), but who could learn the music and grasp the complexity of the character in such a short rehearsal period. Fortunately Emerson Steele was free and happy to join us.
We are so excited about starting the next phase of work on this show and to meet the men and women who will help us to grow these characters even more. And hopefully, someday soon, Mary Marie will be ready to take off on its own—and we'll be empty nesters.