UPCOMING EVENTS
Opportunities to support NAMT while spending quality time with our members and other industry professionals will be available at the following upcoming events:
Fall Events, October 22-26, 2018 in New York, NY

A Gala Celebration of 30 Years of the Festival of New Musicals, October 22
Fall Conference, October 23-24
30th Annual Festival of New Musicals, October 25-26

Spring Conference, March 28-30, 2019 in Seattle and Issaquah, WA
Packages are available to sponsor across multiple related events, or to commit to us for a full year, fall and spring.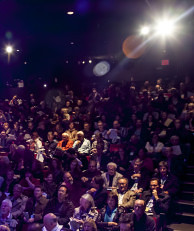 The Festival of New Musicals gathers over 600 industry members to see presentations of eight new musicals over two days. This is followed by the Fall Conference, where our members and invited guests will discuss the opportunities and challenges in producing new work and other issues relevant to the industry.
This year, these annual events will be preceded by a gala celebrating 30 years of the Festival. Our standard Festival and Conference sponsorships will be in place, in addition to opportunities at the gala, or combination packages.
In addition, advertising is available in the Festival Program, a full color printed book given to all attendees.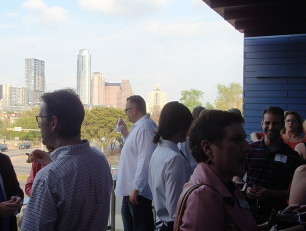 Our Spring Conferences are hosted by our member theatres in a different city each year, and generally focus on marketing, fundraising, or a combination of the two — what we like to call the "full patron experience." In 2019 we will be hosted by The 5th Avenue Theatre in downtown Seattle, and Village Theatre, just outside the city in Issaquah.

Details on sponsor/exhibitor rates and benefits for these events will be available here soon. Email Development Associate Jen Whitton to learn more now!
EMAIL ADVERTISING
Advertising is available year-round in our News & Notes and New Works News, which are sent to over 1,000 of our members and Festival alumni writers monthly. For more information please contact Membership Director Adam Grosswirth at adam@namt.org.
About NAMT
The National Alliance for Musical Theatre (NAMT), founded in 1985, is a not-for-profit organization serving the musical theatre community. Our mission is to advance musical theatre by nurturing the creation, development, production and presentation of new musicals, and to provide a forum for musical theatre professionals to share resources and exchange information.
​NAMT's members make a vital impact in their communities — economically, in education, and by entertaining millions of people.
Last season, the NAMT members collectively…
Employed over 32,000 people
Staged more than 17,000 performances attended by nearly 8.5 million people
Entertained over 500,000 subscribers
Provided education programs for over 1.4 million students and teachers
Had operating budgets totaling over $600,000,000
Performed in 285 facilities with a total of more than 168,000 seats
as of 9/10/17
For More Information
Contact Development Associate Jen Whitton at jen@namt.org or (212) 714-6668 x16. We are happy to discuss specific benefits and design a package that will suit your needs!