Back to the 24th Annual Festival of New Musicals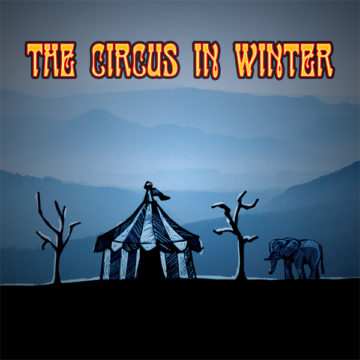 The Circus In Winter
2012 Festival
Director
Victoria Bussert
Music Director
Matthew Webb
Cast
Marie-France Arcilla, Emily Behny, Steel Burkhardt, Derrick Cobey, Rachel Ferrara, Sutton Foster, Jonathan Jensen, Corey Mach, Pat McRoberts, Jen Noble, Kate Rockwell and Brian Sutherland
Contact for Rights
Beth Turcotte, bturcott@bsu.edu, 765-285-8740
---
Number of Acts: 2
Number of Principals (Male): 4
Number of Principals (Female): 4
Preferred Ensemble Size: 6
Total Cast Size: 14
Orchestra Breakdown:
4- Guitar, Bass, Drums, Mandolin/Banjo
Genre & Style:
---
---
Synopsis
Meeting an elephant can change a man's life. The Circus in Winter is based on the novel by Cathy Day, where legend and lore collide under the big-top filled with disheveled hustlers, death-defying acrobats and a dreamer named Wallace Porter searching for redemption and grace.
The Circus in Winter will introduce NAMT members and industry professionals to Ben Clark, a talented young writer and a new voice who has created a nuanced, moving and appealing score. Early in its development, The Circus in Winter tells a highly theatrical story with innovative production opportunities that captivated the committee.

- Festival Committee
Development History
The Circus in Winter is the culmination of a three-year immersive learning journey that started at the Virginia Ball Center for Creative Inquiry at Ball State University. Fourteen students under the guidance of Beth Turcotte, Professor of Theatre, spent an entire semester writing and composing this musical inspired by the novel by Cathy Day. It premiered as a concert reading in May of 2010 with subsequent performances at the International Circus Hall of Fame in Peru, Indiana and Drury Lane Theatre, Chicago. In the fall of 2011, it was fully produced at BSU and selected for the American College Theater Festival. In the spring of 2012, The Circus in Winter won 11 awards at the ACTF/Kennedy Center Awards including Outstanding New Work.
Festival Successes
Mercer Writers Grove at Goodspeed Musicals (2013); Industry reading in NYC in 2013. Developmental Production at Goodspeed Musicals (2014)
5 Things You Should Know
The Circus in Winter team is searching for passionate development and producing partners and is open to all levels and opportunities for development.
The Circus in Winter was developed as an immersive learning project at Ball State University. The unique and remarkable birth took on a life of its own and now is led by Ben Clark and Beth Turcotte as it attempts to realize its full potential.
While there are many locations throughout The Circus in Winter, there is no need for scenic elements to be interpreted literally. Designs should be suggestive, minimalistic and fluid, morphing from location to location, and there are no blackouts except where indicated.
Caesar, the elephant, is intended to be a life-size puppet, full of lifelike qualities yet expressionistic in design.
The band should remain onstage throughout the duration of the story as fully integrated storytellers.
Excerpts