Home » Events »
It's All About The Donor: Singing To Your Patrons With One Voice
April 9 - 11, 2015
Charlotte, NC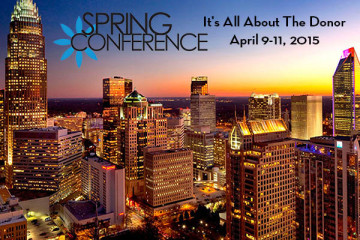 As we go about the challenging business of running our theatres, raising money and selling tickets, it can be easy to forget that our major donor and our subscriber are frequently one and the same person.  Our patrons care about our theatres, the art they see there and the full experience they have there. At this conference, we'll focus on the patron as donor and the donor as patron: how can we harmonize our theatre's communications to complement and even enhance the experience we're offering on stage? How can theatres of all sizes use data to raise more money? What drives corporate funders to give? How can you engage with your community in a way that serves both the art and the public good? Who do galas and special events serve? We'll explore these questions and more with NAMT members and other experts from Charlotte businesses and arts organizations. Plus plenty of time to network and socialize with your colleagues and explore Charlotte's vibrant Center City.
Who Should Attend The Conference
Executive management, artistic directors, development directors and staff, board members and anyone at your theatre involved with fundraising and donor relations. NAMT conferences can be a great perk for engaged donors who are interested in learning more about how things work behind the scenes! All employees of a member organization are NAMT members!
Conference Program
Your Spring Conference registration will include:
Two full days of panels, speakers,  sessions, brainstorming and networking!
Meals

Breakfast, lunch and breaks are included on both conference days.

Networking Events

The conference will kick off with a cocktail party hosted by Blumenthal Performing Arts on Thursday night
On Friday night, the Bechtler Museum of Modern Art will host us for a private reception and tours of their galleries
Detailed Agenda
Registration, Rates and Deadlines
The NAMT Spring Conference is open to NAMT members in good standing and invited guests. If you are not a NAMT member (or are unsure of your membership status) and would like to attend the Spring Conference, please email Membership Director Adam Grosswirth  or call (212) 714-6668 x15.
The more people you bring, the more you save!

Member registration rates are $595 – $520 per person.
Additional options are available for single day rates, Associate Members and invited non-members.

Early registration ended on March 15. All prices increased by $100 on March 16.
Registration must close on March 29.
Details
Accommodations
Book by March 20 for our discounted rate of just $149 per night at the modern and elegant Marriott City Center, in the heart of downtown Charlotte.
Book Now
Thanks To Our Sponsors
We are very grateful to the sponsors and exhibitors of the 2015 Spring Conference. Please click here for information on supporting NAMT and the benefits of sponsoring or exhibiting at our events.
Sponsor or Exhibit at the Conference
---
Educational Resources Committee
Phil Santora, TheatreWorks (CA), Chair
Kathy Evans (NY)
Michael Robertson, Lark Play Development Center (NY)
Mark Fleischer, Pittsburgh CLO (PA)
2015 Spring Conference Committee
Keith Cromwell, Red Mountain Theatre Company (AL), Chair
Lisa Barrie, North Carolina Theatre (NC)
Angela Cassette, Music Theatre Wichita (KS)
Cindy Rice, Blumenthal Performing Arts (NC)
Susan Yarber, Blumenthal Performing Arts (NC)
Agenda
Download
Thursday, April 9, 2015
9:30 - 11:30 am
NAMT Development Committee Retreat

Middleton McMillan Gallery
Spirit Square
345 North College Street

NAMT's Development Committee invites attendees arriving in Charlotte early to participate in a mini-retreat. We'll brainstorm about NAMT's development strategies, as well as challenges and opportunities presented by fundraising for a national membership organization. Attendees are encouraged to drop by this open session to share their knowledge and experience, pick up ideas for their own organizations and have coffee and donuts with development colleagues any time during the two-hour window. The Committee welcomes input from anyone interested in attending!

5:30 - 7:30 pm
Kick-Off Cocktail Party

Blumenthal Performing Arts
Booth Playhouse Lobby
Founders Hall, 130 North Tryon Street

Join us for drinks and hors d'oeuvres with your colleagues as our hosts welcome us to Charlotte! This networking event is part of the conference and included with your full or Friday-only registration.

Hosted and sponsored by Blumenthal Performing Arts
Friday, April 10, 2015
8:30 - 9:30 am
Check-in and Continental Breakfast

Blumenthal Performing Arts
Knight Theatre Lobby & Wells Fargo Auditorium Lobby
430 South Tryon Street

Breakfast sponsored by Patron Manager

9:30 - 10:15 am
Welcome and 30-Second Success Stories

Wells Fargo Auditorium

10:15 - 11:00 am
Keynote Speaker: Charles Randolph-Wright

Wells Fargo Auditorium

Charles Randolph-Wright, a South Carolina native and Duke University graduate, will give the keynote speech at the Spring Conference, It's All About the Donor: Singing To Your Patrons With One Voice. Charles has close ties to Charlotte's theatrical community as both an actor and a director, and will speak about the importance of musical theatre in his own life and journey, and offer a sneak peek at the new musical he is developing about Jim and Tammy Faye Bakker's PTL Club with Grammy-winning gospel duo BeBe and CeCe Winans.  Charles has built a dynamic and diversified career in directing, writing and producing for film, television and theatre. Charles most recently directed Motown the Musical on Broadway, and is a resident playwright at Arena Stage's American Voices New Play Institute.

11:00 - 11:30 am
Networking Coffee Break

Wells Fargo Auditorium Lobby

11:30 am - 12:15 pm
Presentation: Issues Driving Charitable Activities Among Wealthy Households

Wells Fargo Auditorium

Tom Lawson, Senior Vice President of Individual Investments and Philanthropic Solutions at U.S. Trust, Bank of America Corporation, will present on the findings of their 2014 Study of High Net Worth Philanthropy. This study presents new areas of research in order to gain a deeper understanding of the giving patterns of America's high net worth households.

12:15 - 1:45 pm
Lunch

Knight Theatre Lobby

Sponsored by R&H Theatricals

2:00 - 2:45 pm
Panel: A Word From Your Funders

Wells Fargo Auditorium

Representatives from some of Charlotte's top corporate philanthropists will share their side of the funding story.

Moderated by Paige Price (Theatre Aspen), with Weston Andress (PNC Bank), Cynthia Forbes (UTC Aerospace Systems), and Matt Salisbury (BlackArch Partners).

2:45 - 3:30 pm
Panel: Communication Integration: One Patron, Many Needs

Wells Fargo Auditorium

Most patrons just know your theatre; they don't see Development, Marketing, Artistic, Front-of-House…. How do you present a united message to your donors and use the entire experience of your theatre to make the case to give and ensure that donors feel special?

Moderated by Elisbeth Challener (ZACH Theatre), with Lindsay Anderson (TRG Arts), Kwofe Coleman (The MUNY), Robert Fleskes (Ticketmaster), Siobhan Morava (Lyric Theatre of Oklahoma), Elizabeth Sheets (Bechtler Museum of Modern Art) and Courtney Simms (The MUNY).

3:45 - 4:45 pm
Panel: Data-Driven Fundraising

Wells Fargo Auditorium

How organizations of all sizes and budgets can gather and use data to better reach and serve their donors.

Moderated by Tom Gabbard (Blumenthal Performing Arts), with Eugene Carr (Patron Technology), Lee Gallagher (Arts & Analytics), Wendy Oglesby (Blumenthal Performing Arts) and John Thew (Theatre Aspen).

4:45 - 5:30 pm
Case Study & Strategy Session: Community Engagement

Wells Fargo Auditorium

Keith Cromwell (Red Mountain Theatre Company) and Lisa Grele Barrie (North Carolina Theatre) will present case studies of their organizations' success using the power of storytelling in theatre combined with community engagement. Development and sales can be increased when synergy is found around a topic and a title. All attendees will engage in discussion of issues in their communities that could benefit from this approach and brainstorm strategies for outreach and growth.

5:45 - 7:45 pm
Networking Reception at the Bechtler Museum of Modern Art

Bechtler Museum of Modern Art
420 South Tryon Street

End this busy day with drinks and conversation in one of Charlotte's most inspired and inspiring spaces, including private tours of the galleries.

The Bechtler is a jewel of a museum, only the second in this country designed by the Swiss architect Mario Botta. It is intimate in scale, delightfully arresting in its spaces and vistas and simple and elegant in its materials. The collection presented includes works by the most important and influential artists of the mid 20th century including Miró, Giacometti, Picasso, Calder, Hepworth, Nicholson, Warhol, Tinguely, Ernst, Le Corbusier, Chillida and many others. Only a handful of these wonderful artworks have been on public view in the United States. Until now, the collection was privately held by the Bechtler family of Switzerland. This networking event is part of the conference and included with your full or Friday-only registration.

Sponsored by Blumenthal Performing Arts and the Bechtler Museum.
Saturday, April 11, 2015
9:00 - 10:00 am
Continental Breakfast

Blumenthal Performing Arts
McGlohon Theatre Lobby
Spirit Square, 345 North College Street (enter on North Tryon)

Sponsored by The Hollywood Pantages

10:00 - 11:00 am
Panel: Cross-Cultivation

McGlohon Theatre

How do we communicate need to potential donors? How can patrons, who are already buying tickets, be persuaded to give more as donors? Once they're on board, how do we maintain strong relationships with donors, especially as our own staffs turn over?

Moderated by Keith Cromwell (Red Mountain Theatre Company), with Michael Ballam (Utah Festival Opera Company), Adam Dawkins (Ogunquit Playhouse), Melanie Doerner (North Carolina Theatre), and Melodee DuBois (ZACH Theatre).

11:00 - 11:30 am
Networking Coffee Break

McGlohon Theatre Lobby

11:30 am - 12:30 pm
Panel: Successful Board/Staff Collaboration

McGlohon Theatre

A panel of administrators and board members will share their tips for successful collaboration in fundraising and leadership.

Moderated by Jeff Loeb (The Hollywood Pantages), with James Donio (Eagle Theatre), Lisa Grele Barrie & Don Stroud (North Carolina Theatre), Michael Murphy & Lynne Wheeler (The Old Globe), Jeremy Wanless & Adrian Frost (Rainbow Stage), and Harriet Schlader & Regina Del Valle (Woodminster Summer Musicals).

12:30 - 1:15 pm
Concurrent Breakout Sessions

Discussions on various topics of specific interest.

Endowment and Legacy Programs for Smaller Organizations

Turning Volunteers Into Donors

Grant Calculations: Making Sure Your Time Investment Matches The Potential Reward and Relevance

1:15 - 2:45 pm
Lunch

Belk Theatre Upper Lobby
130 North Tryon Street

Sponsored by Music Theatre International

3:00 - 4:00 pm
Panel: Fundraising Events — To Gala Or Not To Gala?

McGlohon Theatre

Are galas and other fundraising events worth the time it takes to produce them? Are they the only way to reach certain constituents? Are the branding and the experience they provide sometimes more important than the money raised? We'll hear from theatres of all sizes about successful event planning — and some creative alternatives.

Moderated by Phil Santora (TheatreWorks Silicon Valley), with Michael Baron (Lyric Theatre of Oklahoma), Rich Bowen (Fulton Theatre), Angela Cassette (Music Theatre Wichita), Laura Little (Coeur d'Alene Summer Theatre) and Aaron Young (Fulton Theatre).

4:00 - 4:45 pm
Panel: What Happens After No?

McGlohon Theatre

In fundraising, sometimes "no" means "maybe." How do you move on with a potential donor, and what happens next?

Moderated by Betsy King Militello (NAMT), with Jennifer Jaquess (Red Mountain Theatre Company), Paige Price (Theatre Aspen) and Beth Turcotte (Ball State University).

4:45 - 5:00 pm
Closing Remarks

McGlohon Theatre

6:30 pm
Closing Dinner

The Asbury
237 North Tryon Street

If you're staying in Charlotte on Saturday night, join your colleagues and the NAMT staff for dinner at The Asbury, a modern southern restaurant that honors the past, celebrates the seasons, and looks forward, for some final networking and socializing time before heading home. This is an add-on event for attendees who are staying this evening; you will be able to sign up and pay for dinner when you register for the Conference.
As of 4/3/15. Subject to change.
Map, Dining & Attractions
Directions to the Marriott City Center from Charlotte Douglas International Airport:
By bus: Follow signs at the airport for CATS Transit. Take the green Sprinter Service to Trade and Church (or Trade and Tryon). Fare is $2.20; cash is accepted on board but change will not be given if you don't have exact change. Takes 20-30 minutes depending on wait time.
Estimated taxi fare: $25
Driving: Take Billy Graham Parkway South to I-77. Follow I-77 North. Off I-77, take exit 10 (Trade Street). At stop light turn right onto Trade Street. Go 1 mile and hotel is on the left. From I-85 – Take I-77 South. Take Exit 10B (Trade Street East). Follow Trade St into city and hotel entrance is on the left.