Home » Events » Conferences »
From Stage to [Everyone on the Same] Page
October 17 - 18
TKP New York Conference Center, 109 West 39th Street, New York, NY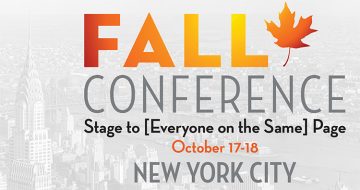 This year's Fall Conference will bring NAMT members together to discuss issues that are vitally important to the growth and survival of our field, the arts in general, and our current political moment. How can we create cultures of inclusion at our theatres — onstage, backstage and in the audience — and engage with our communities to make meaningful work? How do commercial/non-profit partnerships advance new musical theatre and allow for risk? How has the changing nature of social media and discourse affected our programming and our customer service responses? Musical theatre can address important issues or provide an escape — which approach do you take to your season? How can NAMT help deepen relationships among our members to help you as you tackle these topics and more?
Presenting Sponsor: Broadway Licensing
WHO SHOULD ATTEND THE CONFERENCE
Executive management, artistic directors, new works directors and staff, board members, commercial producers and anyone at your theatre involved with new work development and production. NAMT conferences can also be a great perk for engaged donors who are interested in learning more about how things work behind the scenes! All employees and board members of a member organization are NAMT members!
CONFERENCE PROGRAM
Your Fall Conference registration will include:
panels, speakers, case studies and breakout discussions
NAMT member speed-dating
breakfast and lunch on both days
sneak peek of the Festival of New Musicals at our Meet the Writers lunch
a pre-theatre cocktail party with heavy hors d'oeuvres and an open bar
ample networking time
and more!
Detailed Schedule
REGISTRATION, RATES AND DEADLINES
The NAMT Fall Conference is open to NAMT members in good standing and invited guests. If you are not a NAMT member (or are unsure of your membership status) and would like to attend the Fall Conference, please email Membership Director Adam Grosswirth  or call (212) 714-6668 x15.
Registration closed on October 9.
Details
THANKS TO OUR SPONSORS
We are very grateful to the sponsors and exhibitors of the 2017 Fall Conference. Please click here for information on supporting NAMT and the benefits of sponsoring or exhibiting at our events.
Sponsor or Exhibit at the Conference
---
Educational Resources Committee
Dan Murphy, The Broadway Rose Theatre (OR), Chair
Michael Ballam, Utah Festival Opera Company (UT)
Wayne Bryan, Music Theatre Wichita (KS)
Victoria Bussert, Baldwin Wallace University Conservatory of Music (OH)
Mark Fleischer, Pittsburgh CLO (PA)
Donna Lynn Hilton, Goodspeed Musicals (CT)
Robb Hunt, Village Theatre (WA)
Jennifer Jaquess, Red Mountain Theatre Company (AL)
Orlando Morales, The 5th Avenue Theatre (WA)
Fall Conference Committee
Joshua Blanchard, Lake Dillon Theatre (CO), Chair
Hillary Hart, Theatre Under The Stars (TX)
Mark Hoebee, Paper Mill Playhouse (NJ)
Michael O'Brien, 11th Hour Theatre (PA)
Registration
Registration for the Fall Conference has closed. You may still register for the 29th Annual Festival of New Musicals through October 16.
Registrants may cancel up to October 1. Fees will be refunded, less a $100 cancellation fee. No refunds will be allowed after October 1, 2017.
Agenda
Download
Tuesday, October 17, 2017
8:00 - 9:00 am
Check-in and Breakfast

TKP Conference Center
109 West 39th Street

Grab your badge and sponsor goodies, and join us for breakfast and coffee.

Sponsored by Ticketmaster.

9:00 - 9:30 am
Welcome Remarks

Empire Room

9:30 - 10:30 am
Keynote Speaker: Michael Riedel

Empire Room

Michael Riedel has been a theater columnist for the New York Post since 1998. He worked at the Daily News (New York) for five years before returning to the Post and has written for The Guardian, Harper's Bazaar, Mirabella, Departures, and Commentary. Riedel is the cohost of Theater Talk with PBS, is a contributor to the BBC, and has appeared on Larry King Live, the Today show, Good Morning America, and many other news programs. He lives in New York City.

10:30 - 11:00 am
Networking Coffee Break

Empire Room and Lobby

All-day coffee sponsored by The Musical Company.

11:00 am - 12:30 pm
Creating a Culture of Inclusion

Empire Room

A recent study by Actors' Equity Association showed that jobs for actors and stage managers skew white and male. A series of HowlRound surveys has revealed similar results for administrative and design jobs. How can we break this cycle so that our theatres represent our communities at every level – board, management, creative, onstage, backstage, and in the audience? Recognizing that we are not going to solve these problems today, what steps can we take toward making our specific theatres and the industry as a whole more inclusive? Are we cultural centers and leaders in our communities, or are we falling behind? Our panelists will discuss best practices, with concrete case studies for examples, and help you build a toolkit to take back to work with you.

Moderated by Hillary Hart (Theatre Under The Stars), with Jennifer Bielstein (The Guthrie), Lee Ann Gullie (New York Theatre Workshop), Christine Toy Johnson (Actor and Writer) and Anna Kull (Lark Play Development Center).

12:30 - 2:00 pm
Lunch and NAMT Annual Membership Meeting

Empire Room

Sponsored by The Musical Company and Sheridan College, Canadian Music Theatre Project

2:00 - 3:15 pm
Starting the Conversation

Concourse Level Breakout Rooms

Attendees will be divided into small groups with the intention of introducing everyone to at least one person they don't know. In addition to this networking opportunity, we'll put the tools from the morning's session to work in intimate conversations designed to get everyone brainstorming and working together. At the end of the session, we'll come back together and take some time to share insights with the full group.

3:15 - 3:30 pm
Break
3:30 - 3:45 pm
Looking Forward to Spring with Pittsburgh CLO
3:45 - 4:45 pm
Artistic Community Engagement

Empire Room

How can community engagement be a direct outgrowth of a theatre's artistic mission and vision and vice versa? What happens when it's not? How do programs and festivals that aren't necessarily part of the mainstage circle back to connect audiences and artists in new ways? How can what you put on your stages deepen your relationship with your community? How can leveraging your resources as a hub and a physical space bring people to your art?

Moderated by Dan Murphy (Broadway Rose Theatre Company), with Jennifer Jaquess (Red Mountain Theatre Company), Orlando Morales (The 5th Avenue Theatre), Paige Price (Philadelphia Theatre Company) and Kevin Wong (The Musical Stage Company).

5:00 - 7:00 pm
Networking Cocktail Party

Glass House Tavern
252 West 47th Street

Sponsored by Samuel French and The Hollywood Pantages
Wednesday, October 18, 2017
8:30 - 9:00 am
Breakfast

Empire Room and Lobby

Join us for a bite and coffee before we begin today's sessions. Breakfast will be available throughout the morning.

Sponsored by Theatrical Rights Worldwide.

9:00 - 10:15 am
When the Community Engages You: How the Changing Nature of Discourse Affects Theatre

Empire Room

For years we've been harnessing the power of social media to break the fourth wall and make theatre more accessible to fans. But what happens in a culture that's increasingly polarized? How do you address patrons who feel entitled to tell you they know better? How can you take risks without alienating your loyal but increasingly vocal base? And how can you win over the moderates, who just want to enjoy a night out and may be put off by all the shouting on both sides?

With Mark Fleischer (Pittsburgh CLO), Kevin Moore (Human Race Theatre Company), Tori Rezek (Theatre Aspen), Brett Smock (Finger Lakes Musical Theatre Festival) and Diep Tran (American Theatre Magazine/TCG).

10:15 - 11:30 am
The Political Is Musical

Empire Room

Has the current political climate affected your programming choices? Should it? Even light-hearted musical comedies may provide examples of lessons learned from history and provide windows into more significant discussions, while darker shows may resonate anew, and new works may address our current social issues directly. Or, if your audience comes to you specifically to escape the news for a couple of hours, what's your responsibility to them? NAMT members from a variety of theatres and markets will discuss their decision-making processes over the past year (and we want to hear from all of you, too!).

Moderated by Wayne Bryan (Music Theatre Wichita), with Julianne Boyd (Barrington Stage Company), Kwofe Coleman (The MUNY), Aaron Jafferis (Festival Alumni Writer, Kingdom & How To Break) and Dave Steakley (ZACH Theatre).

11:30 am - 12:00 pm
Networking Coffee Break

Empire Room and Lobby

All-day coffee sponsored by The Musical Company.

12:00 - 1:15 pm
Commercial/Non-Profit Relationships

Empire Room

Case studies on recent successful commercial/non-profit partnerships for the development of new musicals from NAMT members.

Moderated by Michael Rubinoff (Sheridan College, Canadian Music Theatre Project), with teams from Come From Away (Randy Adams, Junkyard Dog Productions; Elisabeth Farwell-Moreland & Matt Giles, Seattle Repertory Theatre), Bandstand (Mark Hoebee, Paper Mill Playhouse; Tom Smedes & Gabby Palitz), Ars Nova (Renee Blinkwolt & Jason Eagan), and Marsha Brooks (Brooks and Distler, Attorneys at Law).

1:15 - 2:45 pm
Lunch and Meet the Festival Writers

Empire Room

Sponsored by Music Theatre International and Disney Theatrical Productions

2:45 - 3:45 pm
Breakout Sessions

Concourse Level Breakout Rooms

Concurrent breakout sessions on new works topics and some NAMT insider info!

Marketing New Works with Artists' Involvement
Madison
We wanted to bring this hot topic from our last Writers' Roundtable to a wider audience, as well as set the scene for our Spring Conference in Pittsburgh, which will be all about marketing new works.
Discussion led by Jeremy Desmon (Festival Alumni Writer, The Girl in the Frame) and Phil Santora (TheatreWorks Silicon Valley)

How to Create a Writer Residency
East Village
Interested in learning more about early stage new work development? Have tips from your own experience hosting writers you'd like to share? Please join this informal conversation on what your theatre can do and how NAMT can help.
Discussion led by Kathy Evans (Rhinebeck Writers Retreat) and Jeff Talbott (Festival Alumni Writer, Imagine Harry; Rhinebeck Writers Retreat, Seven Broken Hearts)

NAMT's New Nuts and Bolts Guide to Producing New Musicals
West Village
Get a sneak preview of the brand-new interactive Nuts and Bolts Guide to Producing New Musicals, part of our Theatre Experience and Collaboration Hub (The TECH) and our latest member benefit. Learn what this online resource can do for you and how you can contribute to it.
Led by CIera Iveson

New Works in an Academic Setting
Chelsea
A space for academic members and those interested in collaborating with them to discuss the joys and challenges of producing at a college or university.
Discussion led by Amy Rogers Schwartzreich

4:00 - 4:45 pm
Partnership Speed-Dating

Empire Room

A final speed round before we head to the Festival. Share one thing you need or a goal you have going forward. Find a co-production partner. Trade business cards. Solve everyone's problems in 30 seconds!

4:45 - 5:00 pm
Wrap-Up

Empire Room
As of 10/11/17. SUBJECT TO CHANGE.
Hotels & Accommodations
Offers Available for NAMT Members
Directions and Discounts
The Band's Visit on Broadway
AN EXCLUSIVE PREVIEW OFFER FROM
THE BAND'S VISIT
Coming to Broadway October 7th
MEZZANINE TICKETS FROM $49*
Limited Availability!
After a mix-up at the border, an Egyptian Police Band is sent to a remote village in the middle of the Israeli desert. With no bus until morning and no hotel in sight, these unlikely travelers are taken in by the locals. Under the spell of the desert sky, their lives become intertwined in the most unexpected ways. THE BAND'S VISIT celebrates the deeply human ways music, longing and laughter can connect us all.
USE CODE: BDNAMT919
For great orchestra seats, also check regular priced tickets.
Premium seats also available.
*Prices include a $2 facility fee. Telecharge.com service fees for each ticket applicable to online or phone orders. ALL SALES FINAL. No refunds or exchanges. Other restrictions may apply. Dates, times, prices and cast subject to change without notice. Pricing valid for select preview performances only. Blackout dates may apply. Photos: Sophy Holland; Atlantic Theater Company Production, photographs by Ahron R. Foster
The Treasurer at Playwrights Horizons
Playwrights Horizons is offering NAMT members attending the Fall 2017 Conference and Festival a discount to their world premiere production of The Treasurer by Max Posner, directed by David Cromer.
Ida Armstrong is broke, lonely, and fading fast. And she's spending all of her children's money, forcing her son to assume the unwanted role of The Treasurer: an arrangement that becomes untenable the more he questions his devotion to her. In this darkly funny, sharply intimate portrait, Max Posner chronicles the strained ties between a son and his aging mother, and the hell of a guilty conscience.
Use code "TRENAMT" on the Playwrights Horizons website to purchase $49 tickets for Tier 1 seats ($20 off), and $39 tickets for Tier 2 seats ($10 off). Offer valid for performances from Tuesday 10/17 through Friday 10/20.
No Way to Treat a Lady at Feinstein's/54 Below
On October 15th Feinstein's/54 Below will host a one-night-only concert featuring songs from No Way To Treat A Lady, written by Festival alum Douglas J. Cohen (Fest '94, The Gig; Fest '00, Glimmerglass; Fest '08, Barnstormer) in celebration of the show's 30th anniversary. The concert will feature Broadway talent including Kevin Chamberlin, Brad Oscar, Karen Ziemba, Tovah Feldshuh, Stephen Bogardus, Adam Grupper, Jack Noseworthy and will be co-hosted by Doug and Klea Blackhurst.
War Paint on Broadway
Purchase tickets to Broadway's War Paint, written by Doug Wright, Scott Frankel and Festival Alum Michael Korie (Fest '89, Blanco!). Two-time Tony Award-winning legends Patti LuPone and Christine Ebersole join forces to portray the trailblazing cosmetic icons who built empires in a business world ruled by men.
From the creators of Grey Gardens and the director of Rent and Next to Normal, War Paint tells the remarkable story of Helena Rubinstein and Elizabeth Arden—fierce rivals who defined 20th Century beauty. In creating an industry, they reinvented themselves and revolutionized how the world saw women.
Use code "MAILWP" to purchase discounted tickets here.
Valid through 11/19
Orchestra/Mid-mezz: $99
Rear mezz: $59
Curvy Widow – The Musical Comedy
$30 Tickets!
Final Weeks – Now through Nov. 5th
Tony Award® Nominee Nancy Opel (Urinetown) returns to the New York stage in Curvy Widow. Based on a true story, this sassy and witty musical follows the exploits of a feisty fifty-something whose adventures inspire laughter and, in the least expected places — reveal truths about life, love, and sex. From surviving hilarious first dates, to her intimate conquests, this widow navigates her way through it all with humor and perseverance. Featuring a brilliant cast of best friends, a dead husband, and a myriad of potential suitors — Curvy learns the hard way what it means to start life over in the modern age.
$30 Tickets using code: CWNAMT30
Or visit the Telecharge website here.
Offer valid for performances 10/17 through 10/22. This offer cannot be combined with any other discount and is not applicable to previously purchased tickets. Limit 10 tickets per order. All sales are final. No refunds or exchanges. Offer subject to availability and includes a $1.50 facility fee. Normal phone and Internet service charges apply. Offer may be modified or revoked at any time without notice. Cast and schedule subject to change. Not all seats are discounted.