Home » Events » Conferences »
From Stage to [Everyone on the Same] Page
October 17 - 18
TKP New York Conference Center, 109 West 39th Street, New York, NY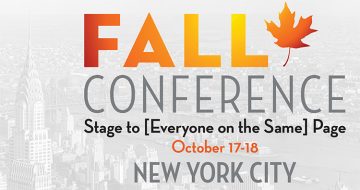 This year's Fall Conference will bring NAMT members together to discuss issues that are vitally important to the growth and survival of our field, the arts in general, and our current political moment. How can we create cultures of inclusion at our theatres — onstage, backstage and in the audience — and engage with our communities to make meaningful work? How do commercial/non-profit partnerships advance new musical theatre and allow for risk? How has the changing nature of social media and discourse affected what our programming and our customer service? Musical theatre can address important issues or provide an escape — which approach do you take to your programming? How can NAMT help deepen relationships among our members to help you as you tackle these topics and more?
WHO SHOULD ATTEND THE CONFERENCE
Executive management, artistic directors, new works directors and staff, board members, commercial producers and anyone at your theatre involved with new work development and production. NAMT conferences can also be a great perk for engaged donors who are interested in learning more about how things work behind the scenes! All employees and board members of a member organization are NAMT members!
CONFERENCE PROGRAM
Your Fall Conference registration will include:
panels, speakers, case studies and breakout discussions
NAMT member speed-dating
breakfast and lunch on both days
sneak peek of the Festival of New Musicals at our Meet the Writers lunch
a pre-theatre cocktail party with heavy hors d'oeuvres and an open bar
ample networking time
and more!
Detailed Schedule
REGISTRATION, RATES AND DEADLINES
The NAMT Fall Conference is open to NAMT members in good standing and invited guests. If you are not a NAMT member (or are unsure of your membership status) and would like to attend the Fall Conference, please email Membership Director Adam Grosswirth  or call (212) 714-6668 x15.
Member early registration rates are $525 for the first attendee and $495 for each additional attendee from your organization.

Additional options are available for single day rates, Associate Members and invited non-members.
Register early for the best rates!

Deadlines:

Early registration ends on September 25. All rates will increase by $100 on September 26.
Registration must close on October 8.
Details
THANKS TO OUR SPONSORS
We are very grateful to the sponsors and exhibitors of the 2017 Fall Conference. Please click here for information on supporting NAMT and the benefits of sponsoring or exhibiting at our events.
Sponsor or Exhibit at the Conference
---
Educational Resources Committee
Dan Murphy, The Broadway Rose Theatre (OR), Chair
Michael Ballam, Utah Festival Opera Company (UT)
Wayne Bryan, Music Theatre Wichita (KS)
Victoria Bussert, Baldwin Wallace University Conservatory of Music (OH)
Mark Fleischer, Pittsburgh CLO (PA)
Donna Lynn Hilton, Goodspeed Musicals (CT)
Robb Hunt, Village Theatre (WA)
Jennifer Jaquess, Red Mountain Theatre Company (AL)
Orlando Morales, The 5th Avenue Theatre (WA)
Fall Conference Committee
Joshua Blanchard, Lake Dillon Theatre (CO), Chair
Hillary Hart, Theatre Under The Stars (TX)
Mark Hoebee, Paper Mill Playhouse (NJ)
Michael O'Brien, 11th Hour Theatre (PA)
Registration
Attendance Eligibility
The Fall Conference is open to NAMT members in good standing and invited guests only. If you are not sure of your membership status, or are interested in attending the Conference as a way to learn more about membership, please email Membership Director Adam Grosswirth.
Rates and Deadlines
Early registration rates for NAMT organizational members are:
$525 for the first attendee from a member organization
$495 for each additional attendee from the same organization
A day rate of $310 is available
Associate Member rates are $560 for the full Conference and $350 for one day.
Non-members may attend the conference by invitation only. Non-member rates are $100 more than organizational member rates.
Register by September 25 for these low, at-cost rates! All prices will increase by $100 on September 26.
The final registration deadline is October 8.
Payments must be received by October 10 or your registration will be canceled. Re-registrations will be billed at the applicable rate on the date of the new processing.
Registrants may cancel up to October 1. Fees will be refunded, less a $100 cancellation fee. No refunds will be allowed after October 1, 2017.
Registration Process
Each attendee will receive a badge, which gives you entry to the events (there are no tickets), and important pre-event information will be sent via email. Please provide each attendee's information on the registration form. You may register multiple attendees from the same organization on the same form, for either the Fall Conference, the Festival of New Musicals, or both.
Your registration will not be complete until you click the SUBMIT button at the very end of the form and you have paid (if applicable). You will see a confirmation screen and receive an email upon completion.
Festival of New Musicals
The Festival of New Musicals is a separate event, but you may register for both events at once using this registration form. Or visit the Festival section of the website for more details.
The 46th Minute
Our celebrated Festival kick-off concert, open to the public, will be held on Wednesday, October 18 at New World Stages. Details to be announced. Members and invited guests may purchase tickets at the lowest possible member rate when registering for the Conference and/or Festival. Non-members who register for the Festival only prior to tickets going on sale for this special event will be emailed when tickets go on sale.
Register
Agenda
Tuesday, October 17, 2017
8:00 - 9:00 am
Check-in and Breakfast

TKP Conference Center
109 West 39th Street

Grab your badge and sponsor goodies, and join us for breakfast and coffee.

9:00 - 9:30 am
Welcome Remarks

Empire Room

9:30 - 10:30 am
Keynote Speaker

Empire Room

10:30 - 11:00 am
Networking Coffee Break

Empire Room and Lobby

All-day coffee sponsored by The Musical Company.

11:00 am - 12:30 pm
Creating a Culture of Inclusion

Empire Room

A recent study by Actors' Equity Association showed that jobs for actors and stage managers skew white and male. A series of HowlRound surveys have revealed similar results for administrative and design jobs. How can we break this cycle so that our theatres represent our communities at every level – board, management, creative, onstage, backstage, and in the audience? Recognizing that we are not going to solve these problems today, what steps can we take toward making our specific theatres and the industry as a whole more inclusive? Are we cultural centers and leaders in our communities, or are we falling behind? Our panelists will discuss best practices, with concrete case studies for examples, and help you build a toolkit to take back to work with you.

12:30 - 2:00 pm
Lunch and NAMT Annual Membership Meeting

Empire Room

2:00 - 3:15 pm
Starting the Difficult Conversations

Concourse Level Breakout Rooms

Attendees will be divided into small groups with the intention of introducing everyone to at least one person they don't know. In addition to this networking opportunity, we'll put the tools from the morning's session to work in intimate conversations designed to get everyone brainstorming and working together. At the end of the session, we'll come back together and take some time to share insights with the full group.

3:30 - 4:45 pm
Artistic Community Engagement

Empire Room

How can community engagement be a direct outgrowth of a theatre's artistic mission and vision and vice versa? What happens when it's not? How do programs and festivals that aren't necessarily part of the mainstage circle back to connect audiences and artists in new ways? How can what you put on your stages deepen your relationship with your community? How can leveraging your resources as a hub and a physical space bring people to your art?

5:00 - 7:00 pm
Networking Cocktail Party

Glass House Tavern
252 West 47th Street
Wednesday, October 18, 2017
8:30 - 9:00 am
Breakfast

Empire Room and Lobby

Join us for a bite and coffee before we begin today's sessions. Breakfast will be available throughout the morning.

9:00 - 10:15 am
When the Community Engages You: How the Changing Nature of Discourse Affects Theatre

Empire Room

For years we've been harnessing the power of social media to break the fourth wall and make theatre more accessible to fans. But what happens in a culture that's increasingly polarized? How do you address patrons who feel entitled to tell you they know better? How can you take risks without alienating your loyal but increasingly vocal base? And how to win over the moderates, who just want to enjoy a night out and may be put off by all the shouting on both sides?

10:15 - 11:45 am
TBA

Empire Room

New works topic TBA.

11:45 am - 12:15 pm
Networking Coffee Break

Empire Room and Lobby

All-day coffee sponsored by The Musical Company.

12:15 - 1:15 pm
Commercial/Non-Profit Relationships

Empire Room

Case studies on recent successful commercial/non-profit partnerships for the development of new musicals from NAMT members.

1:15 - 2:45 pm
Lunch and Meet the Festival Writers

Empire Room

2:45 - 3:45 pm
Breakout Sessions

Concourse Level Breakout Rooms

Session topics TBA.

4:00 - 4:45 pm
Partnership Speed-Dating

Empire Room

A final speed round before we head to the Festival. Share one thing you need or a goal you have going forward. Find a co-production partner. Trade business cards. Solve everyone's problems in thirty seconds!

4:45 - 5:00 pm
Wrap-Up

Empire Room
As of 8/18/17. SUBJECT TO CHANGE.
Hotels & Accommodations
Directions and Discounts