At NAMT, we believe the next industry-defining voice is out there, waiting to be discovered. The Musical Theater Songwriting Challenge is a unique platform for high school students, bridging nascent talent with the luminous world of musical theater.
---
Delving Deeper: A Two-Step Evaluation
At the heart of the Songwriting Challenge is an innovative two-draft system designed to nurture budding talent. Entrants initially submit their song for Draft 1, where it's met with constructive feedback from industry professionals. Armed with these insights, participants can refine their composition and resubmit it as Draft 2. This revised piece is then in contention for the coveted Winners Weekend – a unique opportunity to shine among peers and professionals alike.
Draft 1:
After submitting your initial song, every participant receives comprehensive feedback. This isn't just about judging; it's about nurturing and guiding raw talent.
Dive deep into understanding your song's context. Who's the character singing? What's the story backdrop? What inspired your tune?
Your song should resonate with originality, lyrical depth, and potential for theatrical production.
Draft 2:
Taking the feedback to heart, participants refine their songs for the second submission.
This round emphasizes the connection between the song, its narrative, and its potential spot in a larger musical tableau.
Draft 2 is optional, but only those who incorporate feedback and submit to Draft 2 will be considered for the Winners Weekend. It's your story. Make sure it shines!
---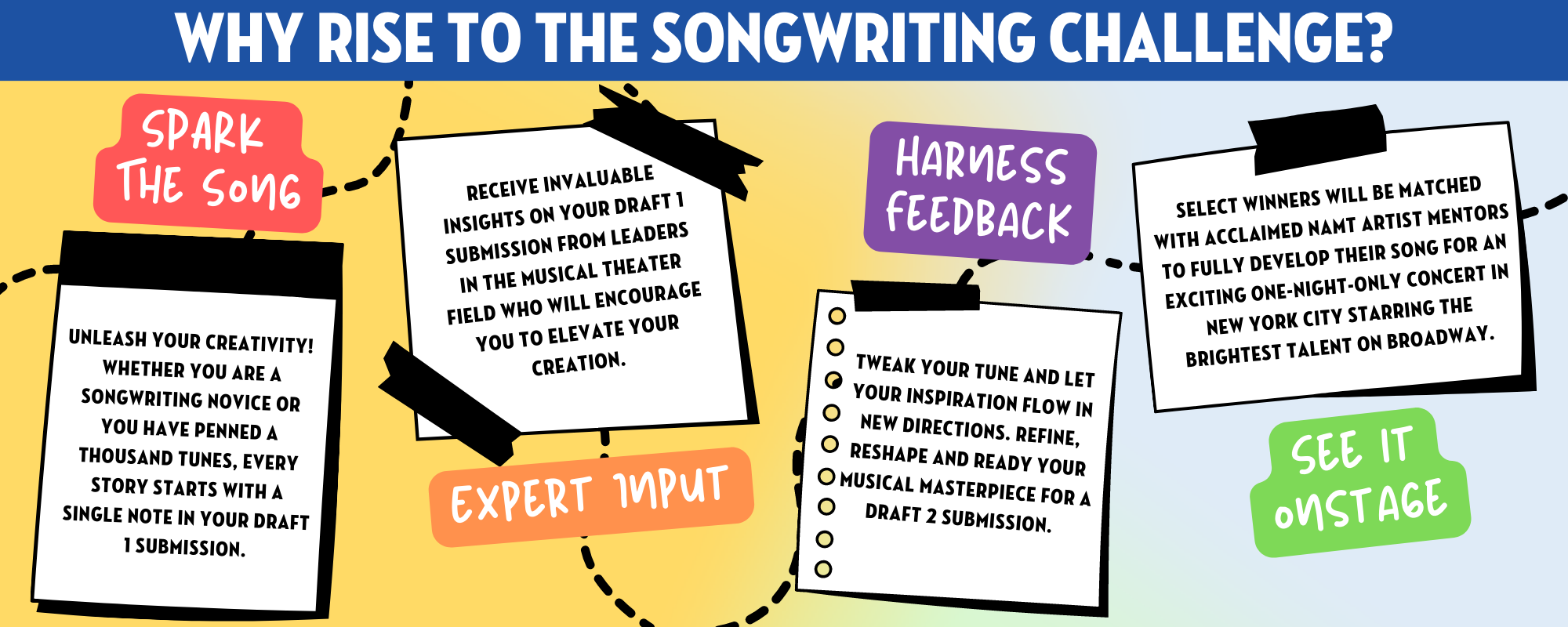 ---
Peek Behind the Curtain: Evaluation Criteria
Understanding the Song's Context: Judges look beyond the melody, delving into character motivations, song placement in a narrative, and the inspiration behind it.
Originality & Authenticity: Fresh, genuine tunes that tell unique stories are the heartbeats of musical theater.
Artistic Merit: How does your song blend melody with lyrics? Does it tell a story while evoking emotions?
Potential for Theatrical Production: Can we visualize your song on stage, enthralling audiences?
Connect with the Panel: Through the introduction video or PDF, let judges into your world, providing insights that may be pivotal in understanding your song.
Participant Essentials
Song Submission: Draft a song that captures a narrative moment. It could be an introspective monologue, a soaring ensemble piece, or a dramatic duet.
Personal Introduction: Give us a snapshot of who you are, your musical journey, and what you envision for your song.
Consent & Certification: Authenticity is key. Ensure your song is original and reflects your unique voice.
Winners Weekend
Your musical journey peaks in the city that never sleeps!
Intensive Mentorship
Student winners will be paired with esteemed NAMT artist mentors for focused songwriting sessions, honing their composition to professional standards and learning about process, technique and production.
Debut on the Big Stage
The highlight of the weekend is a special concert in NYC where Broadway talents perform the winning songs, captivating an audience of industry professionals and theater enthusiasts.
Beyond the Notes
The experience isn't just about the songs! Network with on-and-off stage insiders, catch a Broadway show, and fully immerse into the vibrant theater district.
---
Every note penned, every lyric written is a step towards crafting the next iconic musical number. The Musical Theater Songwriting Challenge isn't just a competition; it's a learning experience, a mentorship, and a golden ticket to the world of musical theater. Don't just dream it, script it!
---
Bring the Songwriting Challenge to your Community
Bring the excitement and creativity of the Musical Theater Songwriting Challenge to your school, community, or educational organization. Dive into the world of songwriting and provide a platform for talented high school students to showcase their abilities.
Why Introduce the Challenge in Your Community?
This is more than just a competition. It's an opportunity for students to:
Explore the realms of songwriting and music.
Develop their skills with guidance from professionals.
Engage with a broader community passionate about musical theater.
---
Ready to go?
Submit Now